From the arts and crafts festivals and outdoor concerts to the galleries and theatres, summer in Annapolis buzzes with artistic life. The season is especially exciting for kids, who have a wealth of arts camps to choose from. Many camp directors and counselors are talented local artists dedicated to teaching the next generations. Whether your child is a painter, singer or filmmaker, Annapolis has something for them. Here's a sampling of some of this year's Annapolis summer arts camps.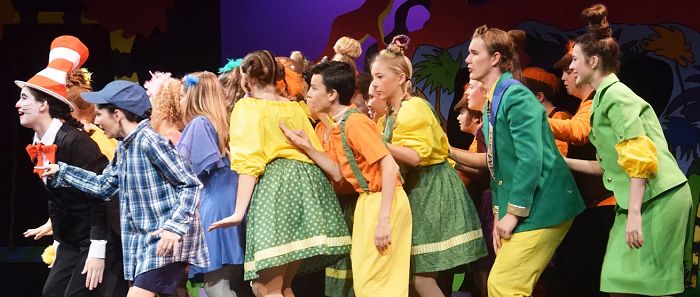 Courtesy of Children's Theatre of Annapolis
Music
School of Rock Does your child sing along to Zeppelin, play guitar or even air drums? If so, School of Rock is the perfect place for them. With locations all over the world, School of Rock offers private lessons and beginner and advanced camps for ages 7 and up. Music is chosen by the students and staff together, and ranges from classic rock to popular songs. The week–long camps end with a performance for family and friends. Alumni of the school have created their own bands, and perform live at Rams Head on Stage, Eastport a Rockin' and other local venues. In addition to learning an instrument or perfecting performance skills, campers gain confidence by performing on stage, and become comfortable presenting their ideas to a group. Click here for more information.
Naptown Sings and Plays! If Rock 'N' Roll isn't your child's jam (or if they're on the younger side), Naptown Sings and Plays! offers a camp focused on singing, with opportunities to learn piano, guitar or world drumming. Beginner and intermediate-level campers learn to play and sing popular styles of music together. Children even get to experience what it's like to play in a professional performance space; the camp is held on the second floor of Metropolitan Kitchen and Lounge, a hip music venue that hosts local and national artists and bands. Click here for more information.
Dance
Combo Art & Dance Camps - Academy Ballet School of Annapolis This camp, for ages 3 ½ –5 ½, is great for children who want to dip their toes into dance and visual arts. Themes for this summer's camps include "Happy Farm Animals" and "Lions, Tigers and Bears – Oh My!" The Academy Ballet School of Annapolis is staffed by RAD (Royal Academy of Dance) certified and professionally trained teachers. Click here for more information.
AACC Kids in College - Dancing on Broadway Act I and Youth Dance Festival AACC Kids in College has an impressive variety of camps for all ages, and gives campers the chance to make new friends and experience an academic environment. In Dancing on Broadway Act I, children learn ballet, tap, jazz, as well as other aspects of theatre like preparing sets and making costumes and props. Youth Dance Festival camp exposes children to a wide variety of dance, including ballet, modern, hip–hop, contemporary, tap, and Middle Eastern dance. Click here for more information.
Visual Art
Artworks Studio Artworks Studio has been offering year–round classes, after-school activities, birthday parties and camps since 2007. This summer's camps are a creative batch sure to spark children's imaginations. Campers can make art inspired by nature in "Art in Nature" camp, think up fantastic creatures and worlds in "Enchanted Art," or take a tour around the world in "Passport to Creativity." Click here for more information.
AACC Kids in College When it comes to art and design camps, AACC Kids in College wins the prize for diversity and creativity. From quilting to digital animation, AACC has something everyone will enjoy, and even some activities you may not have heard of before (duct tape art, for example). Campers can learn Photoshop skills in "Digital Palette" or hone their drawing skills in "Drawing Techniques." "Japanese Anime 101", "Recycled Art" and "Video Game Animation" are just a few more options to choose from. Click here for more information.
Theatre
Compass Rose Theater Compass Rose Theater is a professional theater in Annapolis with an emphasis on education. Two productions of every season offer roles to student actors, and the teaching artists are trained theater professionals. The summer camps, which include "Creative Dramatics: Theater for Pre–Schoolers" and "Intro to Acting" for ages 7–11, are held at Compass Rose Theater and end with a sharing for friends and family. Click here for more information.
Children's Theatre of Annapolis Children's Theatre of Annapolis is a non–profit organization offering classes, workshops, apprenticeships, and camps. The organization has been active since 1959, and currently produces three impressive productions a year. Three camps are offered this summer for ages 5–17: "Wee Kids Cabaret," "Kids Cabaret" and "Teen Kids Cabaret," Camps will focus on the three main components of musical theatre: singing, dancing and acting. Click here for more information.
Film
Filmsters Academy Since 2002, Filmsters Academy has been giving children ages 11–18 a hands–on education in all aspects of filmmaking. It's been the leading program for budding filmmakers, with alumni going on to work in animation for Dreamworks, mix and sound design for Warner Brothers and work on other films and television series. Campers will learn to pitch and write, produce, direct, act, shoot and edit films, and be taught by staff who are in film school or working in the film industry. Click here for more information.