Personally, the first change became noticeable when the morning newspaper started showing up a few weeks ago, knotted and dry in its wrapper, just outside the front door, and not in its usual under-the-car landing spot. It was such a simple gesture, but it's just one incidental illustration that attitudes are changing, and none of us is alone in coping with and fighting against the covid-19 pandemic affecting us all.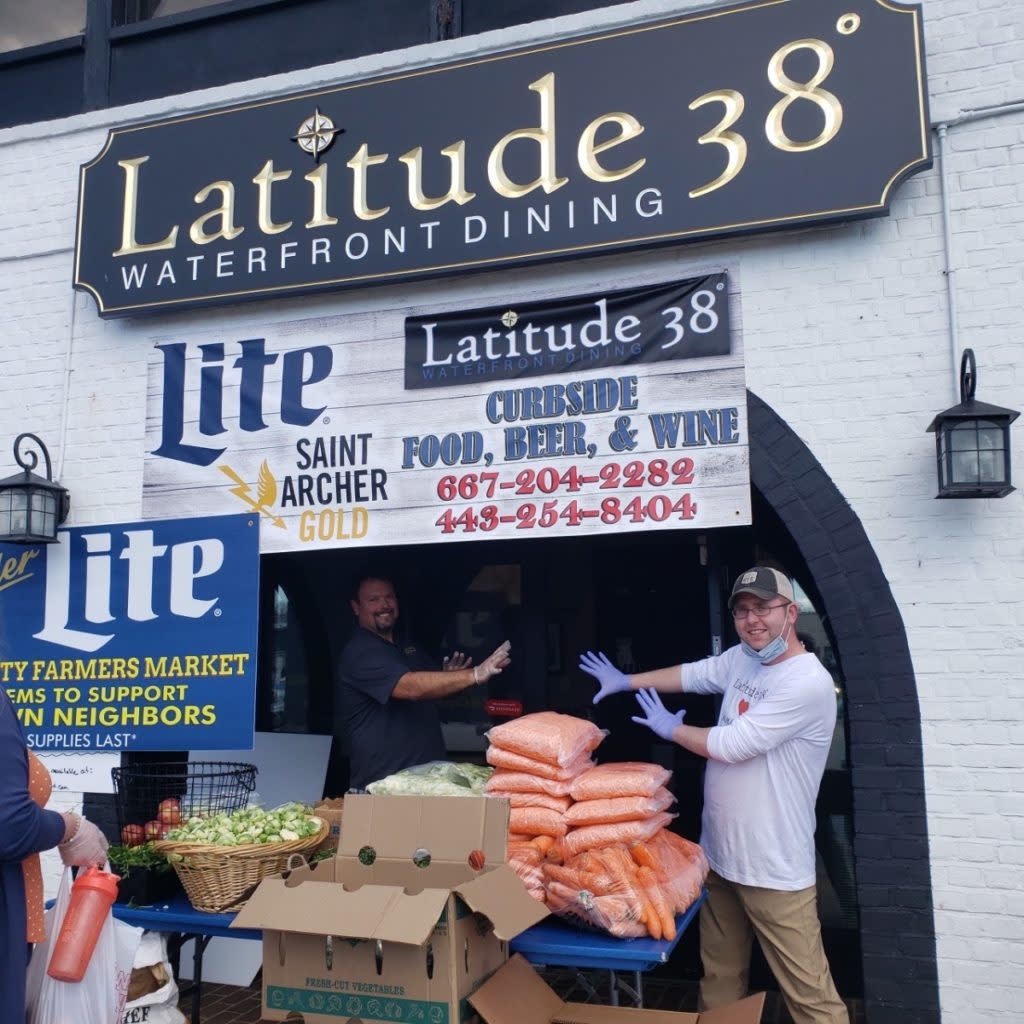 Ray Tompkins and Justin Schaffner
Personal contact (or lack thereof) has taken on a new meaning no one ever could have imagined. In fact, not long ago the novel corona virus was the punchline of a joke; it was caused by drinking a certain brand of beer that had gone bad. Ha ha ha. Today, Annapolitans are making what contact they do have with each other count more than ever. Businesses and individuals all across town have been and still are stepping up to help each other and to warm their own hearts at the same time.
Local restaurants and bars, hit especially hard by warnings and now government regulations on social distancing and eliminating large gatherings, are looking for ways to keep their businesses afloat and their employees paid as long as they can. At the risk of missing someone that should be on this list, such establishments as Miss Shirley's Café, Carrol's Creek Café, the Chart House, Light House Bistro, Adams Ribs, the Blue Rooster Café, and Bread & Butter Kitchen have all come up with creative ways to serve the community while trying to save their livelihoods at the same time.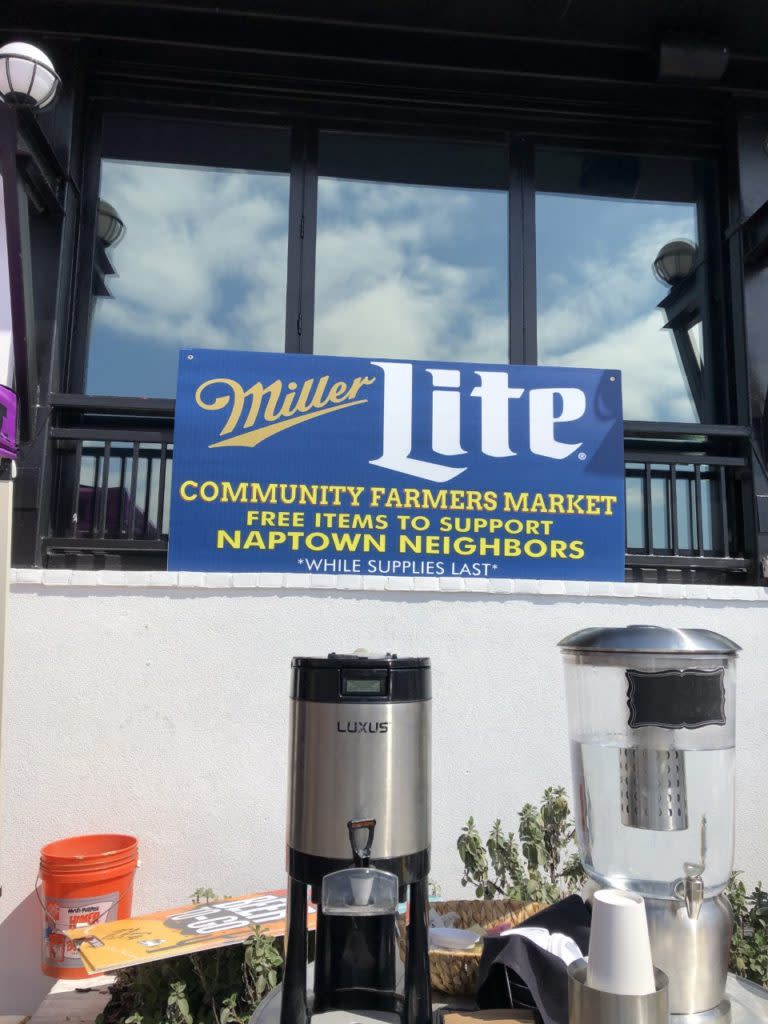 Photo courtesy of Justin Schaffner.
For this story, I was particularly intrigued by what's happening now with regularity at Latitude 38 restaurant downtown at City Dock, and I tracked down Justin Schaffner, the restaurant's bar manager who is organizing the third "pop-up market" on Thursday, April 2. While still catching his breath from the event on Monday, March 30, Schaffner told us that 300 people, "a great turnout," had gone through the market that day, with first-responders served first at 1:30 p.m. and the general public—ranging from the homeless and low-income families to "everyday Americans who were laid off due to covid-19"—allowed from 2:00 p.m. until the food ran out. "We were able to donate 125 cases of fresh produce and other items to the community," Schaffner said, and the team promises to have an additional 150 cases for the upcoming April 2 event.
The idea behind such benevolence came from long-time Annapolis businessman and Latitude 38 owner Harvey Blonder, who, Schaffner stressed, "felt strongly that he wanted to give back and help the citizens. As a team, we took the idea and ran with it," he said. "It grew overnight into something bigger than we ever imagined. . . . We are in the same boat as everyone else, and this is the time to rise, to put our struggles to the side a little, and to be able to help others in need."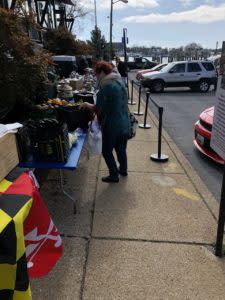 Photo courtesy of Justin Schaffer
Most of the goods given away come directly from Latitude 38, and the rest are donated from neighbors and locals and gathered by Ray Tompkins, Heather Mackall, and Schaffner—"three of the last five employees left here" to run the market and keep the restaurant operating on a modified, social-distancing schedule, he points out. Among the donors are Buddy's Crabs and Ribs, which supplies produce and prepared items, Republic National Distributing donating cases of bottled water and soft drinks, Gateway Florist, Sysco Foods offering "very deep-discounted produce," and other generous neighbors. On April 2, Great Harvest Bread Company will be bringing its own donated items from West Annapolis, and Schaffner also will be preparing food alongside the Latitude 38 management team.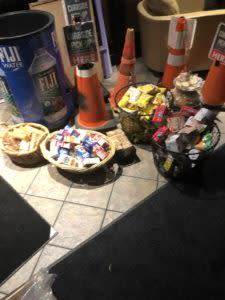 Image courtesy of Justin Schaffner
Running a market for 300 sounds like a formidable challenge, especially under the current circumstances, but, learning on the fly from the previous two such events, "we take precautions to ensure the safety of everyone attending, as well as our staff and volunteers," Schaffner asserts. Included are line markers six feet apart, a limit of ten people in line, at which time "we issue tickets and kindly ask them to take a walk around City Dock" until numbers are announced "over a bull horn when they can return. Or we offer to call them on their cell phones." Once summoned, Schaffner stresses, only one person or one family is allowed to enter the line at any given time. "In order to do this," he adds, "we are ensuring every possible protocol is followed," including fresh gloves, which are given to each person prior to entering. The Latitude 38 volunteers depend on donations and what they can procure themselves. As long as the goods are available, he acknowledges, "our plan is to do this weekly, if we can."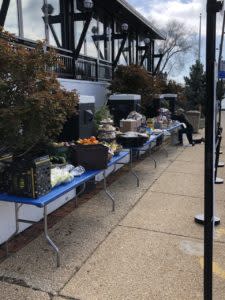 Photo courtesy of Justin Schaffner
So, why do people like Justin Schaffner and the team at Latitude 38 do this? "To be able to give back to a city that has shaped me and made me who I am is humbling," he reflects. "Walking up Main Street yesterday, I had people yelling and thanking me and our team from across the street. It was probably the proudest moment in my life. . . . We're not doing this for the acknowledgement or for thanks. At the end of the day, it's just the right thing to do."