Irish culture celebrates the best things in life: music, drink, humor and food. All of which will be on full display in March, aka St Patrick's Day month. Here's what's on the menu at top Irish restaurants around town.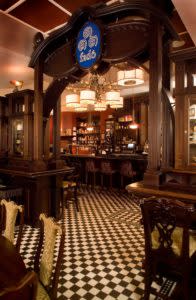 Fado Pub. Photo courtesy of the author.
This classic Dublin-style pub next to the Westin Annapolis offers loads of space for hanging out, be it the at expansive main Back Bar or the tucked-away Dublin Room, reminiscent of a Victorian-era snug (a hidden bar where women could drink away from judging eyes). Fado takes extra steps to make their cuisine a cut above expected pub fare. Their scratch kitchen makes everything onsite, from dressings to stews, and their meats are custom-butchered at a Vermont farm. Manager Keith McGrory, who hails from Derry, says they won't have a special menu for St. Patrick's Day. "We're an Irish pub so we have Irish food all the time." Take the Irish breakfast, served all day with two eggs, Irish sausages, rashers (aka thick-cut bacon), grilled mushrooms and tomatoes, Guinness cheddar bread, and traditional black and white pudding. Both puddings are made of the same ingredients—oatmeal, pork fat and spices—but the black version adds pig blood, which gives it its distinctive color and taste. "As soon as you get over the fear of it, people love it," says McGrory.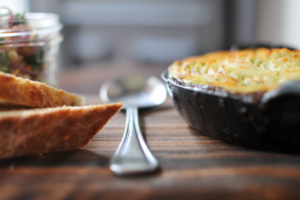 Fado Shepherds Pie. Photo courtesy of the author.
Dish pick: The shepherd's pie is a savory combo of ground beef and vegetables, topped with colcannon—an Irish dish blending mashed potatoes with cabbage. The Harp-battered fish tacos put an Irish spin on a bar favorite, with beer in the batter.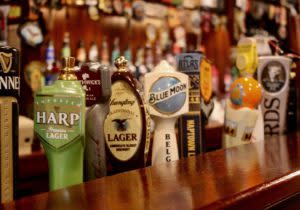 Castlebay Taps. Photo courtesy of the author.
This upper Main Street pub, distinctively draped with US, Maryland and Irish flags year round, may be known more as a bar than a restaurant, but you're missing out if you skip the food: classic pub fare that goes great with the full bar and multiple beers on tap. Owner Vincent Quinlan hails from Dublin and makes sure the Irish dishes are as authentic as the ones he grew up with at home. "The Irish food takes longer to make," says manager Nikki Fries. "It's done with great care!"
Like Galway Bay, they expect major crowds on St. Paddys Day itself, so they'll be serving a limited menu, along with some special touches like Irish soda bread shipped over from Dublin.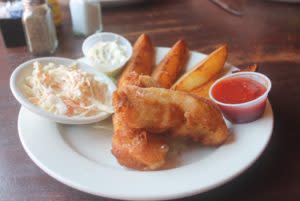 Castlebay Fish N' Chips. Photo courtesy of author.
Dish pick: The fish and chips is a standout: crisp but never greasy, with moist fish inside. For something lighter, try the oak-smoked salmon plate, served with lemon, capers, cream cheese and pumpernickel toast. Breakfast lovers should try the corned beef hash with two eggs, served all day.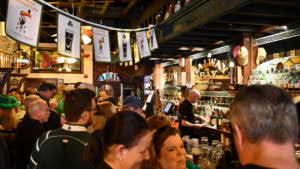 Galway Bay. Photo courtesy of the author.
Cozy and welcoming Galway Bay is a Maryland Avenue staple that's won a slew of awards, most recently 2019 Irish Hospitality Global Award for Best Whiskey Experience in the Americas. But despite its international reputation, at heart Galway is a neighborhood pub, where locals and visitors come to relax and interact -- a feat helped by the absence of TVs anywhere onsite, says manager Sean Lynch.
It's prime location on Maryland Avenue means it gets a diverse clientele: downtown residents, college students, government workers and visiting out of towners. Their menu is equally diverse, showing off Irish and Maryland roots. Their oysters, served multiple ways, are locally sourced via 38 North, an oyster farm on Maryland's Western Shore. The Dexter burger is made of beef from the Dexter cow, an Irish breed of cattle that's being grass-fed on a farm in Westminster, MD. Past years has proven they will packed on St. Pats Day, so they are offering a limited menu of bar and to-go classics, and are only taking reservations for the back dining room.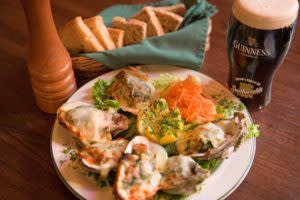 Oysters at Galway Bay. Photo courtesy of the author.
Dish pick: I love their potato-leek soup, paired with an app like the chicken pate. Or try The Irishman sandwich—made with fresh corned beef, Irish Dubliner cheese and Irish tomato chutney—and a side of Irish curry fries, featuring McDonnell's curry gravy imported from Ireland.
WAIT, THERE'S MORE…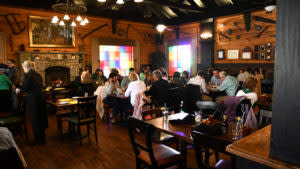 Killarney House. Photo courtesy of the author.
Galway Bay has three sister restaurants, both to get a taste of Ireland without going downtown. All are overseen by the same company chef, Steve Hardison, so they share some dishes, but the individual chefs put their own spin on the menus, reflecting their neighborhoods and clientele.
Dish Pick: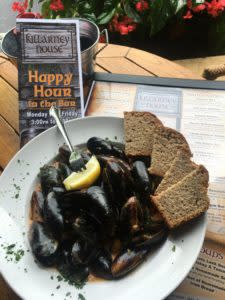 Molly's Mussels at Killarney House. Photo courtesy of the author.
Brian Boru Irish Restaurant in Severna Park Kids of all ages will love the Irish spring rolls: corned beef, potato and sauerkraut wrapped in a wonton wrapper, then fried.
Killarney House in Davidsonville I'm partial to Molly's Mussels, steamed in shallots, garlic and white wine and finished with a tomato-basil cream sauce. My dad always said the Liver and Onions was just like his Irish mother used to make.
Pirates Cove in Galesville is less about Irish and more about seafood, but you'll find a few signature dishes, including the tasty Dexter burger, on the menu here.