If you are looking for an engaging and exciting history lesson on our great city of Annapolis, look no further than the Museum of Historic Annapolis to see the brand new exhibition, Annapolis: An American Story. The exhibition follows 400 years of Annapolis, chronologically, as you weave your way through stories of fascinating people and moments that helped shape our rich and diverse history.
The Museum of Historic Annapolis is located at 99 Main Street, Annapolis, MD. Image courtesy of Historic Annapolis.

 
In Living Color
One of the first things you will see upon entry is the large wooden acorn, representing wisdom, that sat on top of the Maryland State House for 200 years. It housed the lightning rod, designed by Benjamin Franklin, that still remains on top of our State House today. The original acorn had to be replaced in 1996 but, lucky for you, you can now see it up close here at the museum.
As you wander through to the next room, you will find an inspiring film about Annapolis playing on a loop. As a life-long Annapolitan, the film made me fall in love with our town all over again. The views are stunning, the content inspiring, and it sets the tone beautifully for the journey for which you are about to embark. The last room on the first floor gives you a deeper glimpse into the museum's historic partner sites, all worthy of a visit and within walking distance to the museum.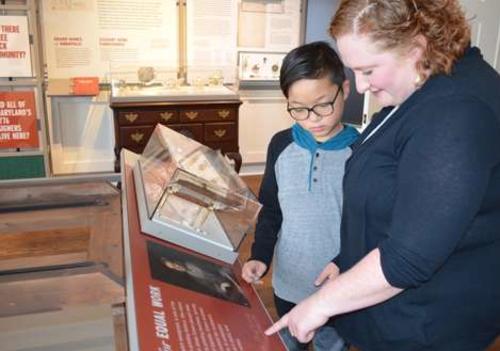 400 years of history and we've only just begun. Image courtesy of Historic Annapolis.

 
In Written Word
Next, ride the elevator or ascend the old staircase with its charming creaks to the second floor. Here you will find the exhibit "Our Beginnings" as it chronicles Annapolis from 1650-1800. Everything from Native American artifacts and arrowheads to information on the tumultuous times surrounding the Revolutionary war, such as the Annapolis Tea Party, are explored. In an interesting juxtaposition, information on enslaved and free black people, with slave documents and shackles, sits next to a display of  wealthy homes and elegant home furnishings, highlighting the troublesome and conflicting times of our past. Anne Catharine Hoof Green's printer press (replicated) is on display. She bravely demanded equal pay for equal work when she took over as editor and printer of the Maryland Gazette after her husband died. A true visionary in women's rights.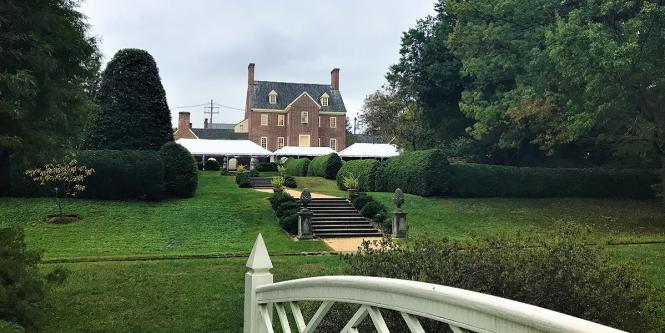 Visit the William Paca House as part of your Annapolis, an American Story pass. Image courtesy of Historic Annapolis.

 
On to the Next Chapter
In the next room you will find the "Changing Times" exhibit, representing 1800-1900.  Here Annapolis' unique culture is highlighted with features such as oysters, faith communities, and Navy coming to town, just to name a few. On the third floor you will find "Towards Equal Justice," 1900-1970, where the dividing impact of segregation trickled into all facets of life. African American trailblazers such as Dr. Aris T. Allen and DJ "Hoppy" Adams are featured citizens that rose to the occasion for their community. "The Power of Change,"1970 – Present, shows everything from Navy graduate David Robinson on a Wheaties box, to the Capital Gazette shootings, to the history of Historic Annapolis.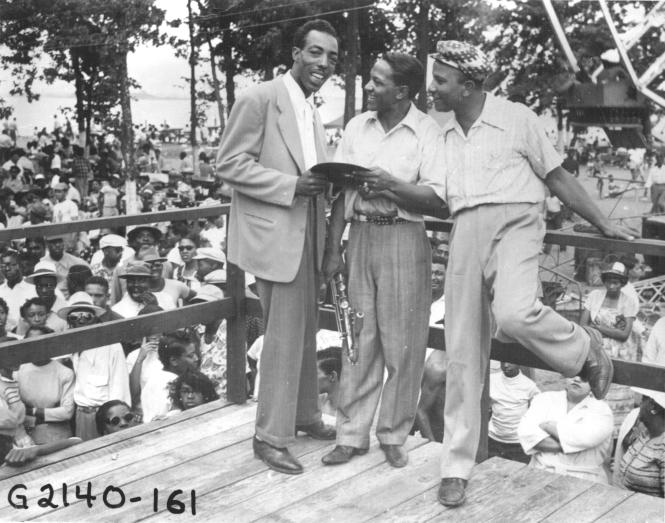 Hoppy Brown stands with two musicians at Carr's Beach. Image credit: MSA SC 2140-1-161 photographed by Thomas R. Baden, Jr., c. 1950s.

 

The museum is a wonderful addition to the city of Annapolis and you are going to want to explore this American story for yourself. Click here to book your tickets.