Visitors, especially those approaching Annapolis from the north and west, are invariably told to look out for signs pointing to Aris T. Allen Boulevard, one of the two most direct routes into the city. But few ever bother to learn the story behind the name.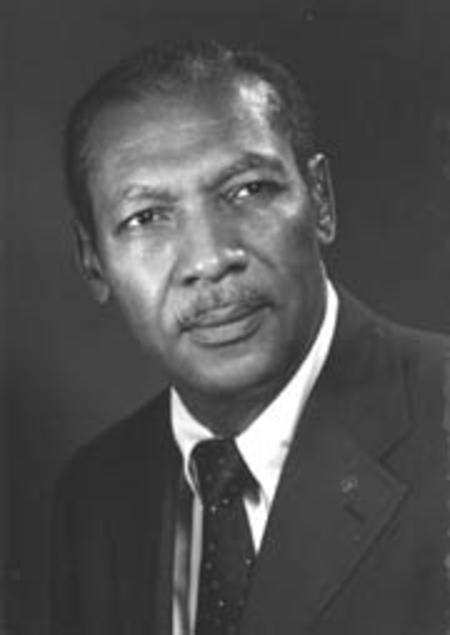 Aris T. Allen was a Republican Delegate for the House of Delegates, Anne Arundel County, 1967-74; 1990-91
and a state Senator in the Maryland Senate, District 30, 1979-81. Image courtesy of Maryland Manual Collection, MSA SC 1198.  

From the north on Interstate 97, from the south on Route 2 (Solomons Island Road), and from the east-west U.S. Route 50 thoroughfare, a steady stream of traffic flows every day onto and out of Route 665, also known as the Aris T. Allen Boulevard extension. The $15.5 million road (which would probably be called a freeway in the western states) is arguably the most-used 2.68-mile stretch in the region. Our hunch is, however, that few people know anything about how and why it was built and after whom it was named. 

 

Watch a video from the Anne Arundel County Board of Education about Dr. Aris T. Allen here.

 

Before construction completed in 1992 on what is now such a major traffic artery, some will recall how much of a bottleneck it was for travelers from Route 50, having to use a Riva Road exit to reach Forest Drive. And without the boulevard, there may never have been an Annapolis Harbour Center or an Annapolis Town Center complex in Parole, at least not as we know them today.  


What's more, without the intervention of Aris T. Allen himself a decade before the road opened, the finished boulevard very well could have been built, according to Peter Hermann in the Baltimore Sun, "plowing through and uprooting a Black community off Forest Drive." Hermann added that the members of that enclave "already had been forced out of downtown Annapolis," and pointed out that Allen just couldn't allow that to happen again.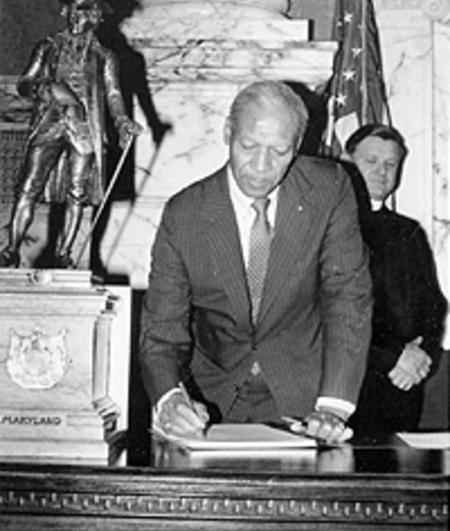 Aris T. Allen at the state house in Annapolis.  Image from Bay Weekly article, originally a photo from Allen's wife, Dr. Faye Allen.

 
The Public Servant 
A Texas native, Allen was known best as the first African-American chair of the Maryland Republican party and the first person of color to run for statewide office in Maryland, a traditionally Democratic party stronghold. From 1967-74 and from 1990-91, Allen was elected to the state's House of Delegates representing Anne Arundel County. During the first terms, he was minority whip and served on the Constitutional and Administrative Law Committee and was on the Senate Finance Committee from 1979-81. Allen was on the Republican ticket as lieutenant governor with gubernatorial candidate J. Glenn Beall Jr. in 1978.  
After moving from San Antonio to Washington, D.C., Allen graduated from Dunbar High School and earned an M.D. degree in 1944 from Howard University following service as a pilot in a U.S. Army specialized training program in 1942. Upon completing his medical school residency in 1944-45 at Freedman's Hospital in Washington, he opened a private practice in Annapolis and subsequently served as a flight surgeon in the U.S. Air Force from 1953-55. 
Allen's prominent contributions to medicine in his chosen home state, county, and city were substantial. In 1967, the Maryland Medical Association presented its award to Dr. Allen for outstanding achievement in medicine and civic affairs. From 1981-89, he served as medical affairs adviser to the state's Health Care Financing Administration (including service as a member of its Board of Medical Examiners and director of the Health Standards and Quality Board). Dr. Allen was also on the board of the Maryland Academy of Family Physicians and president of the medical staff at Anne Arundel Medical Center. 
In civic service, Allen was a youth-education advocate, having been the first African-American appointed to the Anne Arundel County Board of Education. He also served on the board of Anne Arundel Community College, as a trustee for the county public library system, and as vice chair of the Morgan State University Board of Regents. In addition to being a member of the Mount Moriah AME church Board of Stewards, he held board positions for the local chapter of the American Cancer Society, the YMCA, the Salvation Army, the county Community Chest, the Red Cross, and Annapolis Chamber of Commerce. He also was a life member of the NAACP and a member of the Eta Eta Lamda chapter of Alpha Phi Alpha fraternity.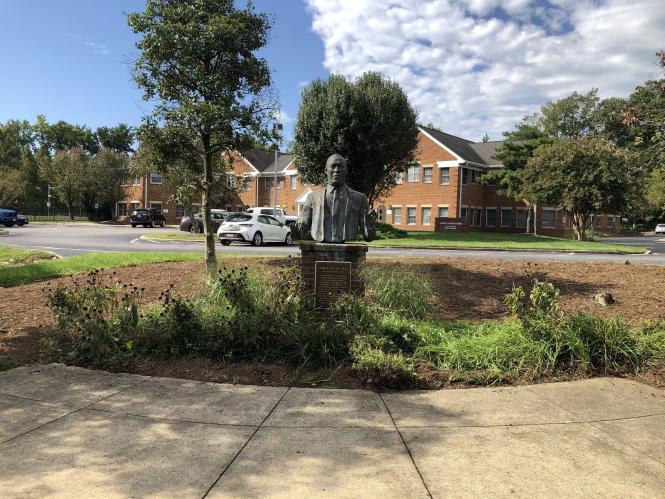 The statue of Aris T. Allen is located near the intersection of Forest Drive and Chinquapin Round Road in Annapolis. Image courtesy of the Historic Marker Database.

 
The Statue 
The Dr. Aris T. Allen statue was to have been placed prominently in the median strip of the new boulevard, but it's said that Allen's widow, Dr. Faye W. Allen, asked that it be erected in a nearby park so she could visit it. Today, the statue, a work by South Carolina sculptor Maria Kirby-Smith, has stood since 1994 near the intersection of Forest Drive and Chinquapin Round Road as Annapolis's first public sculpture of an African-American. 
At first, placement of the statue was met with indignities imposed, according to a July 2000 story in the Baltimore Sun, by vandals, the details of which would serve no purpose here. The Sun story did go on to say, however, that "the repeated acts of racially tinged vandalism have spurred civil rights activists and members of Allen's family to propose moving the statue to a garden area between the new $20 million Thomas V. Mike Miller Jr. Senate Office Building and the James Senate Office Building in Annapolis." At this writing, no such plans have been forthcoming. 
In conclusion and exclusively for this story, we asked the current Maryland Lieutenant Governor Boyd K. Rutherford for his thoughts on the life and work of this extraordinary public servant: 
Aris T. Allen was a pioneer in Maryland politics and blazed a trail for African Americans in public service. A fellow Howard University alumni like myself, Allen was passionately dedicated to the education of Maryland's youth and devoted much of his time to serving local nonprofit organizations. His legacy and impact on our state and the Anne Arundel County community is as lasting as the highway which bears his name.