The Annapolis Film Festival reveals its full slate of more than 80 films from 28 countries screening during the festival: March 22-25, 2018, including a U.S. premiere and four films from Sundance making their East Coast premiere, The Festival's new theme: Voices Strong. Minds Open, is threaded throughout the four-day program of films, panels, parties, showcases, coffee talks, and Q&As with filmmakers.
"The diversity in this year's slate is more than we have ever had. Audiences will get to experience firsthand the depth of this slate because many great directors, producers and talent are accompanying their films," said Patti White, Festival Director. Some films have been sourced locally right here in Maryland, others come from afar including, Armenia, Australia, Belgium, Burkina Faso, Canada, China, Czech Republic, Denmark, Israel, Italy, Iran, Ireland, France, Georgia, Germany, Norway, Pakistan, Spain, Sweden, Slovenia, Swaziland, Switzerland, Syria, Tunisia, Turkey, United Kingdom and Venezuela.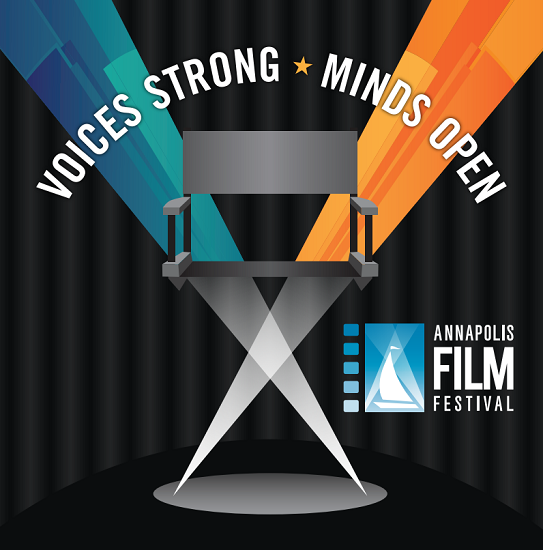 Narrative films include the Opening Night political thriller, Beirut, directed by Brad Anderson and starring Jon Hamm and Rosamund Pike, at Maryland Hall for the Creative Arts, which will be followed by a Q&A with producer Monica Levinson and industry professionals. The film and discussion will be followed by an after party for Festival Pass Holders and Rush Line ticket holders at the Boys & Girls Club of Annapolis & Anne Arundel County. Whole Foods will be providing the food and Palate Pleasers the catering.
Other narrative films selected are: Beauty and the Dogs – Khaled Walid Barsaoui, Kaouther Ben Hania; Beauty Mark – Harris Doran; Bernard and Huey – Dan Mirvish; Butterfly Kisses – Erik Kristopher Myers; Cardinals – Grayson Moore, Aidan Shipley; Come Sunday – Joshua Marston; A Crooked Somebody- Trevor White; Disappearance – Ali Asgari; Flock of Four – Gregory Caruso; Hearts Beat Loud – Brett Haley; Humor Me – Sam Hoffman; Kiss Me! – Océane Michel, Cyprien Vial; Mary Goes Round – Molly McGlynn; The Miracle Season – Sean McNamara; The Rider – Chloé Zhao; Spinning Man – Simon Kaijser; Wallay – Berni Goldblat, and What Will People Say- Iram Haq.
Director of Programming Derek Horne says, "To bring the most engaging slate to Annapolis, we went into the field scouting for gems. We also selected the best from a large pool of submissions from new and established filmmakers."
Documentary features have also been chosen, including: Acorn and the Firestorm – Reuben Atlas, Samuel D. Pollard; Coyote: The Mike Plant Story – Thomas M. Simmons; Finding Home – AB Troen; Itzhak – Alison Chernick; Kim Swims – Kate Webber; Liyana – Aaron Kopp, Amanda Kopp; Lots of Kids, A Monkey, and a Castle – Gustavo Salmerón; Love Means Zero – Jason Kohn; New Wave: Dare To Be Different – Ellen Goldfarb; Resistance is Life – Apo W. Bazidi; Sammy Davis, Jr.: I've Gotta Be Me – Samuel D. Pollard; Stumped – Robin Berghaus; Three Identical Strangers – Tim Wardle; True Conviction – Jamie Meltzer; Waiting for the Sun – Kaspar Astrup Schröder; and What Lies Upstream – Cullen Hoback, and a special screening of the NBC Originals documentary Courageous: Ted Turner and the 1977 America's Cup.
Festival Director Lee Anderson says programming this year's slate through the theme of Voices Strong. Minds Open. made every selection more meaningful, fitting and moving. "Our hope is to spark really smart conversations and impact the way people think and feel, for the better."
The film debuting for its U.S. premiere is The Miracle Season, directed by Sean McNamara and starring Helen Hunt as the coach of a volleyball team who must unite the team in hopes of winning the state championship in the wake of the tragic death of a star player. The four films making their East Coast premiere include Beirut; Come Sunday, directed by Joshua Marston and starring Martin Sheen and Chiwetel Ejiofor as real-life American evangelical preacher Carlton Pearson, who risks everything when he questions church doctrine and is branded a modern-day heretic; Hearts Beat Loud, directed by Brett Haley and starring Nick Offerman as a record store owner, who is forced to close his shop, and decides to form a band with his college-bound daughter; and documentary Three Identical Strangers, directed by Tim Wardle, which follows the incredible true story of triplets who learned of one another's existence only at age 19, their initial joy giving way to increasingly unsettling discoveries.
In addition to award-winning features, AFF has made its mark now in its sixth year by continually bringing a lineup of compelling short films. Two shorts that screened at last year's AFF landed on the Oscar's Shortlist for Best Live Action Shorts, with DeKalb Elementary still contending for the Oscar at the upcoming 90th Academy Awards.
This year AFF is serving up an outstanding roster of short films, including several Academy Award nominees. You can find a complete list of the shorts and the complete line-up lineup HERE.  All films in the slate will compete for the Best of the Fest, held Sun. March 25, where awards will be given out to top narrative and documentary feature films, as well as top narrative and documentary shorts, and top films will be rescreened for audiences. You can find more information about the Festival, along with Festival Passes and Tickets HERE.
Special thanks to Leslie Dolsak, Media and PR Representative for the Annapolis Film Festival, for allowing us to publish this blog.