Hello, art lovers! Are you missing your trips to the galleries and the fun exhibition events? In need of some quality distraction from the steady stream of news and info about what's happening right now? Or perhaps you've gone down the Facebook rabbit hole of hysterical animal videos for hours on end…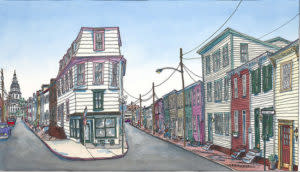 Roxie Munro, Fleet & Cornhill Streets, Limited Edition Print at Annapolis Collection Gallery Online. Photo courtesy of Annapolis Collection Gallery online.
Well we are lucky that Annapolis isn't just an art town, it's a creative town in every way. Not only are the artists creating ways to keep you engaged, the gallerists haven't missed a beat either, in making sure they can present to you their beloved exhibited with an online experience. We are lucky to have gallery owners, managers and staff in this town that are warm, friendly, inviting, and best of all – they love their artists as much as the art. That's huge, and just another aspect of this wonderful community.
So here's a brief introduction to these galleries, and how they are responding to this temporary shutdown. Maybe you can pop some popcorn, get the family around a big screen, plug in your computer and start cruising the online exhibits of fantastic art!
Jo Fleming Contemporary Art, 68 Maryland Avenue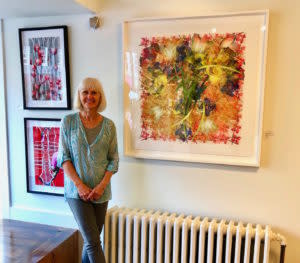 Jo Fleming, owner of Jo Fleming Contemporary Art with artwork of Lisa Sheirer. Photo courtesy of the author.
Gallery owner Jo Fleming also has her own design firm and is a wonderful artist herself. Her mission is to feature regional artists with exceptional talent and powerful exhibits that get people talking. She's been knocking it out of the park!
WYFO (What You'll Find Online): Spring flowers bloomed early this year but just as the Gallery hung the new show called "May Flowers" it was nipped in the bud. She is posting works on this show on her website and sharing them on Facebook and Instagram. You an email or FB message your interested – she will even deliver work right to your door. Learn more here.
MFA at Circle Gallery, 18 State Circle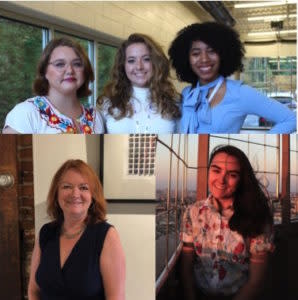 MFA Staff at Circle Gallery. Photo courtesy of the author.
MFA is a 501(c)(3) non-profit organization with almost 700 members across North America and Europe, whose mission is to create connections that enrich life through art. Their dynamo team, lead by Executive Director Joann Vaughan, delivers on that mission every single day and is constantly seeking new ideas and ways to connect the community with exceptional contemporary art. Reagan Thomas is the Gallery Fellow, Martha Campbell is the Social Media Guru, KC Galloway and Christina Dover round out the team.
WYFO: MFA's busy exhibition schedule of overlapping shows continues, now all online for viewing and for sales. The troops are mobilized to create virtual studio tours and other exciting posts; and even a podcast!
Curve Gallery is MFA's online gallery, which will now feature all exhibits. Here's what's up in April – go to the MFA website to learn about each exhibit: · "MFA @ BWI" · "Art on Paper"  · "?Binary¿Nonbinary?" · MFA at Lowe House of Delegates
The Mitchell Gallery at St. John's College, 60 College Avenue
The Mitchell Gallery is the only accredited college art museum in Maryland. Gallery Director Hydee Schaller and Gallery Art Educator Lucinda Edinburg work to provide events for every exhibit that offer a meaningful experience that includes or impacts the regional and Maryland community, and they are consistently excellent at achieving this goal!
WYFO: The Mitchell Gallery reacted quickly to craft an informal virtual tour of their recent exhibition, "American Indian Art from the Fenimore Art Museum: The Thaw Collection". The original collectors of these objects, Eugene V. and Clare Thaw, chose works based upon their beauty and excellence in craftsmanship and design. There 43 works included in the exhibition are divided into 6 regions, and it is worth noting that 38 of the 43 pieces in this exhibition were displayed at the Metropolitan Museum of Art. Read an in-depth description on their exhibition webpage and view works from the exhibition on the Mitchell Gallery Facebook page.
Maryland Hall for the Creative Arts, 801 Chase Street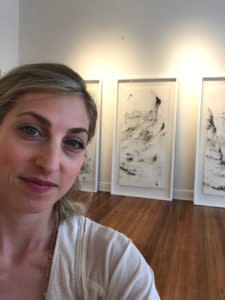 Emily Kohlenstein, Gallery Director at Maryland Hall, with artowrk by Yumi Hogan. Photo courtesy of author.
Emily Kohlenstein is the Exhibitions Coordinator at Maryland Hall. With an MFA in Curatorial Studies from the Maryland Institute College of Art (MICA), she is well suited to the role. She manages the three traditional galleries and curates intentional showcases and programs throughout other areas of the building, focusing on community engagement.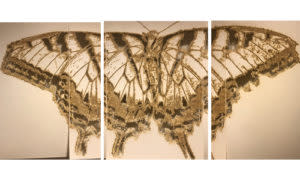 Blake Conroy, Swallowtail, laser-cut paper at Maryalnd Hall. Photo courtesy of author.
WYFO: "While this time of building closure and working remote has posed many challenges, it has also opened up lots of opportunities for our staff to branch into the digital sphere, which is something we have been wanting to do anyway. We have archived videos of our exhibiting and resident artists as well as video tours of our current exhibits. To see those check our website's main page, blog page, and current exhibits page. Check our social media platforms for lots of other art activities, videos, and inspiration during our time stuck at home!"
McBride Gallery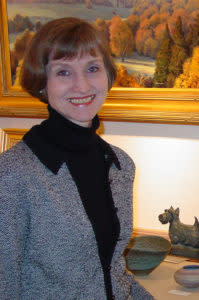 Cynthia McBride, owner of McBride Gallery. Photo courtesy of author.
Now in its 40th year of offering some of the best representational art in the region. Cynthia McBride, the owner of both McBride Gallery and Benfield Gallery, has and continues to play a significant role in instigating the proliferation of galleries in Annapolis.
WYFO: McBride Gallery hosts "The Best in America", an exhibit of new art, paintings curated/juried by NOAPS, National Oil and Acrylics Society, with paintings by artists from all over the US, Canada and Mexico. This is the first time they've chosen Annapolis as their showcase, and Cynthia wanted to be sure these selected artists still have the opportunity for their paintings to be seen and celebrated by the Annapolis area. See the virtual show and gallery tour online. Plus, there is a rotating display of art in the gallery's three windows; you can call or email to have a painting you see online put in the "Art Window" for better viewing... pretty cool idea!
Annapolis Collection Gallery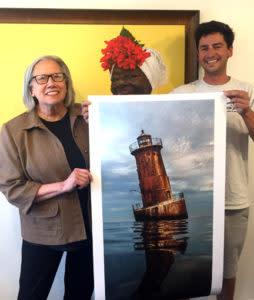 Katherine Burke, owner of Annapolis Collection Gallery, with photographer and art Jay Fleming. Photo courtesy of author.
Katherine Burke is the owner of the Annapolis Collection Gallery, known for its masterful artists. Local residents stopping in have often found themselves or someone they know in vintage photos by Marion Warren and Charles Emory.
WYFO: The Gallery has started running 72-hour Flash Art Auctions, and it's all online. Preview the auction items and bid on your favorite pieces from the comfort of your home. Every week throughout April you can look forward to winning beautiful pieces by artists Greg Harlin, Jay Fleming, Roxie Munro, Moe Hanson, and Ann Munro Wood along with vintage black and white images of old Annapolis. It's surprisingly easy to register here. Stay home, stay safe, and be ready to click and bid.
West Annapolis Artworks and Fine Framing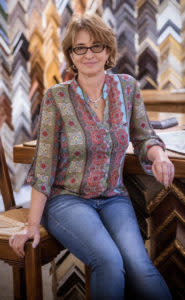 SuAnne Martinez, owner of West Annapolis Artworks and Fine Framing. Photo courtesy of the author.
SuAnne Martinez is the owner of this welcoming gallery and frame shop. She likes to keep thing fresh while presenting work by regional artists, featuring many of the local favorites.
WYFO: West Annapolis Artworks and Cat Dolch introduce "The Show Must Go On-line", a not-for-profit site. SuAnne says, "See art created by our local talented artists while social distancing. We've made it easy to see and purchase current work as well as peruse websites of your Favorite artists. Let's all support our local creatives."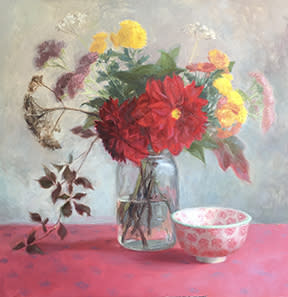 Nina Ellsworth, Fall Gathering, Oil at Benfield Gallery. Photo courtesy of the author.
Benfield Gallery
Gallery Manger Debbie Larcher leads a dedicated and friendly team at Benfield Gallery on Jumpers Hole Road: Corey, Larissa, Valerie, Sarah, Ellen, Judy, and Kathy. This gallery and frame shop represents 26 artists. They fill a unique niche in our art scene by presenting exhibits and events that celebrate some of the area's most beloved art teachers, their art and their legacy. In addition, they provide art and frame appraisals and restorations.
WYFO: Their current exhibit, "A Different View" which challenges and celebrates their artists unique perspectives is available online at here.