Haunted Ghost Tours are great any time of year- but especially during Halloween! Image courtesy of Web Wright Photography.
There are some Annapolitans who walk the same hallways, to and fro, never leaving the house. They peer out windows, sometimes giving a little wave to passersby. They stomp, they moan, they throw things about...they are bored to the point of torture and tortured to the point of boredom.
I'm referring, of course, to the happy haunts that have been roaming Annapolis' historic sites for hundreds of years. You can hear more about these spirits' stories and explore the city's darker side on these Annapolis ghost tours.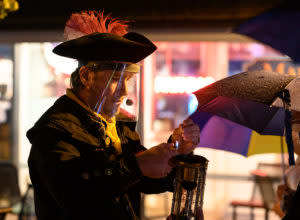 Watermark's haunted ghost tours take shape on water and land! image courtesy of Web Wright Photography.
Watermark, a mainstay of Annapolis tours, has three spooky options: Special Historic Hauntings, Historic Ghost Tour, and Spirits & Spirits. Special Historic Hauntings runs Thursday, Friday, and Saturday evenings in October. This is a walking tour, where you will visit many of Annapolis' haunted sites. The tour offers exclusive access to the Hammond Harwood House garden after hours so you can hear a 20-minute presentation on the supernatural connections of this historic site.
Historic Ghost Tours begin Saturdays in November. It is so easy to fall under the spell of these spooky stories with your guide, in period dress, leading you through cobblestone streets by candlelight.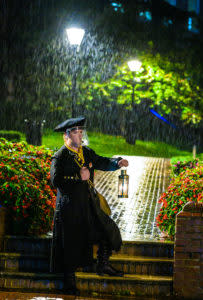 Rainy nights are especially perfect for a haunted ghost tour in Annapolis! Image courtesy of Web Wright Photography.
Spirits & Spirits…because of course Annapolis has a ghost tour on a boat! This tour runs on Fridays and is a hybrid boat/walking tour. By sea, you'll hear tales of pirates, Naval Academy ghosts, and nautical myths. By land, you'll hear historic and haunting tales of downtown landmarks. And yes, as the title of this tour implies, you are welcome to purchase "spirits" from the onboard concessions on this tour! Due to the popularity of this tour and the small group size (14), this tour is often sold out. 
The Walking Ghost Tour (runs Tues. through Sun.) is PG and family-friendly if you book the 7:00 PM option. However, the more scandalous R-rated version runs at 9:00 PM. Your lively and informative tour guide will regale you with tales of naughty, troubled, and dark spirits who linger here, with a nice dose of history mixed in.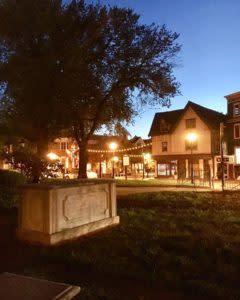 St. Anne's Church is a popular haunt on the Walking Ghost Tour. Image courtesy of Megan Donahey, @megantaylor1622.
If you want to "drink in the history, crawl out the door" (as their website describes it), then the Haunted Pub Crawl is for you. This 2-hour pub crawl will show you a secret side of historic Annapolis pubs. At each stop, you'll have time to order drinks and chat with your tour-mates, while also hearing tales of some cheeky spirits who refuse to leave their favorite pubs.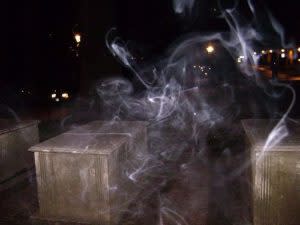 Is this an apparition? See for yourself at one of Annapolis Tours & Crawls ghost tours. Image courtesy of Annapolis Tours & Crawls.
Aloysius Martin, owner and tour guide of Haunted Harbor Tours, warns you not to bring your children on this tour. He also wants you to know that his company is "not responsible for any possessions, hauntings, lingering spirits, injuries, or creeping madness which may occur during or following the tour." This tour is not messing around.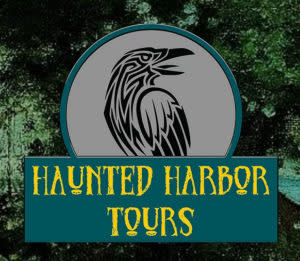 Explore the darker side of the city with Aloysius Martin, owner and tour guide of Haunted Harbor Tours. Image courtesy of Haunted Harbor Tours.
On this 90-minute ghost tour (which runs nightly), Martin shares tales of hauntings, witches, murder, torture, and other truly horrifying historic tales. These are not just any folklore tales; Martin is passionate about historic research and bases all his tour material around historic documents like court records and newspaper archives. If you want to be scared witless, but with a focus on history, this tour is for you. And if you attend on Halloween, be sure to wear your costume—the best costume will win a deck of tarot cards on this special tour!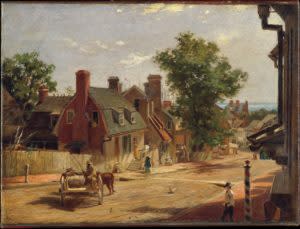 "Old Annapolis, Francis Street" by Francis Blackwell Mayer, shows Annapolis in 1876. Hear the chilling tale involving this Annapolis artist on your Haunted Harbor tour! Image courtesy of Wikimedia Commons.
So if you're tired of haunting your own house this Halloween season, grab your friends and brave the dark streets of Annapolis for a safe, fun, and unique tour experience!