Are you one of the many humans who travel with their dogs? If your pet is well-behaved, good with people and easygoing in new places, know that he or she is most welcome here in Annapolis. And with the dog days of summer approaching, it's the perfect time to plan a few days in Maryland's capital, mutt in tow.
Where in Annapolis your dog is welcome
If you're planning to stay overnight, at least two hotels in Annapolis welcome dogs as guests. Both the Loews Annapolis and the Westin Annapolis allow two dogs per guest room. Loews has no weight limit, whereas the Westin invites dogs up to 40 lbs. to stay at their property. A $50 fee per stay is tacked on to the bill; just make sure you give them a heads-up that you're bringing your animal companion(s). And keep in mind, you can't leave the dog(s) alone in the room, but why would you want to when a nice Annapolis day calls for lunch at a sidewalk cafe?
Just picture yourself enjoying a great lunch at an outdoor table in downtown Annapolis with your pooch at your feet. Many restaurants even place dog bowls outside their establishments to help keep animals hydrated; if they don't, be sure to get a water to go.
[gallery columns="2" size="medium" ids="3004,3003"]
Most Annapolis shops welcome dogs, just make sure to keep your animal companion close.
How about a boat ride? You can take your dog on Cruises on the Bay by Watermark Annapolis. Bonus: dogs ride free.
If you're looking for an off-leash dog park, you can find one at these Annapolis parks: Quiet Waters Park and Broadneck Dog Park.
Safety tips for traveling dogs
Owners, keep in mind, it's up to you to protect your pet from strangers. If you're not at the dog parks, keep your dog on leash, no matter how well-trained.
For those of you who can't resist petting a dog, please ask the owner if it's all right before you reach out. Not all animals like to be touched. Watch the canine's signals. When a dog sniffs, it's his/her way of getting a background check on you. Dogs can sniff roughly 1000 times better than humans. Let the animal approach you, then pet under the chin, rather than over the head, which could be read as intimidating.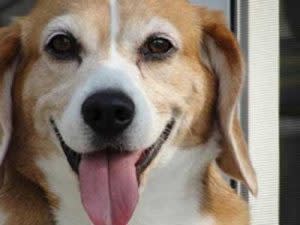 My dog Betsy Beagle, whom we lost in January. She seemed to love Annapolis.
Whatever you do, don't leave your animal in a car. The Humane Society says that on a warm day, the temperature in a car can exceed 120 degrees in minutes—even with the windows cracked.
And passers-by, per the SPCA of Anne Arundel County, it is illegal in Maryland to leave an animal in a hot car. If you see an animal in distress in a vehicle, call: Anne Arundel County Animal Control at 410-222-8900 or call 911.
Make sure to pack the usual dog food, treats, medicine and favorite toy. If you have the space, packing bedding and food bowls could make transitioning to a new place a bit easier for your pooch. And from the just-in-case-file, make sure your pet has an ID tag with your cell number and carry a recent photograph of the animal in your wallet. Always better to be safe than sorry.
One more thing from the just-in-case file: you may want to add the Anne Arundel Veterinary Emergency Clinic 410-224-0331 to your list of contacts. They're open 24/7.
Hope to see you and your favorite dog in Annapolis this summer.
Photos by Alexandra Cannady and VisitAnnapolis.org.