Are you one of the many humans who travel with their dogs? If your pet is well-behaved, good with people, and easygoing in new places, know they are most welcome here in Annapolis. And with the dog days of summer approaching, it's the perfect time to plan a few days in Maryland's capital, mutt in tow.
Is Annapolis & Anne Arundel County Pet Friendly?
Yes! We are a friendly bunch! If you plan to stay overnight, check out our list of pet-friendly hotels! A $50 fee per stay may apply based on location, so make sure you give them a heads-up that you're bringing your animal companion(s). Just picture yourself enjoying a great lunch at an outdoor table in downtown Annapolis with your pup at your feet. Many restaurants even place dog bowls outside their establishments to help keep animals hydrated; if they don't, be sure to get water to go.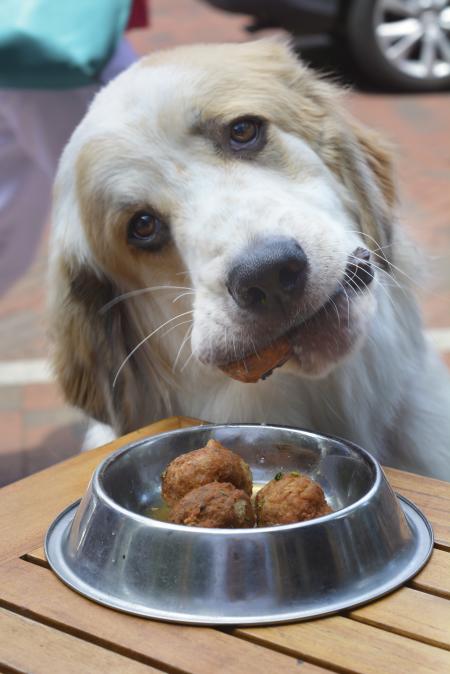 Some area restaurants, like the Pour Dog House in Millersville, even have puppy' beer.'Bone broth in a can for your loyal sidekick.
Dog-Friendly Itinerary
Many Annapolis shops welcome dogs, and some even cater to them! Stop by the Sea Dog Pet Boutique or the Black Dog for a fancy new harness, bandana, or toy to remember your stay in Annapolis. You can also find doggie ice cream and pup cups at these ice cream stores.
How about a boat ride? You can take your dog on Cruises on the Bay by Watermark Annapolis. Bonus: dogs ride free. If you want a little more exercise, consider renting a kayak or paddleboard and cruising the creeks and docks on your own.
If you're looking for an off-leash dog park, you can find one at these Annapolis parks: Quiet Waters Park and Downs Memorial Dog Park. Dogs are also welcome at these pup-friendly parks.
Safety tips for traveling dogs
Remember, it's up to you to protect your pet from strangers. If you're not at the dog parks, keep your dog on a leash, no matter how well-trained.
For those who can't resist petting a dog, please ask the owner if it's all right before you reach out. Not all animals like to be touched. Watch the canine's signals. When a dog sniffs, it's their way of getting a background check on you. Dogs can sniff roughly 1000 times better than humans. Let the animal approach you, then pet it under the chin rather than over the head, which could be considered intimidating.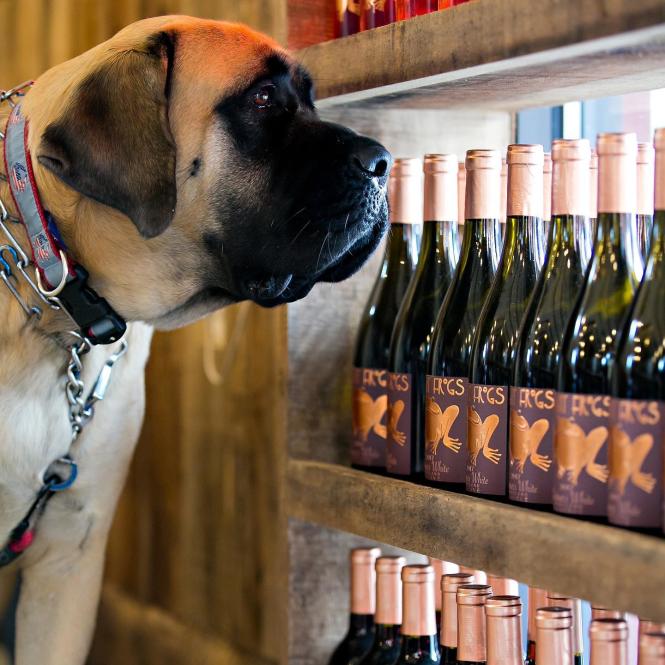 Great Frogs Winery welcomes leashed dogs to their property—image courtesy of Great Frogs.

 

Whatever you do, don't leave your animal in a car. The Humane Society says that on a warm day, the temperature in a vehicle can exceed 120 degrees in minutes—even with the windows cracked.

Per the SPCA of Anne Arundel County, it is illegal in Maryland to leave an animal in a hot car. If you see an animal in distress in a vehicle, call: Anne Arundel County Animal Control at 410-222-8900 or call 911.

Pack the usual dog food, treats, medicine, and Fido's favorite toy. If you have the space, packing bedding and food bowls could make transitioning to a new place easier for your pup. And from the just-in-case file, ensure your pet has an ID tag with your cell number and carry a recent photograph of the animal on your phone. Always better to be safe than sorry.

One more thing from the just-in-case file: you may want to add the Anne Arundel Veterinary Emergency Clinic 410-224-0331 to your contacts list. They're open 24/7.

Hope to see you and your favorite dog in Annapolis & Anne Arundel County.