One of the reasons I enjoy being such an avid foodie is because of the pictures. Food pictures! Everyone must see what I am eating! Yes, I am that person that will halt all proceedings just to capture the perfect shot of whatever I'm about to devour. Behind every foodie is a patient friend, family member, or in my case, a boyfriend who just wants to put his food in his mouth. (See: "Instagram Husband" on YouTube). When you're with a foodie, eating a meal is no longer just the consumption of food. It's a photo shoot to be posted, tagged, and shared with all of the social media world.
All of that being said, food pictures can also serve a purpose. I love showcasing the aesthetic care that goes into a plate, an illustration of a chef's skill and talent. Food pictures are a way to exhibit the kinds of dishes a restaurant has to offer. It's a visual reference of what someone can expect, a way to judge whether a certain cuisine will be to one's liking. Most importantly, food pictures can be fun! They're total eye candy. After all, we eat with our eyes before we eat with our mouths. None more so than with the food at the four spots I visited for this shoot in. So, here are my picks for most Instagram-worthy dining spots in Annapolis!
Great Frogs Winery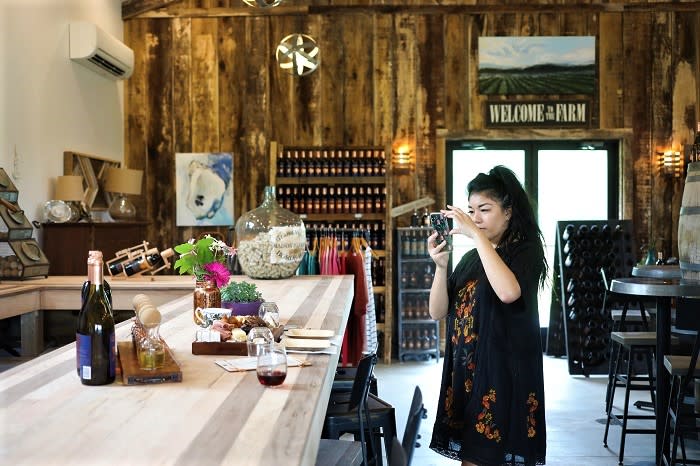 The first stop was Great Frogs Winery; an epicurean's playground. I have lost track of the hours here on more than one occasion. Owners Nate and Andrea O'Shea have an eye for giving their two barn structures a rustic look that is oh-so elegant and cozy. The original barn has a main space for live music and larger events. Closed off from the main area is a separate section for more intimate club tastings. It's here that you can slip away amongst cowhide rugs, leather cushions, and fresh flowers accenting gorgeous wooden furnishings. Great Frogs' second barn is a newer, more modern version of the first but with the same comfy feel. It's bright and airy with high ceilings and an industrial touch. It's here that you'll be mesmerized by imposing wine barrels, containers of corks big and small, not to mention the wine on tap.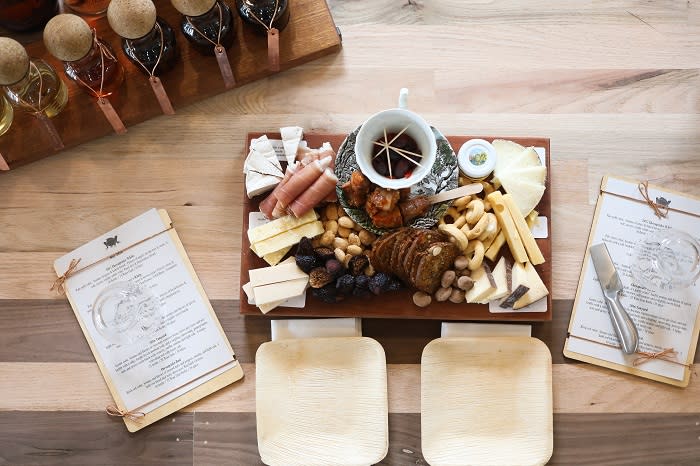 All of this attention to detail and carefully curated design makes for the perfect setting to sample Great Frogs' tasty wines along with a cheese board from Tastings Gourmet Market. Wine and cheese is a combination that I live for and also happens to be the perfect subject matter for photos. If that's not enough, I recommend a good frolic in the vineyard, glass of wine in hand, or snap a shot in front of the two vintage trucks that are screaming photo op. Along the way you'll notice a happy little frog, the emblem of Great Frogs. It turns out that one of their founders is a huge fan of frogs, and thus, a most charming and iconic logo was born. Next time you're in see how many frogs you can find while you snap away. There's no shortage of backdrops, the lighting is magic, and the wine always makes for a good time.
Preserve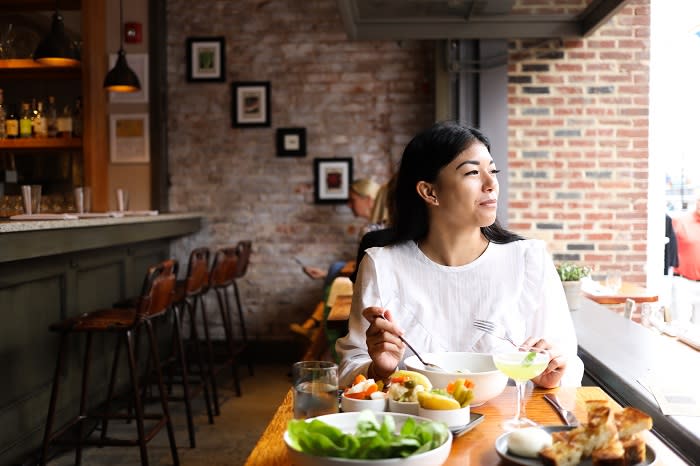 Next is one of my favorite spots in the downtown area: Preserve. Right away you'll notice their beautiful windows that open up to Main Street. If you can get one of their coveted street-side seats you've got the perfect lighting for pictures during the daytime. I was able to take advantage of this photogenic setting a few weeks after Preserve's menu change. The meal that followed was absolutely spectacular, starting with their "Vodka" and "Whiskey" cocktails. The vodka drink was like sipping on a subtly sweet summer garden, thanks in part to snow-pea mint cordial that no doubt lends much of the lively green color. The whiskey drink was like a strawberry crush that's so smooth it leaves you with just a hint of the actual whiskey itself. I loved capturing the colors of these cocktails against the simple cardboard and black ink style of Preserve's menus on camera.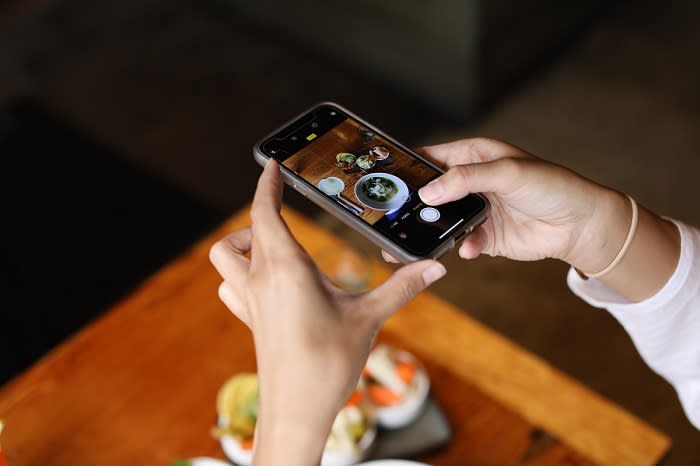 When it came time for the food the pickle sampler was the obvious choice for a starter. True to their namesake, Preserve has a way with their house-made pickles. The variety is impressive: quick pickles, Gardenia Chicago-style pickles, and classic Jewish-style pickles using an assortment of vegetables that lend pops of color to the presentation. Next came the Crispy Potato Cakes, a take on a traditional latke. Served with apple jelly and sour cream, they're the perfect sweet and salty bite to snack on with friends. The Char Siu Pork Belly Cups were another delightful take on the sweet and salty front. Honey lacquered pork belly presented with bibb lettuce and pickled daikon radish; it's a deceptively simple dish that's too easy to gobble down. Just when I thought things couldn't get any better the Mozzarella & Sourdough came. The bread is made with Preserve's own starter using sauerkraut juice and baked daily, while the mozzarella is pulled to order. You would think that would be the mic drop on the meal until the "Aguachile" Style Virginia Scallops arrived. This dish dazzled me from the start, with bursts of green (cilantro, cucumber, lime juice) and red (shaved onion). It actually felt like a crime not to get a picture of it before diving in.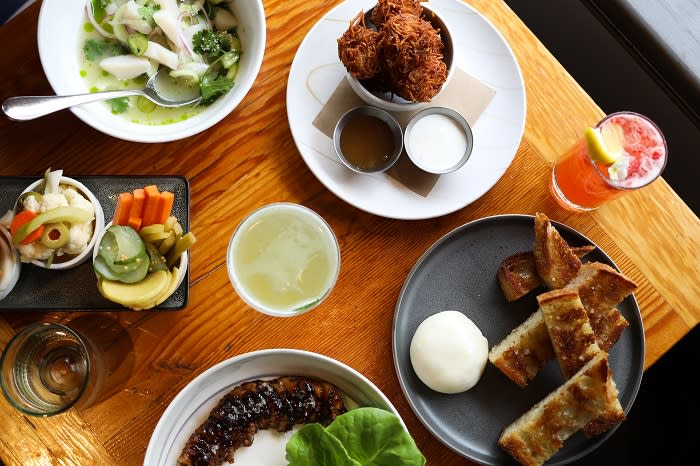 It's easy to savor the presentation and flavors of Preserve's dishes. The obvious reason is that they're beautiful and delicious – my camera and my taste buds tend to have a field day whenever I dine here. The deeper reason is the care that goes into every detail at Preserve. Their passion for not only making food preservatives, but preserving small, local businesses shines through in their dishes, from the local dishware to the locally sourced ingredients.
Vida Taco Bar
Our next stop was just up the street at Vida Taco Bar. They have large windows that provide a view of Main Street and allow ample light to come through during the day. If you can get a table near these windows, Vida's vibrant drinks and food will practically jump through the screen in your pictures. I always look forward to the inventive selection of tacos Vida has to offer along with their margaritas – easily the best around. Vida's margarita mix is made every day using limes, Valencia oranges, organic agave, and organic sugar cane. I had to have a classic Vida margarita as well as a "Purple Drank" (half hibiscus sangria half Vida margarita) on my visit. I also tried Vida's seasonal watermelon margarita, made with watermelon (locally sourced from Diehl's produce) that's juiced daily. These cocktails were showstoppers all on their own; each one a festive color and garnished with flowers. It was like getting a present every time one was delivered.
Next came the food starting with an order of guacamole and pico de gallo, followed by a tasty trio of seafood tacos. Think: Mexico meets Annapolis. The scallop and shrimp tacos are two of my go-to's, and the last one (speaking of that inventive selection) was a soft shell crab taco. Fresh Eastern Shore soft shell crab fried and served with Old Bay, squash and corn pico, and avocado creme; I was not mad. The whole meal was bursting with color – from the pickled red onion, to the cabbage slaw, to the radish slices, to the wedges of lime. It looked and tasted like a fiesta. I especially loved the way my pictures popped against the black and white Day of Dead-type illustrations that cover a few of Vida's walls. They provide such a fun contrast for just about any subject matter. After all the margaritas, tacos, and pictures, don't forget to do one of Vida's Bird Shots; a jalapeno-infused tequila with pineapple juice chaser.
Cantler's Riverside Inn
Last, but not least, on our Instagram-worthy tour of Annapolis was Cantler's Riverside Inn. If you're a true Annapolitan, no Instagram account is complete without a picture of some Annapolis' finest steamed crabs. Cantler's is situated right on Mill Creek making it one of the few waterfront dining spots and an ideal setting for capturing one of Annapolis' true summertime experiences. I decided to start where everything starts at Cantler's: a behind-the-scenes part of the restaurant, figuratively speaking, that's actually located "over the hill" just below the restaurant. This is where the crabs are measured and sorted, fish are fileted, and the soft shell crabs are moved along in water tanks until they shed their shells. Cantler's is one of the only places – at least to this foodie's knowledge – that sheds their soft shells on site. Here, they are literally water-to-table and one of freshest seafood dishes you'll find.
After finishing up "over the hill" I had the pleasure of sitting down at an outside table with a full view of the creek, a soft shell crab sandwich, and a tray of freshly steamed crabs. This is what summertime is all about! A couple of cold local beers by the water on a hot day, just about any kind of seafood (and plenty of non-seafood options) you could want, and a casual atmosphere. And, of course, phone in hand!
Video courtesy of Patrick McNamara of Drawn to the Image. Photos courtesy of @annapolis_foodie and Drawn to the Image