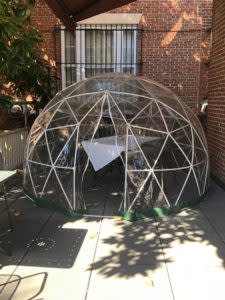 Outdoor dining globes are on the agenda for Reynolds Tavern as temperatures drop. Photo courtesy of Visit Annapolis.
The streets of downtown Annapolis were transformed this summer to provide a safe and pleasant space for socially distant socializing and dining at our bars and restaurants. Although some of our favorite eateries had designated outdoor seating pre-pandemic, the city chose flexibility over restriction. From closing down sections of the street to building new structures and tents, restaurants have tapped into their creativity to make the most of the adjacent sidewalks, parking lots, and patios.
Reynolds Tavern/1747 Pub has created a beautiful oasis in the heart of the historic district for outdoor dining. Photo courtesy of Visit Annapolis.
Reynolds Tavern provides a unique outdoor dining experience that makes safe socializing relaxing and fun. Tucked behind the main entrance, their beer garden and patio give patrons a fresh experience thanks to a recent facelift. Grab a meal or even just a drink under the soft-lit paper lanterns that are strung tree to tree. With a contemporary paint job, the garden sets the mood for the perfect evening with friends and family. Enjoy live musical performances by local musicians on the patio. As temperatures get colder, Reynolds has you covered- literally! They have new heated outdoor dining domes they will be add to the courtyard, as soon as weather permits! Dining outdoors all season long just became possible!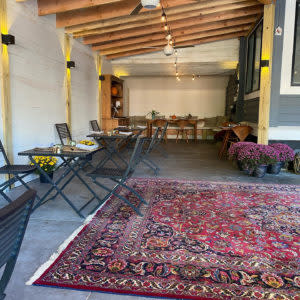 Flamant's chic outdoor seating is a welcome addition to the already popular West Annapolis eatery. Photo courtesy of Flamant.
An open-air patio is a new addition to the modern Belgian eatery, Flamant on Annapolis Street. The covered dining area brings a cozy, homestyle feel with ornate rugs under cafe tables. Flamant is prepared to take their diners into the cooler months with outdoor heaters and a new fall-inspired menu. Since the restaurant is strictly abiding by Anne Arundel County Health Department regulations, reservations are required to ensure a safe and delicious experience for all of their customers. Click here for a reservation.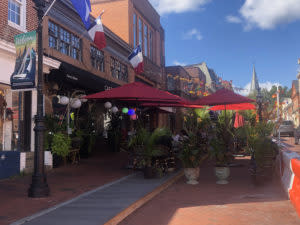 Cafe Normandie has transformed their sidewalk and part of Main St. into a welcoming and inviting dining escape! Photo courtesy of the author.
Main Street bustles with bars and restaurants that are doing their best to keep their doors open during the pandemic. Although many have utilized the extended sidewalk for additional outdoor seating, Cafe Normandie brings another level of worldliness to the Main Street scene. The French bistro's outdoor seating will transport you to Parisian living with their seasonal decorated vines that adorn their section of the street. The bright decor brings a unique sophistication that will elevate your evening.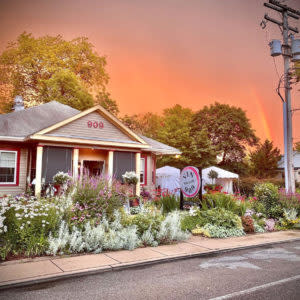 Vin 909 has welcomed diners to their enclosed patio for years, but during the pandemic they have expanded into their adjacent parking lot. Photo courtesy of the Vin 909.
Eastport has also prioritized outside dining during the pandemic. Restaurants such as Vin 909 Wine Cafe and Boatyard Bar & Grill have tented their parking lots to extend the outdoor capabilities as the weather begins to cool off. The Eastport community vibe lives on with these unique outdoor dining options. Although less parking is available, the additional converted areas greatly benefit the local establishments.  Eastport residents and tourists alike can enjoy their regular dining spots while creating a bit of normalcy as the summer wraps up.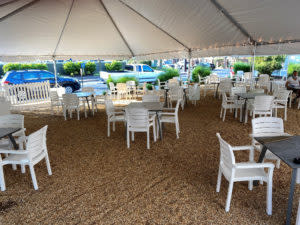 Boatyard Bar & Grill adds plenty of seating by converting their parking lot into a tented outdoor patio. Photo courtesy of Boatyard Bar & Grill.
Annapolis is a community that thrives on social events, delicious dining options, and an all-around good time. True to its roots, the city has pulled together to provide Annapolitans with a safe place to gather. We will get through this together, and a big thank you to our favorite restaurants for going above and beyond to create unique outdoor dining experiences all over town!