First Sundays on West Street
If you are looking for the perfect way to spend an afternoon, look no further than the First Sunday Arts Festival in downtown Annapolis. This Sunday will be the last festival of the season, wrapping up the festival's 20th year!  The festival takes place on the first couple of blocks of West Street, near Church Circle, and Peoples Park on Calvert Street. Here you will find a colorful and entertaining display of artisan offerings, scents of delicious food, and rhythmic music on the first Sunday of every month from May to November.  Admission is always free. There is also free parking offered at the Calvert Street Garage during the festival hours.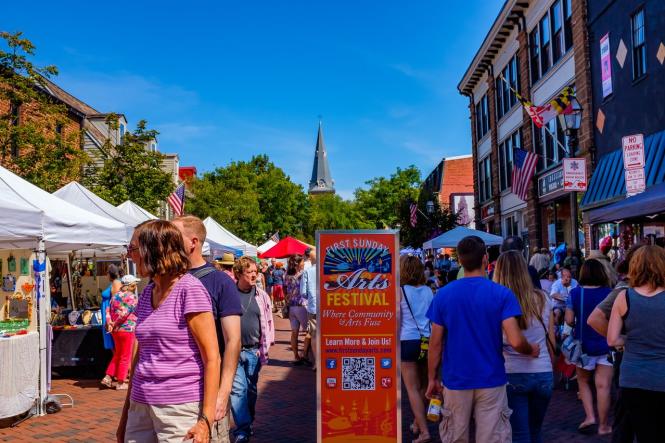 Shop the artists in person or on the First Sunday Arts Festival website. Photo courtesy of Bob Peterson.

 
Over 250 Artisans!
In speaking with Erik Evans, who has been an integral part of the festival's organization since day one, he describes the street fair as "fun outdoor shopping, live entertainment, and café dining…this Sunday there are over 120 vendors lined up and many great bands throughout the day." Erik points out that during this November festival, in particular, many of the vendors will offer items catered towards holiday shopping.  With warnings of difficulties of low inventory and shipping from outsourced products for the upcoming holidays, it makes sense to shop local right now. The festival is the perfect place to do so. The First Sunday Arts Festival offers a safe environment in an outdoor setting for you to eat, shop, and be entertained. In addition, you can shop from the 250 First Sunday Arts artisans virtually at any time on the festival's website.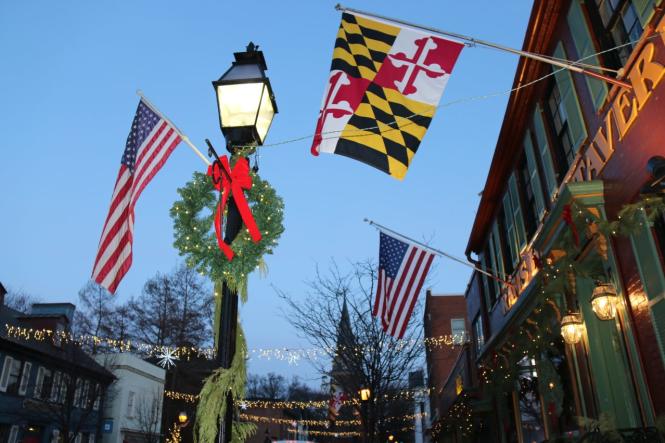 Shop local for the holidays and skip the lines and shipping delays! Photo courtesy of Visit Annapolis.

 
Shop Early, Shop Local
At the First Sunday Arts Festival, you will find a sea of unique items from a wide variety of artisans throughout our region. Whether you are looking for something specific, like a special piece of jewelry, some art for your wall, or a beautiful and functional piece of pottery, you can find it here. With such wonderful diverse offerings including textiles, glass, wood, books, cards, home décor, food, candles, soaps, jewelry, pottery, and art, there is truly something for everyone. 
Date: Sunday, November 7th
Time: 11:00 am - 4:00 pm
Location: West Street and Calvert Street, Annapolis