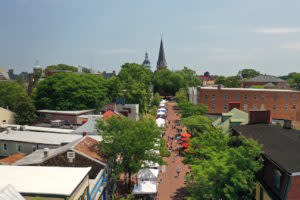 Aerial view of First Sunday Arts Festival on West Street. Photo courtesy of the Annapolis Arts District.
The First Sunday Arts Festival, simply known as First Sunday to many, is one of those things Annapolitans have come to rely on and take for granted. Even for those who don't set out to attend as a destination, First Sunday Arts is a component of what makes Annapolis a vibrant, thriving place to live. However, the First Sunday Arts Festival has done what most have had to do during the pandemic; redefine themselves.
Going Hybrid
Annapolis and Anne Arundel County are known for embracing artists and the arts as a key force in the community. They are taken very seriously as businesses that work hard for every dollar while contributing to the local economies through their craft and spirit.
First Sunday Arts Festival has a dedicated website where vendors can link their art and products directly to their own e-commerce site. Photo courtesy of festival vendor, Iris Grundler Pottery
Because of that, First Sunday has redefined themselves and gone with a hybrid approach. You can shop in-person; at artisan booths carefully distanced from each other, mask guidelines in place, and with a limit of one household per tent at any given time. Or, if you're not ready for the in-person experience, you can shop from home by previewing and shopping over 200+ artisans on the Virtual First Sunday website.
Going Virtual

First Sunday Arts Festival Banner. Photo courtesy of the Annapolis Arts District.
"It's been a tough year for artists. In-person gallery receptions are cancelled, and a lot of galleries and artists are dependent upon those kind of events because it is their primary income or a strong secondary income," says Erik Evans, the Annapolis Arts District's Executive Director.
"We're waiving the fee to be hosted on the website for 2020," said Erik. "Hosting an event of this size and including a website that supports 200 artists with zero commissions may be a money loss for the organizers, but we needed to do something to keep the artists going, so when this is all over, they will be able to come back."
Going Live
First Sunday has again changed the scope and size of this year's festival. The space was reimagined and redefined to limit contact to keep visitors as well as artisans safe. Vendors are limited to only the first block of West Street where the 50+ artisans are spaced equally apart to keep everyone socially distant. First Sunday is not charging the vendors who were registered last year, and space is booked through the end of the year.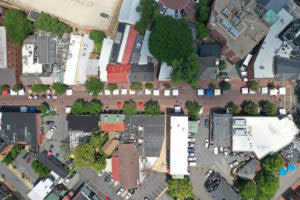 West Street, with an aerial view of the redefined space requirements for vendor tents. Photo courtesy of Annapolis Arts District.
I talked to a few vendors to get their take on the newly redefined festival. Here is what some of them had to say.
"I am just happy to be out and talking to people who are genuinely interested in what I have to offer."
From another, "Yeah, there are a lot fewer people milling about in my tent – and I'm glad for that right now because I want to be safe too. But, people that do come are more focused on what I have to offer."
While more subdued this year, it's still a great way to observe the art and crafts of these important artisans.
Festival Details
The variety of what you will find is still there: candles, soaps, textiles, ceramics, glass, wood and of course, 'Maryland' crafted wares and art with the background of our beloved state flag, or emblazoned with our official state crustacean; the Maryland Blue Crab!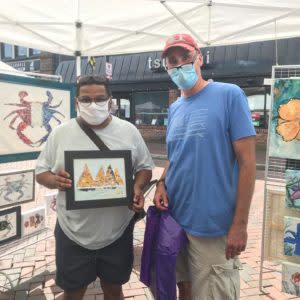 Chris Irwin, of C. Irwin Design, with a customer at the First Sunday Arts Festival. Photo courtesy of C. Irwin Design.
You can shop the festival from 11 a.m. to 5 p.m. on First Sundays and just like everywhere else in the downtown area, there is outdoor dining at socially distanced tables along West Street. Masks are required and they recommend you carry hand sanitizer.
'First Sunday' Success
This past June, the First Sunday Festival was only held virtually. Then in July and August, the hybrid version was introduced and it seems to be going well. Since the beginning of June, 5,800 people have visited the online virtual festival.  Of course, the in-person turnout is lower than a typical festival, but that is to be expected during these unprecedented times.
"While the turnout is lower, the artists still  had a good day. The people who showed up came with a mission and they did buy. It's safer because we got rid of everything that makes you hang out when you're not shopping. The goal is to shop and move on. There's nothing to entice hanging out because this year there are no food trucks and no live music," says Erik.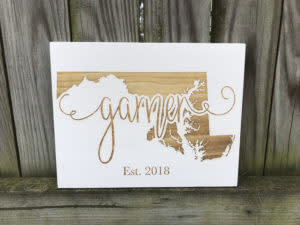 Vendors have had to pivot and redefine how they will showcase their art during the virtual First Sunday Arts Festival. Photo courtesy of Crab Shack Design.
Moving Forward
Each month, the organizers check in with the City the week before the event to ensure they are still able to operate safely and according to guidelines. The plan is to continue to offer the First Sunday Arts Festival through November, barring any unforeseen changes from the city and county.
Do we miss the First Sunday Arts Festival of the past? Of course! But, on the bright side; we can still get out and shop local artisans. We can also enjoy good food and explore the many other galleries, shops and businesses throughout Downtown Annapolis on First Sunday that are safely open for business. The Festival has truly redefined itself to continue to offer great art, artists and music, and for that; the community is grateful.
(Take advantage of the free parking on weekends; located at the Calvert Street Garage 19 St. Johns Street and John Whitmore Garage 25 Clay Street.)