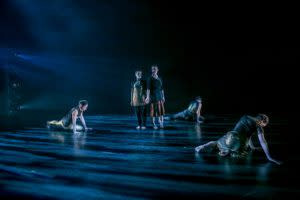 Dancers from Fidget Arts. Photos courtesy of Maryland Hall.
Summer has arrived and it's time to get out, enjoy some live performances, or maybe catch a flick on a big screen. Even in the social distancing atmosphere, tis' the season to embrace the sunshine, be creative, and experience the arts.
Maryland Hall; a staple in the Annapolis and Anne Arundel communities since 1979, is on a mission to bring the art community together during COVID-19.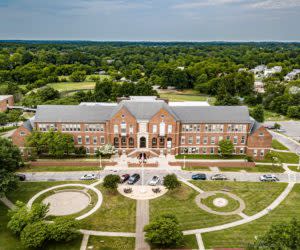 Enjoy an outdoor movie on the lawn at Maryland Hall for the Creative Arts. Photos courtesy of Maryland Hall.
Your favorite artists, and artists on the rise, are collaborating with Maryland Hall by proposing new and refreshing art experiences to engage with you. Among these new ways of engagement are four safe ways to enjoy the arts this Summer.
Under Construction Arts and Fidget Arts
Under Construction Arts embodies the spirit of collaboration between you, and local and national artists. The program allows artists to have a space to develop their art forms, interact with the audience, and get feedback on upcoming projects. Curious to see what this looks like? Visit the Maryland Hall website to get a behind-the-scenes look at the creative process of dance with its latest developmental collaboration with Fidget Arts.
Movies on the Lawn
This summer Maryland Hall is bringing back family fun and art for all! Whether you are looking to watch a movie with the family or have a romantic date night at a live performance, the Maryland Hall parking lot is the place to be. They will be providing a safe and inviting drive-in movie and performance experience for the Annapolis and Anne Arundel communities this Summer.
The Bowen Theater
If you've been missing out on the local concert scene, then you will be in for a treat with an array of concerts on the Maryland Hall lawn. But, if you're craving a more intimate show experience; the re-imagined Bowen Theater will be serving up drinks, film, music, live performances, burlesque, and so much more in its new cabaret-style space.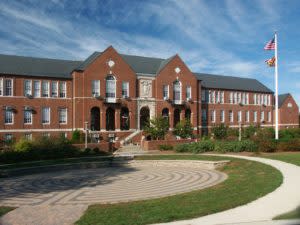 Maryland Hall will also be hosting concerts, film, burlesque and more in the Bowen Theater. Photos courtesy of Maryland Hall.
Virtual Classes
If you would prefer to learn from home; registration for Summer classes, workshops, and camps have begun. Virtual class options via Zoom are also open for registration and include dance, painting, creative writing, and poetry to name a few. Whether you're looking for a live experience or want to learn at your own pace, they have you covered. If you are ready to mingle and be surrounded by other artists, Maryland Hall will be offering small on-site classes and camps as well.
Finally, if you're an artist, Maryland Hall wants to hear from you! They are looking to collaborate on new projects and performances. So if you need a space to create, film, curate an audience, or share your talent with the world; Maryland Hall is waiting to connect with your vision.
For more on Maryland Hall and to contact them directly, click here!