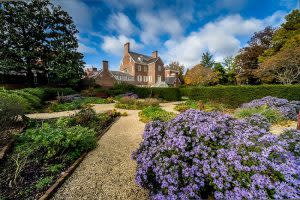 William Paca House & Garden (186 Prince George St.). Photo courtesy of Historic Annapolis.
Annapolitans have been through a lot in our 350-plus year history, but we've never been through anything quite like COVID-19. Nor, had Historic Annapolis. The organization was founded in 1952 as a way to preserve our town's unique architectural history. Since then, it's grown into a multifaceted treasure that showcases our diverse history though everything from architectural reconstruction and tours to lectures, period re-enactors and school programs.
The team caught one good break in mid-March, when the shutdown began: Governor Hogan deemed construction an essential business. As a result, work was able to continue on two main projects: the restoration of the pre-Revolutionary era James Brice House, and 99 Main Street which is home to their museum. But, for everything else; the shutdown meant starting from scratch and reinventing their approach in this new era.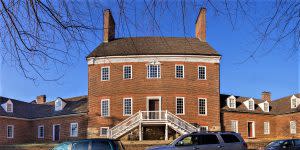 Thew James Brice House, which is currently undergoing historic renovations. Photo courtesy of Visit Annapolis.
The Face Behind the Mask
"The first thing we did was take a time out to develop a road map and decide how we're going to navigate," says Carrie Kiewitt, SVP of Membership, Communications and Engagement.
"It was almost a mini strategic plan." That meant looking at every department, deciding where the most pressing needs were, and reorganizing to focus on those priorities.  And it meant doing it under rough conditions; the dedicated staff put in extra hours, and even accepted dramatic pay cuts to keep things rolling before their federal PPP (Paycheck Protection Program) loan came through.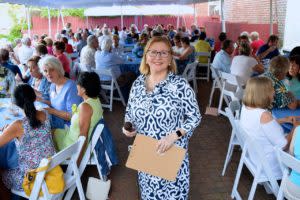 Janet Hall, pictured at the 2019 Volunteer luncheon with 175 HA volunteers! Photo courtesy of Historic Annapolis.
Janet Hall
Historic Annapolis relies on their community of donors, members and volunteers to keep things moving. The latter is the specialty of Janet Hall, Visitor Services Manager. "I think of myself as the welcome wagon for Historic Annapolis," she says. Among other things, she manages the volunteer program, the schools program and the lecture series—all of which were impacted by the closure.
One of their first moves was starting a blog. The HA community of experts from staff to docents; continued to share their expertise. Posts run the gamut from intriguing deep dives to HA historians. They also offer behind-the-scenes insight from curators and Volunteer Voices. In this series, the volunteers share what they love about working with HA. It's been a big success! "They are so passionate," says Hall. "They're eager to come back when they're able to, but until then; we have space for them as well as new opportunities."
Navigating the Challenges
Another pivot for Historic Annapolis was their annual plant sale which is held every May. While other key fundraising events like Paca Girlfriends and Bourbon and Blazers could be rescheduled for fall, "plants can't; they are living things," says Kiewitt. This year, buyers went online to purchase plants, then were able to pick up curbside at William Paca House on the appointed day. It was a true team effort, from the volunteers that grow and tend the plants to the onsite team managing the non-contact pickups. Even in the time of COVID, it turned out to be their most successful sale yet, says Kiewitt.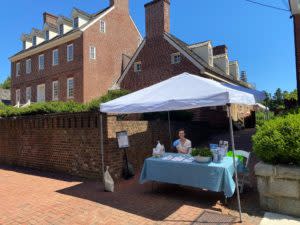 The new entrance to the garden during current guidelines and restrictions. Photo courtesy of Historic Annapolis.
The popular winter lecture series, which typically takes place at O'Briens, has also gone virtual. "I was thrilled to take on this project," says Hall. "We have a different twist to them. I always like to start with a broad overview and then paint it down." The weekly online series kicked off with an overview of Annapolis history. As the lectures progress they will become more granular; covering disparate topics including map making in the Colonial era and a tour of the Old Senate Chamber. "We're hoping it's going to become a Thursday evening 7 pm tradition for everyone," says Hall.
As summer progresses, more in-person events will be added to the calendar. An architecture tour done in conjunction with Watermark began July 18th and will be hosted again on July 26th. In addition, the two-acre gardens at the flagship Paca House have reopened on weekends from 10-2. "It's a really enjoyable offering," says Hall. "We have lots of information, and docents on hand. We've had lots of families come through, and lots of visitors from out of town. They have a wonderful experience."
They are also offering Dinner in the Garden, a monthly dining experience done in conjunction with Ken's Catering, with an elegant meal served at small tables set throughout the grounds. July is sold out, and August almost sold out, so this may be another thing they continue post-pandemic, due to demand.
Moving Forward
Going forward as Maryland reopens, the HA team is keen to expand the hours at the Paca House and the museum store, both currently open Thursday through Sunday. They are also prepping for their signature events, Paca Girlfriends and Blazers and Bourbon, which have been moved to the fall. "We're having discussions right now on what that may look like," says Kiewitt. "We're trying very hard to accommodate everyone's different levels of comfort. It's a balancing act."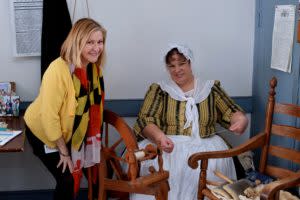 An interpreter/docent demonstrates with a spinning wheel at the William Paca House. This section of the property is currently closed due to COVID; however they hope to reopen in the Fall. Photo courtesy of Historic Annapolis.
Further down the road, they hope to introduce exclusive, intimate tours of Paca House as well as Hogshead, their living history museum on Pinkney Street. Equally key is restarting their educational programs for local schools, depending on what happens in the fall.
And while there aren't many options right now for in-person volunteers, Janet Hall is still welcoming anyone who is interested in supporting their work. "Our goal for volunteers is to welcome them, see what they're interested in and find the right place for them in our organization; one that serves them well, and lets us tap into the wonderful, different skills that they have," says Janet. "Because our volunteers bring it; they are everything to us!" Even if it's as simple as spreading the word about their work, attending a virtual lecture, or becoming a member, every effort adds up.
One thing is for sure: Whatever challenges they face, the team at HA will face it head-on.. "Challenges lead to creativity," says Hall. And as reopening efforts expand, the HA staff and their team of volunteers will be ready. "They are all waiting with bated breath as to when they can get back," says Hall. And HA's heartfelt appreciation extends to the generous donors and members who support their work, be it in person or online. "They are dedicated to HA and believe in our mission," adds Hall. "We cannot thank them enough right now for their support — it means the world to us."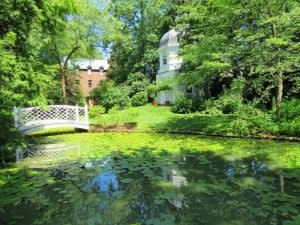 Paca House pond, the gardens are currently open to the public 10-2, Thurs. - Sun. Photo courtesy of Historic Annapolis.
(The Face Behind the Mask: is a series of blogs dedicated to those making a difference in Annapolis and Anne Arundel County during the COVID-19 Pandemic. Click here for more articles in this series.)