While seating will be limited in the stadiums where it's played and the sports bars where it's watched, the NCAA men's basketball tournament – better known as March Madness – is back after being canceled in 2020 for the first time since it was first held, in 1939.
Tipping off on March 18 and ending with the championship game on April 5, the 2021 version will offer a total of 67 games to watch across 11 days and nights.
Of course, options abound when it comes to bars in Annapolis and Anne Arundel County where the games will be playing on at least one or two TVs. But for those searching for the best spots to watch some or all of the games this year, there are some key criteria to consider: the number of TVs on the walls, the number of beers on tap, and the quality of the food and ambiance.
With this in mind, here are six of the best bars for watching b-ball in town, plus one where you're sure to not see any – starting with a one-sentence simplification of what makes them stand out.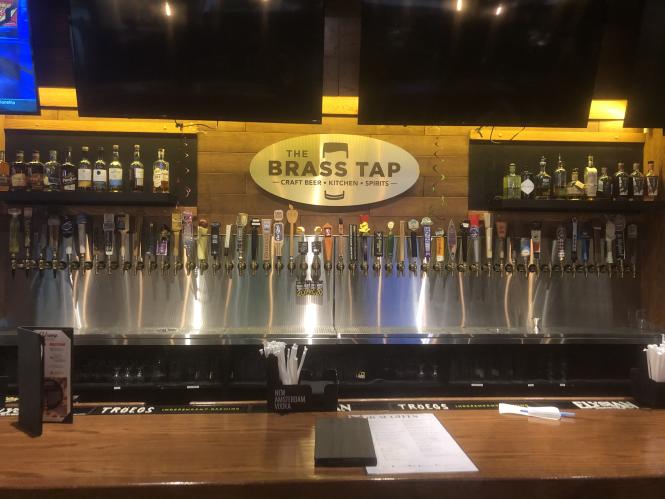 The Brass Tap carries probably the largest selection of beer sin town. Image courtesy of the author.

 
The Brass Tap – The place with the most beers.
TVs: 17
Beers on Tap: 50 continuously-rotating drafts including a number that will be featured in Stone IPA Madness, an annual contest that celebrates the season by offering discounted flights from March 18th through March 22nd and inviting customers to vote on their favorite beer for a chance to win a prize pack.
Food: Brass Tap's grub runs the gamut, "from salty to tangy to sweet." The Happy Hour Menu offers $5, $6, $7, and $8 options, from brussels sprouts to Korean BBQ pork sliders, and the expansive menu includes a wide selection of apps and mains – including wings with a choice of 12 signature sauces and big Angus burgers, all available single or double. There's even a brunch menu!  
Ambiance: A true sports bar feel. "We have a great sports following, with a great diversity of fans and plenty of socially-distanced tables, all in an ideal location," says General Manager Alison Pead.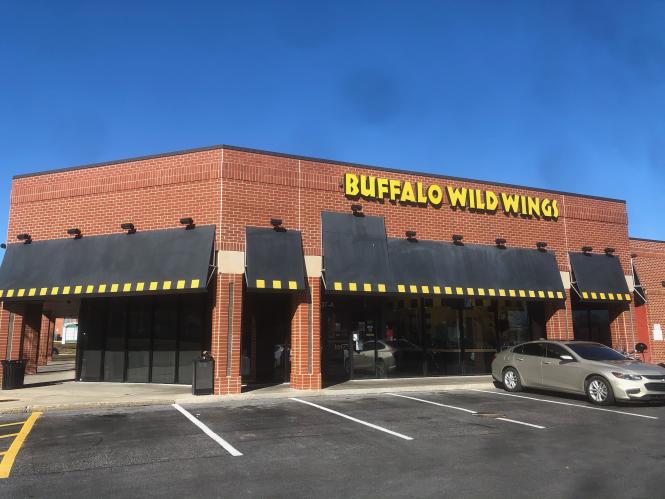 "Wings, beer, sports, and a great atmosphere – what else could you want?!" Image courtesy of the author.

 
Buffalo Wild Wings (BWW) – The place with the most wings (and TVs).
TVs: 65
Beers on Tap: 15-25
Food: Although BWW has all the apps and burgers and wraps you could want, it's obviously all about the wings! The menu offers three kinds of wings (traditional, boneless, and even cauliflower), hand-breaded and naked tenders, and a whopping 26 sauces, from Sweet BBQ to Blazin' Carolina Reaper. As the website attests: "It's what we do. So, yeah. They're really good."
Ambiance: There are over 1,200 "B-Dubs" in the U.S., and you can expect the full sports bar feel at any of them. As Mike, BWW Annapolis's assistant general manager, puts it simply when asked what makes it the place to be for March Madness: "Wings, beer, sports, and a great atmosphere – what else could you want?!"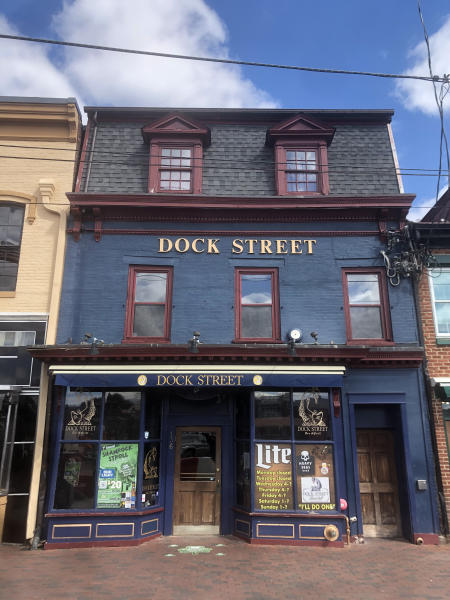 Dock Street sits along the water in downtown Annapolis. Image courtesy of the author.

 
Dock Street Bar & Grill – The place with the downtown vibes – and view.
TVs: 8, with 6 downstairs and 2 upstairs.
Beers on Tap: 0. However, Dock Street offers 19 Maryland-brewed bottles including the Dock Street Pilsner, specially-made by Manor Hill Brewery.
Food: As the menu says, "It's all tasty." Some of the most eye-catching selections include bacon-wrapped meatloaf, jumbo lump crab cake and dip, and a whole lotta tuna, from seared sesame and tartare to salad, sandwich, and tacos.
Ambiance: The saying is "I'll do one" at Dock Street, but that will easily turn into two or three or four thanks to the easygoing atmosphere, good vibes, and great Ego Alley views.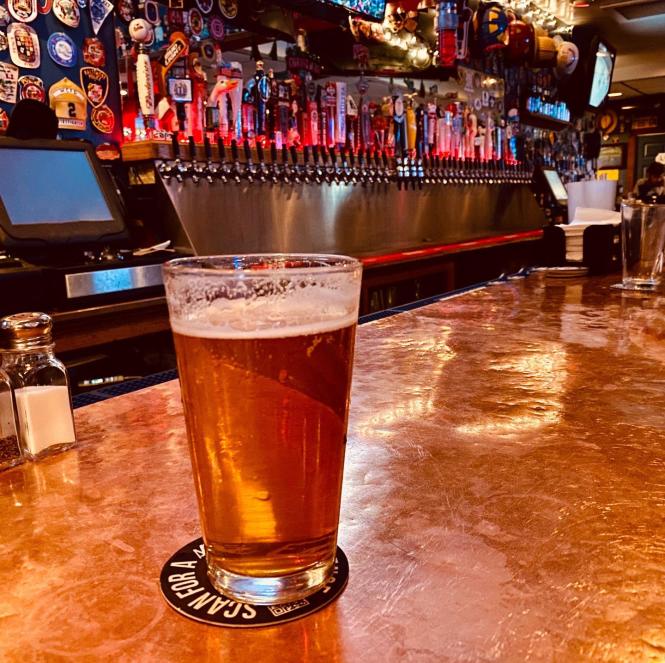 Heroes Pub, where the locals go! Image courtesy of the author.

 

 
Heroes Pub – The place with the most locals.
TVs: 10
Beers on Tap: 48
Food: Heroes' broad menu offers homestyle pub fare both typical and not-so-typical, from burgers and sandwiches and subs to crab cakes and steaks. And of course, tater tots!  
Ambiance: Located a little off the beaten path, in West Annapolis, Heroes is a tried and true sports bar with pride for both its local teams and its local community and first responders. It's got dartboards, signed sports paraphernalia, and a jaw-dropping amount of diverse décor from firefighters, police officers, and military members on its walls.

Neo Pizza is perfect for watching a few games with the family. Image courtesy of the author.

 
Neo Pizza – The place with the most pizza.
TVs: 4
Beers on Tap: 16
Food: The menu offers an endless number of build-your-own pizza options, with proteins ranging from shaved ribeye to lump crab and a wide array of veggies and cheeses – plus all can be made vegan-friendly or gluten-free. There are also plenty of tasty small plates to share, from meatballs to cheese curds.
Ambiance: Tucked under Target, Neo is a casual spot perfect for a pre- or post-shopping stop, a family pizza night out, or watching a few games with a few beers.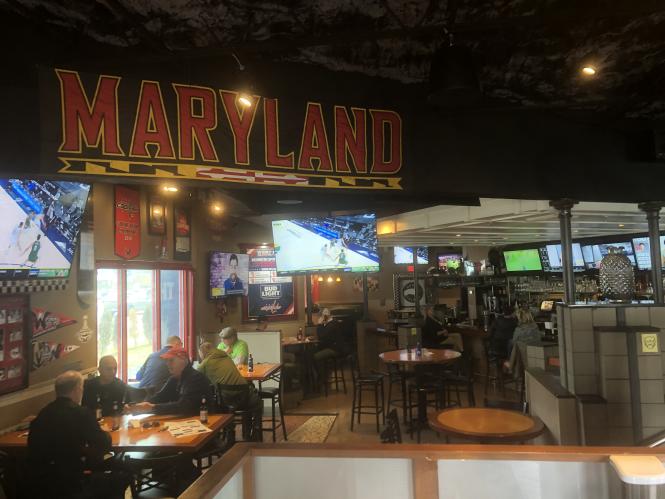 One of the best bars for watching UMD games is West End Grill. Image courtesy of the author.

 
West End Grill – The place with the most local sports fans.
TVs: 26, including 4 outside under tents.
Beers on Tap: 12
Food: Served until at least midnight every night, the menu includes 14 flavors of bone-in or boneless wings, from Blueberry BBQ to Red Rooster; unique apps such as Reuben egg rolls; and plenty of sandwiches, salads, and entrées.
Ambiance: West End is the place to go if you want to be sure to watch the University of Maryland compete in the tournament alongside fellow Terps fans. It's also a favorite for Caps games, with an official red light siren that goes off after each goal to prove it.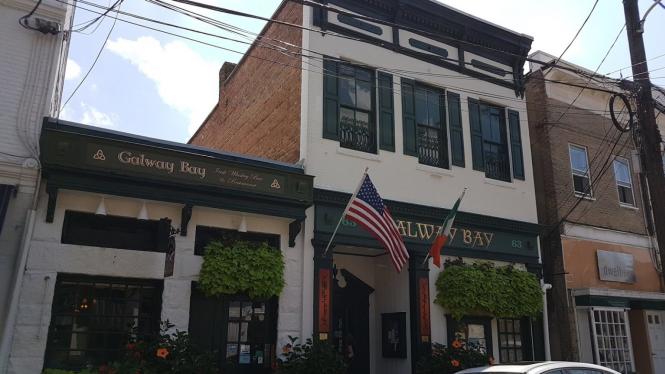 Get away from the 'madness' with a seat at the bar of this Irish favorite. Image courtesy of the author.

 
Galway Bay – The place with no TVs.
TVs: 0
Beers on Tap: 12, highlighted by Irish standards from Guinness, Smithwick's, and Harp.
Food: A blend of Maryland seafood and traditional Irish fare, the menu includes everything from oysters on the half shell and crab dip, balls, and cakes to shepherd's pie, corned beef and cabbage, and bangers and mash.
Ambiance: For those looking for a great bar that guarantees a game-free experience, Galway is the place to be. A downtown Annapolis institution since 1998, the bar offers a true pub experience with plenty of Irish food, drink, and live music. Just like March Madness, it's even back to celebrating St. Patrick's Day this year – you'll need a reservation, though, so get the details and check out the menu here.