Annapolis knows how to make a lasting impression, but combine the quaint beauty of the town with vibrant flowers and you have an unforgettable memory. The first time I ever visited Annapolis was on May Day, and I was immediately sold. I could not believe the camaraderie between home and business owners and the city. How gracious to not only allow strangers to gawk at your pristine colonial building but to create a floral masterpiece to accompany the amazement. If there is any day to show a guest around Annapolis it is May Day.
Image courtesy of Visit Annapolis and Anne Arundel County
The Start of May Day
The May Day initiative was spearheaded by the Garden Club of Old Annapolis-Town in 1956. The organization formed a year prior at the home of Mrs. Jesse Wilkins (232 Prince George St) as an effort to expand the Federated Gardens Club of Maryland. The seven founding members included Mrs. Philip Briscoe, Mrs. Edward Burgess, Mrs. Ross Collins, Mrs. J. LeVoy Hill, Mrs. William Paca, Mrs. Edith Robertson, and Mrs. Jesse Wilkins. The members set a 25 person limit to the club, and the annual dues were $1. One year after forming, the club grew to 19 members. So, they decided to take on an annual project to brighten the community.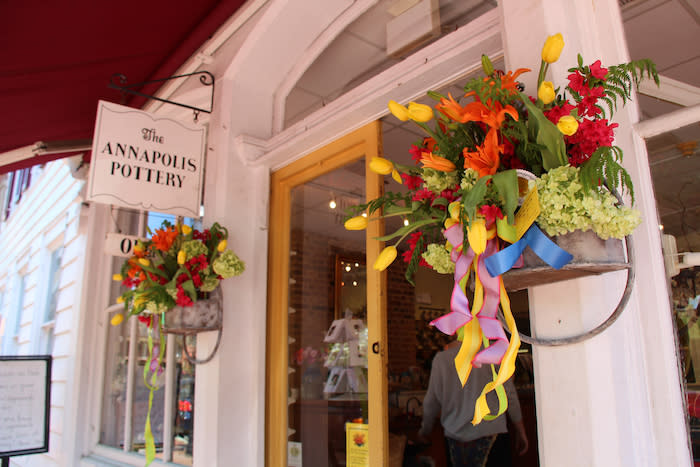 Image courtesy of Visit Annapolis and Anne Arundel County
About the Baskets
Mrs. Mary Louise Briscoe suggested residents hang floral baskets from their front doors, and judges would award ribbons to the best displays. The following year the committee decided to divide May Day prizes into two categories - private homes and businesses. Later, in 1960, the club divided the city into four districts for judging purposes. Three districts were dedicated to the business sections of Annapolis - Maryland Avenue, Main Street, West Street, and the fourth district covered the residential community. Each district would receive a first, second, and third place winner, as well as ten ribbons for honorable mention.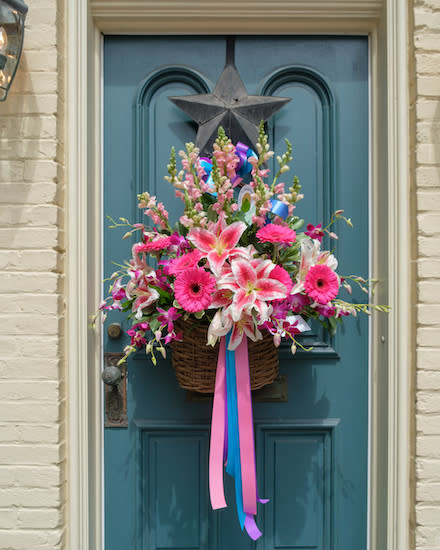 Image courtesy of Visit Annapolis and Anne Arundel County
May Day, 60 Years Later
May Day continues to draw crowds over 60 years later. The club remains a 25 person membership; however, associate memberships are now available. All baskets must be hung by 10:00 on May 1. Be sure to keep an eye out for the judges in action! They carry baskets decorated with streamers, awarding blue, pink, yellow, and purple ribbons to contestants.
This city-wide event is fun for the whole family and provides the perfect excuse to take a peek into the many colonial homes in Annapolis. Happy May Day, everyone! 
The 63rd annual May Day basket competition, sponsored by the Garden Club of Old Annapolis Town, will be held May 1 in celebration of May Day. Residents and merchants throughout the City will arrange baskets of fresh cut flowers to display outside their homes and businesses throughout the day. Displays will be out by 10:00 a.m. throughout the area.