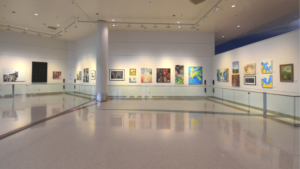 Respective Perspectives in the International Art Gallery at BWI. Photo courtesy of BWI.
There's nothing like seeing really good art in unexpected places. Most visitors and residents of Anne Arundel County are familiar with the vibrant art scene of Annapolis. The net of exceptional art is actually cast much wider in the County than just the Annapolis city boundaries, think BWI and beyond. North County (from Annapolis to Baltimore) has some notable art venues that are curated by some of the best.
BWI and Beyond
In fact, one particular North County exhibition location has the highest number of potential viewers – local, national and international – than anywhere else in the state: Baltimore-Washington International Thurgood Marshall Airport (BWI). Well, at least during non-pandemic times. Travel is beginning to come back, and we are all hopeful that BWI becomes the thriving hub it has always been.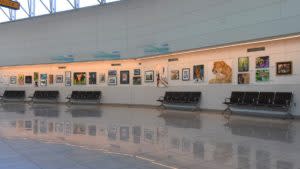 The blank walls of BWI lend themselves to art. Rotating and permanent exhibits abound throughout the airport. Photo courtesy of the author.
Even now, people traveling in and out of BWI are lucky enough to turn their short visit into a cultural experience by viewing art by some of the County and State's most talented artists.
The BWI Exhibition Committee is chaired by Maryland First Lady Yumi Hogan, and as she is an accomplished artist herself, there is an abundance of quality art to behold. From when you first arrive to your boarding gate, there is original art in permanent and rotating exhibits throughout the airport.
All things in Big and Small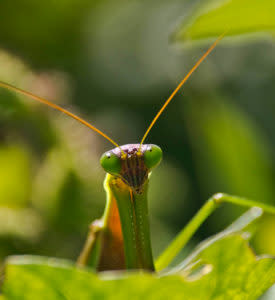 'Peering Over Leaves', photography can be found at the All things Big and Small perspective at BWI. Photo courtesy of BWI.
The first artwork you might encounter is the giant Chesapeake Blue Crab in Skywalk A, giving a regional welcome or farewell depending on your travel. Before going through security there are two locations to start viewing and enjoying the travel experience. The pre-security area between Concourses C and D features exhibits hosted and curated by the Arts Council of Anne Arundel County, showcasing artwork by County artists. These exhibits are themed and rotate every four months. In normal times there is a reception, with the First Lady presenting awards. A wonderful honor for these artists!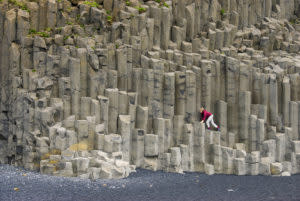 Karen Smale's digital photo, 'Climbing the Basalt'. Photo courtesy of BWI.
The current exhibit in this location, "All things in Big and Small", is about exploring size. "Artists are encouraged to let proportion and scale inspire their art – whether that is a photo of a mountain or a painting of an ant."  If you're traveling, you can see it through November 16. Or, if you are like most of us and don't have that travel plan in place just yet, you can view it online here.
BWI partners with Maryland Federation of Art (MFA)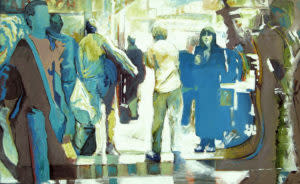 Richard Niewirth, 'Woman in Blue', oil in MFA Respective Perspectives at BWI. photo courtesy of BWI.
BWI partnered with Maryland Federation of Art (MFA) to display work in the International Art Gallery by Security Checkpoint D. This is another area with exhibits rotating every four months. This exhibit, "MFA @ BWI: Respective Perspectives" features original works by 24 County artists, displaying a spectrum between comfortingly familiar and refreshingly peculiar. It is due to be taken down the October 22, so be sure to visit the exhibition online.
In post-security areas there is yet more art. Concourse D by Gates D1-D5 is an exhibition of permanent works. Selected through an open call, 28 original pieces were finalized and reproduced to fit the large stretched canvas displays. Seven paintings are displayed at a time for four months each.
There's more art to be seen at BWI, such as the permanent (and beautiful) Preakness painting, the Thurgood Marshall exhibit and so much more.  Here's hoping you get to travel soon and take it all in!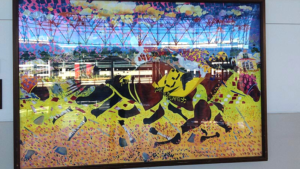 The Preakness Painting has a permanent home at BWI. Photo courtesy of the author.
Chesapeake Arts Center
Venturing east from BWI is another great gallery gem. The Hal Gomer Gallery at the Chesapeake Arts Center located at 194 Hammonds Lane, Brooklyn Park. This gallery  is just south of the Baltimore border. The Center is a vibrant hub of visual and performing arts for people of all ages. The current exhibit is "Dia de los Muertos" altar, and is available for in-person viewing by appointment. Their virtual exhibit is a collection of works by Duane Lutsko, "Studies in Landscape and Portraiture", and can be seen here.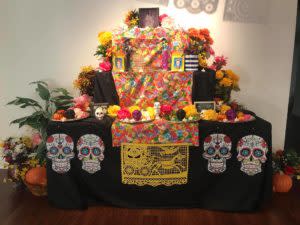 Dia de Los Muertos art installation at the Chesapeake Arts Center. Photo courtesy of Chesapeake Arts Center.
Hospice of the Chesapeake
Head south on Route 2, Ritchie Highway, and you'll find another unexpected location for exhibits, which is Hospice of the Chesapeake at 90 Ritchie Highway. When they renovated, they included gallery wall space for organizations to display exhibits. For those people who work in this field, the art is a welcome and uplifting experience. Organizations that have installed exhibits here are MFA, and Chesapeake Arts Center.
The Cade Gallery
Keep heading south on Route 2 and you can visit The Cade Gallery at Anne Arundel Community College (AACC). This is another venue with wonderful exhibits. The arts program at the College is exceptional and they curate some of the most interesting exhibits in the area. The gallery is reopening by appointment, but the best way to stay up to date and see videos of exhibits is to visit their Facebook page.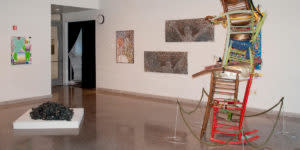 The Cade Gallery's Recollected exhibit. Photo courtesy of The Cade Gallery at Anne Arundel Community College.
While a number of the exhibits are currently 'online only', check their websites often. Many are slowly reopening, safely of course. Whether online or in person, we need the arts for a mental getaway and perspective now more than ever!