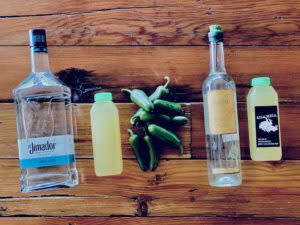 Vida Taco; Smokey Margarita. Photo courtesy of author.
I can make a decent gin and tonic, but limoncello? Hibiscus sangria? Ginger syrup? I wouldn't even know where to start. That's one of the reasons I love the new trend of take-away cocktails. My big question now: What took them so long?
Restaurants make a good portion of their revenue from alcohol sales. So when the March executive order by Governor Larry Hogan banned on-premise dining, it also loosened restrictions to allow for to-go drinks along with food. It's a win-win. To-go cocktails bring in much-needed revenue for restaurants and keep bar staff at work. And we get to experiment with new concoctions or enjoy an expertly made favorite, without having to stock our home bar with rarely-used or hard-to-find ingredients.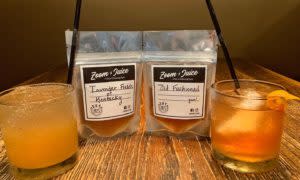 Dry 85 and their Whiskey drinks-to-go. Photo courtesy of author.
Curbside cocktails are great paired with takeout, as a hostess gift for a socially distant backyard soiree, or enjoyed on the boat or at a BYO happy hour. (The one thing you can't do is consume in the car; wait until you get home before sipping.)
Most spots with an alcohol license offer some version of curbside cocktails, be it bottles of wine, six-packs, growlers of beer, or brunch Bloody Mary's. Check their social media for the latest (many places have added a Drinks tab to their online menus) or ask about it when you place your to-go order. Here are three places to help get you started.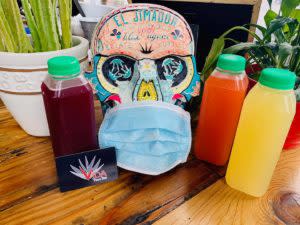 Vida Purple 'Drank' and Margaritas. Photo courtesy of author.
Vida Taco Bar: Margaritas and More
For this farm-to-taco restaurant with locations in Annapolis, Severna Park and Baltimore; Vida was the first to make a splash with cocktail delivery. When their kitchens closed, they pivoted and started offering margarita delivery in neighborhoods all over the county. It was the brainchild of co-owners John Miller and Andrew Fox. "We were throwing out ideas on how to improve business, and I said we should be like the ice cream man, only sell margaritas instead of ice cream," says Miller. And it worked. Not only is margarita delivery a hit with regular customers, but it brought them a slew of new fans. You can get them delivered on specific nights/zones, or as take-out any time. Enjoy Classic, Smoked (made with Illegal Mezcal) or Spiced (the secret is jalapeno pepper) margaritas, all served in 16-ounce plastic bottles. Or try my favorite, the Purple Drank, which is half classic margarita, half hibiscus sangria. Can't decide on one? Their mix-and-match option allows you to make your own six pack.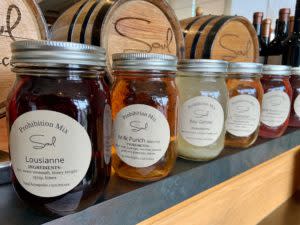 Soul, drinks to-go. Photo courtesy of author.
Soul: Speakeasy-Style Cocktails
"When carryout started it had a little bit legal/little bit illegal feel to it," says Soul's co-owner Misti Dragano. "So harkening back to speakeasy days with our cocktails made sense." The menu at this neo-soul-food restaurant draws influences from all over the South, and so do the drinks, which are designed by chef Dave Pow and served in custom-labeled mason jars. The most popular are the Louisianne; their take on a New Orleans Sazerac, and the Highyway 61; with bourbon, mint, lime and ginger syrup. They've also added a homemade limoncello for summer which is ideal served chilled or can be used as a mixer. "They're potent!" says Misti. "You get 5 cocktails to the jar, so be careful!" They also keep well, so you can enjoy them over the course of a few days or even weeks.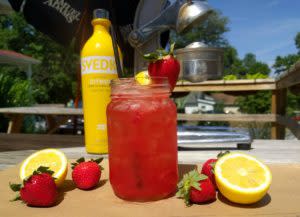 Julep serves up Maryland's famous 'Crush' cocktail. Photo courtesy of author.
Julep: Flavored Crushes
Though only 6 months on the local food scene; Julep, near Parole quickly gained a following for their hearty take on classic Southern food. For cocktails, they specialize in that local summer staple, the 'Crush'. "Crushes are a uniquely Maryland thing, and everyone wants crushes," says co-owner Michael Krohn. "They're easier to package than say, an old fashioned." Julep has other to-go drinks but, it's the crushes that are the most requested. They have the classics; Orange and Grapefruit but, also Blueberry and Strawberry Lemonade, made with crushed lemons and muddled fruit. "We use decent vodka," says Krohn. "All fruit juices are crushed at the time, they're not pasteurized. But, the thing people like the most is that they come in cute mason jars with handles." The 16-ounce drinks come poured over ice, but you can also request no ice if you want to keep them on hand for a few days.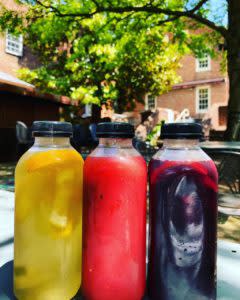 Reynold's Tavern offers Garden Mojitos, with fresh picked mint. Photo courtesy of author.
For a full list of Annapolis Area Take Out and Dining Options, click here.