Every day is #NationalDogDay in Annapolis & Anne Arundel County. Still, with the official celebration on August 26th quickly approaching, we compiled a guide to the most wag-worthy parks, sun-kissed beaches, pet-friendly hotels and restaurants, and tail-wagging activities that you and your best friend will enjoy throughout the year. 
Dog Parks*
*Off-leash Specified Areas. Please note- all parks and beaches listed below hold owners in compliance with Anne Arundel County dog park rules.
1150 Barbara Swann Way, Gambrills, MD 21054
Open from dawn to dusk; this park contains three baseball fields, a seasonal concessions stand, multipurpose fields, a picnic area, a playground, restrooms, a paved trail, a fenced-in dog park and benches to watch your furry friend.
613 College Parkway, Annapolis, MD 21409
Enjoy a stroll with your leashed dog around this park, as it has a 1.4-mile paved trail, three multipurpose fields, a picnic area, a playground, and restrooms. Off-leash play is available at their dog park located on the premises. 
3424 Pocahontas Drive, Edgewater, MD 21037
Loch Haven Park is home to 3 baseball fields, basketball courts, a playground, a picnic area, one multipurpose field, and a dog park. The dog park is very spacious; remember to bring your dog's favorite toys!
565 Brock Bridge Road, Laurel, MD 20724
Your dog will love playing with other dogs at this off-leash park in Maryland City Park. Aside from the dog park, it also contains 2 baseball fields, 2 multipurpose fields, a playground, a picnic area, and concessions and restrooms open seasonally. 
7605 Ridge Chapel Road, Hanover, MD 21076
There is something for everyone at this park-- a playground, tennis courts, picnic areas, walking trails, and an off-leash dog park.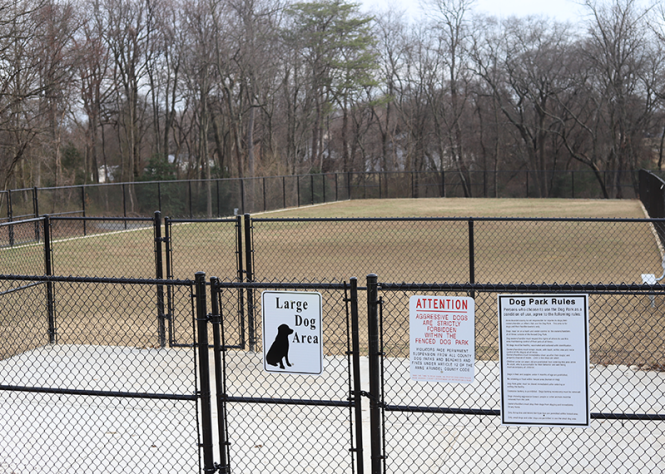 The spacious fenced-in dog park at Matthewstown Harmans Park. Image courtesy of Anne Arundel County.   

98 Governors Gate Lane, Linthicum Heights, MD 21090

The dog park has three separate areas for your furry friend to run around in. For the family, there is a baseball field, multipurpose field, picnic area, playground, rebound court, tennis courts, trails, and portable restrooms. 

 

600 Quiet Waters Park Road, Annapolis, MD 21403

Situated between the South River and Harness Creek, this park provides scenic views and fun for humans and their four-legged friends. There are two off-leash dog parks, a dog beach (more info below), and dog-friendly hiking trails. For the humans, the park houses a visitors center and art gallery, six outdoor pavilions, a multi-level playground, and 340 acres of land. 

 

1405 Jackson Road, Odenton, MD 21113

Open from dawn to dusk, Towsers Branch Park houses basketball courts, a picnic area, and a dog park. The dog park is a fenced-in area with grassy and concrete areas with benches for watching the dogs run and play! 

 
Dog Beaches 
8311 John Downs Loop, Pasadena, MD 21122
Located off the perimeter trail in Downs Memorial Park, this dog beach is an excellent place for dogs just learning how to swim and experienced dog swimmers who could maybe teach a pointer or two. 
600 Quiet Waters Park Road, Annapolis, MD 21403
Located in Quiet Waters Park is a small dog beach that dogs have a blast swimming in. Popular among dogs, your pup might find another best friend on the beach.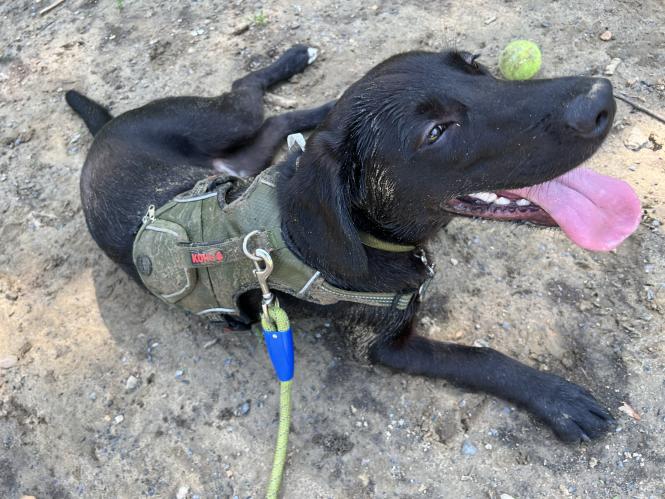 Bonham enjoys rolling in the sand at Quiet Waters Dog Beach. Image courtesy of Tatiana Wells, an employee of Visit Annapolis & Anne Arundel County. 

 
Dining with Your Dog 
722 Generals Highway, Millersville, MD 21108
Restaurant and bar specializing in craft brews and hotdogs. Pour Dog House has a pet-friendly patio so your dog can join you and even have a dog beer from behind the bar. With the order of a dog beer, a portion of the proceeds are donated to the local SPCA chapter. 
400 Fourth Street, Annapolis, MD 21403
Boatyard Bar & Grill is a waterfront restaurant serving various local seafood, salad, sandwiches, pizzas, and burgers. They have an outdoor patio that is dog-friendly. 
33 West Street, Annapolis, MD 21401
Enjoy a meal with your dog at Rams Head Tavern! Sit outdoors and choose from its pub-fare menu and beer selection while your dog orders its signature mutt meatballs.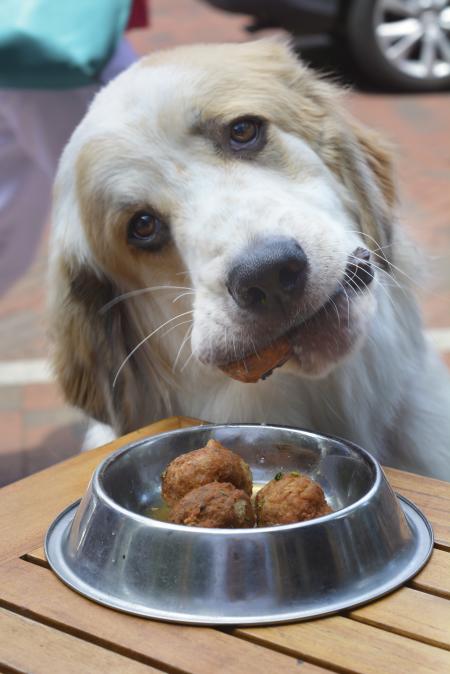 Mutt meatballs at Rams Head Tavern. Image courtesy of Visit Annapolis and Anne Arundel County. 

 

22 Market Space, Annapolis, MD 21401

Federal House has many options for humans, including soups, salads, sandwiches, and house specialties such as fish tacos. This dog-friendly restaurant has a unique doggie menu, including scrambled eggs, carrots, chicken, and dog bone treats. 

 

137 Prince George St., Annapolis, MD 21401

New to the downtown restaurant scene and nestled in a historic building with a courtyard perfect for pups, you can sample Latin-inspired Botanas (snacks/apps) while you wait for your fresh ceviche, margaritas, and tasty tostadas, tacos, and tortas! They also offer brunch.

 

400 Chester Avenue, Annapolis, MD 21403

This pub is a cozy spot at affordable prices with dishes such as the fresh grilled tuna steak sandwich, pulled pork barbeque sandwich, and several salads to choose from. Your pup will also get a doggie menu and order either paw print cookies, a peanut butter turnover, or the pub puppy pretzel. 

 

136 Dock Street, Annapolis, MD 21401

Located alongside City Dock, Dock Street Bar & Grill is known for its crabcakes, beer, and cocktail selections (we recommend the Orange Crush). There are plenty of outdoor tables for you and your pup to sit at, with a large dog bowl of water always provided. 

 

117 Hillsmere Drive, Annapolis, MD 21403

Some of Grump's menu offerings are Jumbo crabcakes, wings, burgers, fish & chips, and homemade desserts. You and your pup can sit in one of two seating areas, having options for shaded and unshaded dining. 

 

864 Nabbs Creek Road, Glen Burnie, MD 21060

Broken Oar serves lunch and dinner in its dining room/bar and waterfront deck. Its menu includes homemade soups, salads, sushi, fresh dough pizza, sandwiches, and fresh seafood. You and your dog are very welcome to sit on their waterfront deck. It's totally Oarsome!

 

Don't forget dessert after a fun-filled day of activities. Most of the ice cream shops throughout Anne Arundel County offer a cooling cup of whipped cream gratis with a regular ice cream purchase, of course. Details and offers vary per location.
Shopping & Activities 
1 Dock Street, Annapolis, MD 21401
Your furry friend is welcome to tag along on the Annapolis Harbor & USNA Cruise hosted by Watermark! Step aboard the Harbor Queen boat and take a narrated cruise through the harbor and along the banks of the Naval Academy. 
600 Quiet Waters Park Road, Annapolis, MD 21403
Located in Quiet Waters Park, you and your furry friend can partake in a fun day of stand-up paddle boarding or kayaking along Harness Creek! Make sure to bring life jackets for you and your pup or rent them on-sight.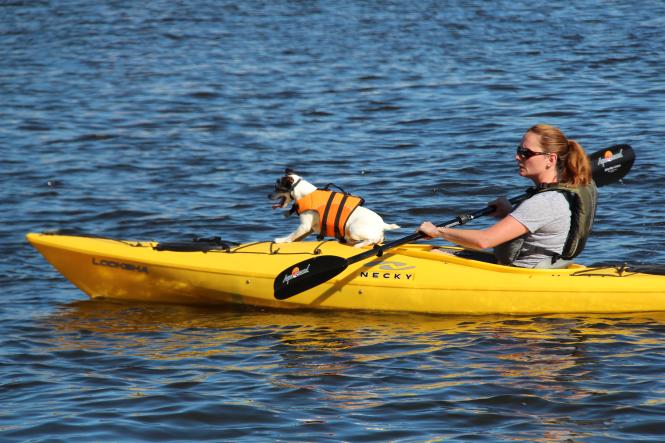 Cooling down from the dog days of summer on the water. Image courtesy of Visit Annapolis and Anne Arundel County.   

839 Londontown Road, Edgewater, MD 21037

Step back to colonial Annapolis and explore the history and more than 20 acres of garden with your dog. Leashed pets are allowed in the majority of London Town except for the William Brown House. 

 

172 Main Street, Annapolis, MD 21401

Family-owned pet boutique selling unique products for you, your dog, and even your cat can enjoy! Check out their homemade chews, treats, leashes, and apparel at this downtown Annapolis location. Your dog will thank you. 

 

117 Main Street, Annapolis, MD 21401 

At The Black Dog, visitors can shop for clothes, accessories, and gifts with its signature dog logo. Dogs are welcome and can pick out their own doggy clothes, collars, and treats. 

 

*Some hotels may charge pet fees

From North County to South County, Annapolis, and Anne Arundel County happily welcomes dogs and their owners to its many pet-friendly restaurants, shops, parks, and more. Looking for somewhere for you and your pup to stay? Look no further! Discover the perfect getaway for you and your dog with this list of 29 pet-friendly hotels in Anne Arundel County using this link.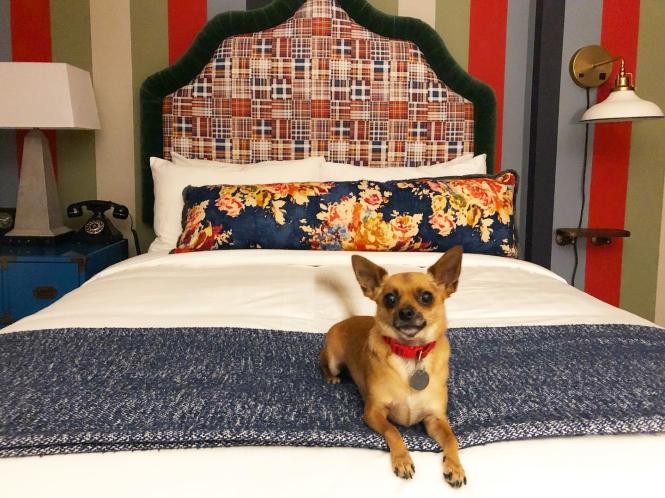 Gio, the rescue chihuahua is relaxing on a bed at Graduate Annapolis Hotel. Image Courtesy of @giovonchi on Instagram.