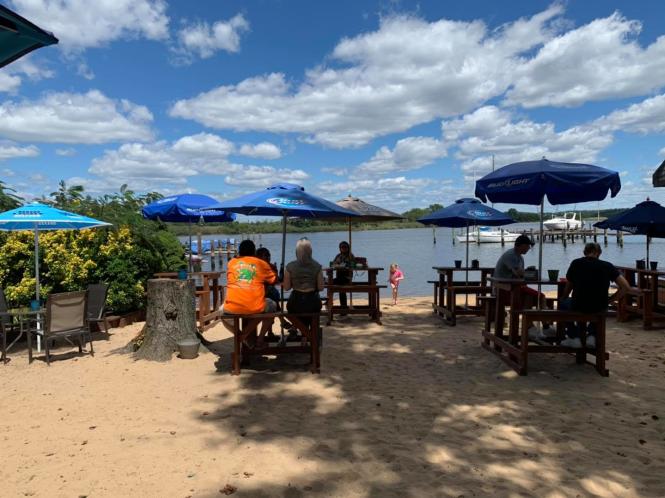 Water views from The Beach Bar. Photo courtesy of The Beach Bar.
To broaden the scope of our reporting, we ventured to the edges of Anne Arundel County (North County to be exact) on a quest for fun places to eat, listen to live music and see more of what our county has to offer. And we weren't disappointed! If you're game to get out of your usual routine, follow us as we travel and review a trio of casual waterfront eateries accessible by boat or car.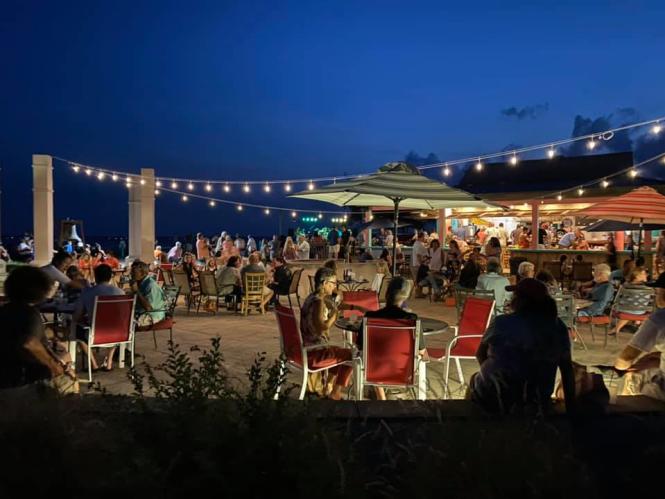 Mike's Crab House North. Photo courtesy of Mike's Crab House North.
Mike's Crab House North, 1402 Colony Rd, Pasadena MD 21122. 410-255-7946. Closed Mon.-Tues, Open Wed-Thurs, 4 pm-9 pm, Fri, 3 pm-10 pm, Sat, 11 am- 10 pm, Sun, 11 am- 9 pm. Live music: check the website for performers.
This nautically themed establishment, tucked into a densely populated neighborhood about 35 minutes from downtown Annapolis, was by far the fanciest of our destinations. Entering the White Rocks Marina boatyard, filled with blue water as well as motorized craft, hints at what's to come. At this time of year, the colorful flowers decorate the entrance to a well-appointed indoor restaurant and Tiki Bar leading to an inviting outdoor deck and entertainment area. All overlooking the Patapsco River!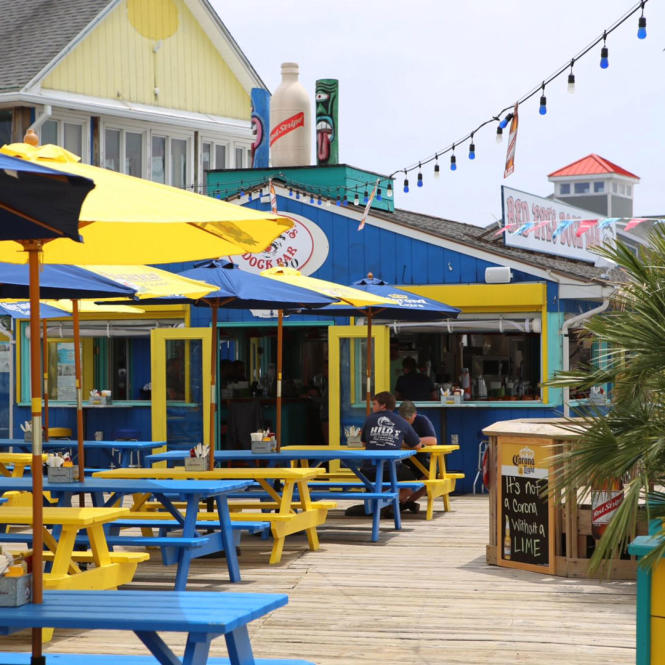 Diners at Mike's North enjoying some crab picking on the water. Photo courtesy of Mike's Crab House North.
Mike's North meets the high service standards that define "Maryland style." In addition to crabs from Maryland, Louisiana and Texas; the restaurant has a diverse menu that includes appetizers (try the bacon-wrapped scallops on a bed of rice), soups (high marks to the cream of crab), an impeccably fresh house salad with blue cheese dressing, potato skins stuffed with shrimp, crab topped with creamy crab imperial, and two praiseworthy sandwiches (lump crab cake and a nice, fat soft crab).
Worthy of note; the brothers behind this Mike's and its twin just outside Annapolis are sons of the late Mike Piera, who opened the original Mike's Crab House off Riva Rd. in Annapolis back in 1958. It's still one of the area's most popular places for crab feasts and live entertainment.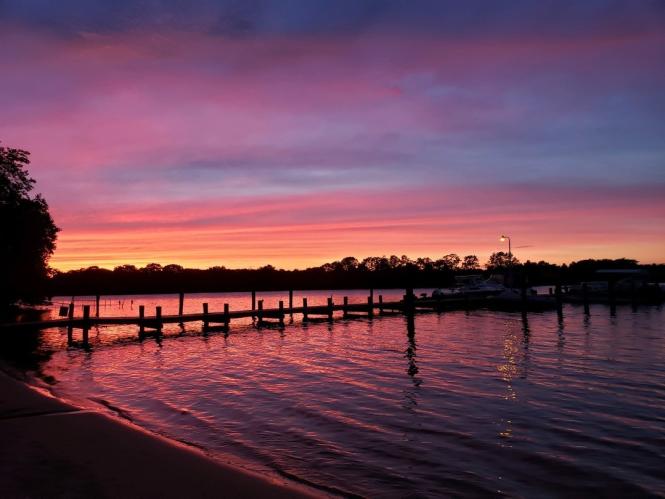 The Beach Bar and sandy, waterfront dining area. Photo courtesy of the Beach Bar.
The Beach Bar, 1740 Marley Ave, Glen Burnie MD 21060. 410-553-0600. Open daily, 11 am-10 pm. Five Pool Tables, Dartboards & Cornhole On The Beach. Daily Specials. Boat Slips Available.
Feel like putting your bare feet in the sand and chilling under an umbrella table by the water? No one could find a more out-of-the-way spot than this quaint and friendly oasis in Glen Burnie; aptly named The Beach Bar. Lisa, wife of the owner; runs the front of the house and really knows how to make guests feel welcome.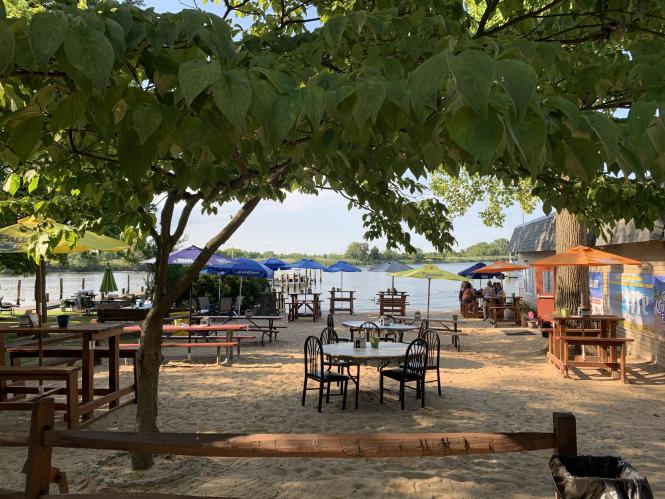 A view to the water at The Beach Bar. Photo courtesy of The Beach Bar.
Patrons can dine at umbrella tables perched on a sandy beach overlooking a sheltered cove on the Patapsco River. Diners can also enjoy their burgers, subs, sandwiches, crab balls, soups and salads in a setting far away from the daily grind and at prices that are reminders of the "good old days". And the views are hard to beat.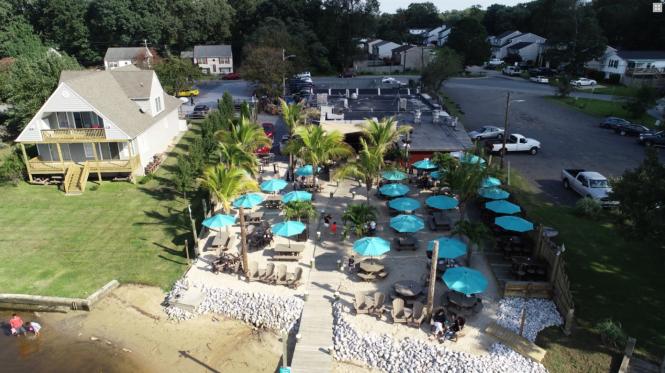 Rams Head Dockside beachfront view. Photo courtesy of Rams Head Dockside.
Rams Head Dockside, 1702 Furnace Drive, Glen Burnie MD 21060. 410-590-2280. Open Mon-Sat 11 am- 12 am, Sun 10 am- 12 am. Ramshead Tavern in Annapolis has many outlying locations, of which this super-casual watering hole is one. While the restaurant's long bar and booth-filled dining room are available, preferred seating is at their picnic tables on the sandy beach.
Aqua umbrellas sheltering folks from the sun, with matching aprons on the young servers make everyone feel welcome. We enjoyed a late lunch here, having played lost-and-found en route from Annapolis. Upon arrival, we were grateful for the option of a refreshing fresh fruit cooler and an impressive selection of imported and domestic beers, including drafts. We were also pleasantly surprised with this restaurant's savvy seafood menu: oysters, littlenecks, steamed or sauced PEI (Prince Edward Island) mussels, shrimp (peel and eat or tossed with linguine in a creamy cheese sauce) and even a filet mignon dinner with prosciutto-wrapped asparagus ($29).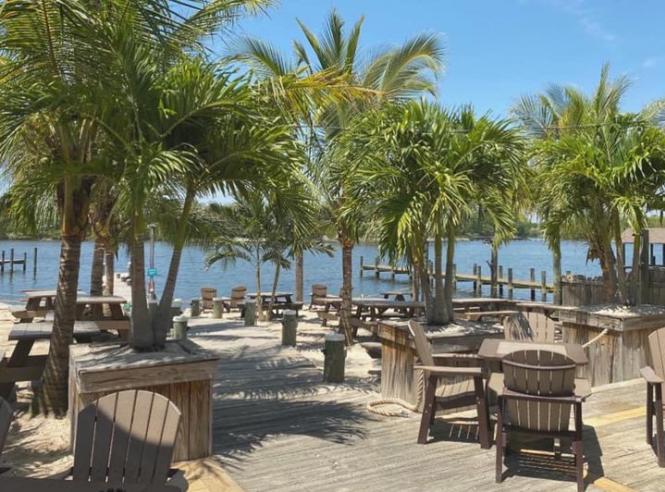 Waterfront dining at Rams Head Dockside. Photo courtesy of Rams Head Dockside.
But, for our lunch and at the recommendation of our server, I opted for the Crabby Grilled Cheese ($15). And I loved every bit of it; the melted cheddar cheese, crisp bacon, and grilled tomato slices under a rich slather of lump crab dip and tied together between two slabs of hearty toasted artisanal wheat bread were divine.
My partner and I also loved the starter- rockfish bites; hunks of fresh fish encased in a light batter. His fish and chips ($15), received mixed marks, an 'A' for the beer-battered cod! High marks all around though for the homemade iced tea and warm fudge brownie dessert topped with ice cream and drizzled with chocolate and caramel ($8). Color us happy as we left Rams Head Dockside for our journey back home.
It goes to show, that stepping away from the familiar and venturing outside the lines can make for a delicious foodie adventure. For more waterfront and outdoor dining, visit our website.