Article Updated: November 23rd, 2021 to reflect December Holiday Pop Up Market.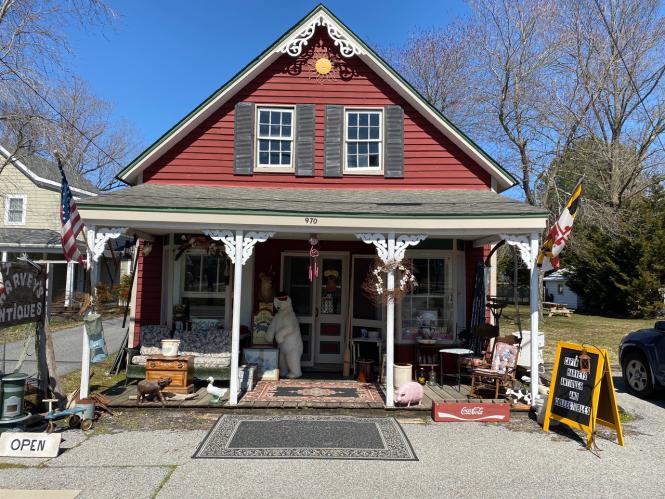 Captain Harvey's Antiques
, once a country store, is chock full of irresistible antiques and collectibles. 
Photo courtesy of Captain Harvey's.
Now that we've gotten all of the de-cluttering out of our systems, there are some gaps that need filling.  Carve out time this weekend (though at least a full day is recommended) to browse the repurposed, antique, vintage, and thrifty buys springing up in the Vintage Loop of Southern Anne Arundel County.      
Deale: Me In
My first impression of Second Wind Consignments was as welcoming as the owner, Teri Drow Wilson.  An eager ambassador for all of her fellow shop owners in The Vintage Loop, she works with over 3,000 consigners.  Stepping into her shop is like walking through a mini department store.  Tidily packed, you will find a thoughtful selection of china, crystal and silver, as well as practical housewares (8-cup pyrex measuring cup, I'll be back), a few select furniture pieces, and so many other delights which will insist upon coming home with you.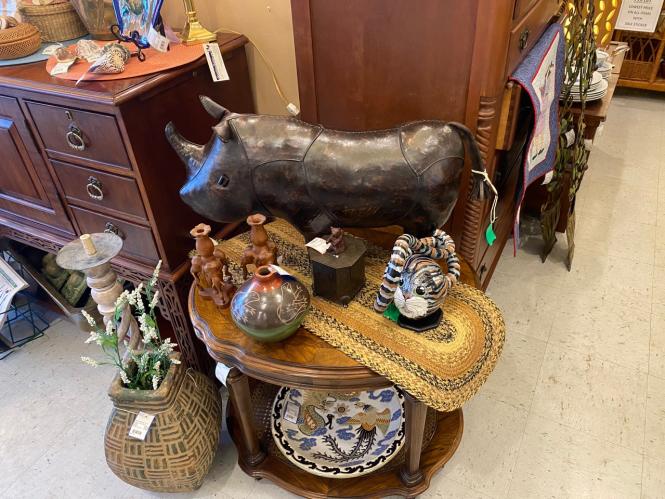 Shoot, is it too late to get this rhino plastered at the foot of my favorite chair?  Incremental mark-downs keep the hunt lively at Second Wind Consignments.  Open Wednesday-Friday, noon-5pm; Saturday 10am-5pm. 
Photo courtesy of Second Wind Consignments.
Next door, behind an inviting painted brick façade, is A Vintage Deale offering a mix of vintage, antique and new.  A Vintage Deale keeps it seasonal.  Stop in to start growing your collection of oyster plates before they get gobbled up.  It's okay to be shellfish.   
Galesville: Keep the Wind in Local Sales
Spice (Thursday-Saturday, 10:30am-5:30pm; Sunday noon-4pm) is a sweet and savory blend.  Local jams and jellies are there to greet you (delicious but somehow not as sweet as Spice's owner, Donna), while old standards (vintage water skis, how have I been living without you? I'll take my answer in the next room while I sit on a tufted green velvet ottoman and peruse a well-worn coffee table book on Kennedy's Inauguration) rule the roost.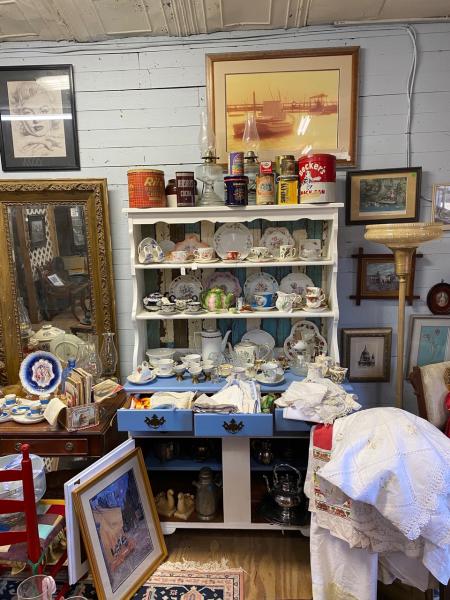 A family tradition since 1907, Captain Harvey's is open Friday-Sunday 11am-5pm.  It may be the last time you get away with the line, "I'll only be a minute."  Photo courtesy of Captain Harvey's.

 

Continue soaking up the bucolic beauty of Muddy Creek Road as you make your way toward a winning cluster of shops in Galesville.  Jailhouse, believe it or not, is quite hard to get into (mostly online and appointment-driven) but once you do you'll never want to break out of this carefully curated selection of high end consignments. 

 

As you turn on to Main Street toward town, be sure to take a peek at This and That Treasures.  Tucked at the edge of Woodfield Cemetery, treasure hunters will find great deals on furniture items, antiques and an assortment of collectibles.  Here, you can take it with you.  Continue on Main Street to Captain Harvey's and find an assortment of china, silver, linens, and so many other delightful collectibles.  If rotary phones are your calling, you're gonna want to take this.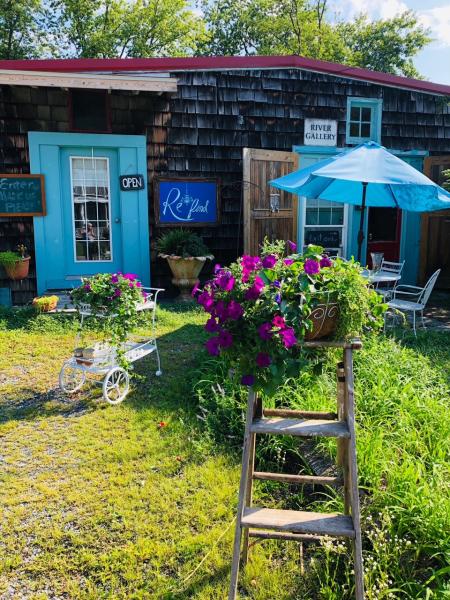 ReFind and River Gallery have been complimenting one another for the past six years.  Photo courtesy of Laura Dixon.

 

A stone's throw toward the West River is ReFind.  Also an old market house, this breezy and inviting space is a lovely canvas for the old and new offerings you'll find, well, in store.  Excellent pieces of fairly priced, highly functional furniture are punctuated with an assortment of both whimsical and practical collectibles.  And let's add another column, for the gold Santa charm winking at you from the jewelry case: essential.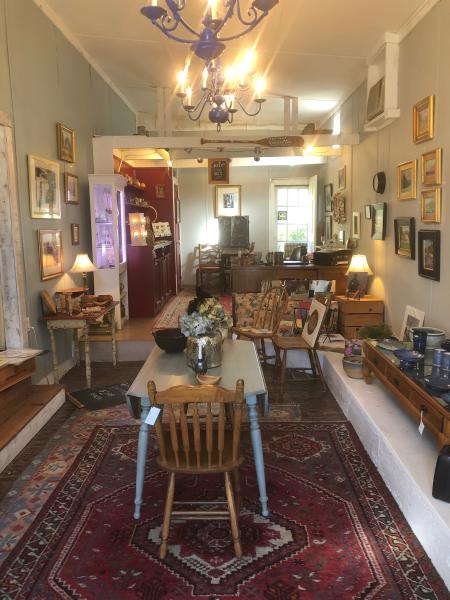 Local paintings, pottery, and handcrafted wooden bowls, along with owner/artists Laura Dixon, will speak to you at the River Gallery.  Find yourself there frequently, it's always changing.  Photo courtesy of Laura Dixon. 

 

Make your way over to the store's old loading dock to soak up the serene oil paintings, pen and inks, and watercolors of local artists at River Gallery.  A wonderful entrée for anyone looking to start an art collection or add local flair to an existing one.    

 
Are You Finished?
Has all this antiquing left you famished? Thankfully, there are several restaurants along the West River where you can stop and satiate before your journey home.  Stop by Stan and Joe's Riverside for a quick bite and to celebrate your latest nautical find or nosh at one of the other nearby restaurants in the area. 
If you haven't come away with at least one piece of furniture that will be perfect once you re-paint it, then keep trying.  You'll find the right hobby one of these days.  For everyone else, head due north to The Red Dresser in Edgewater (Wednesday, Friday, Saturday 11am-5pm; Thursday noon-5pm).  Think of it as the cherry on top.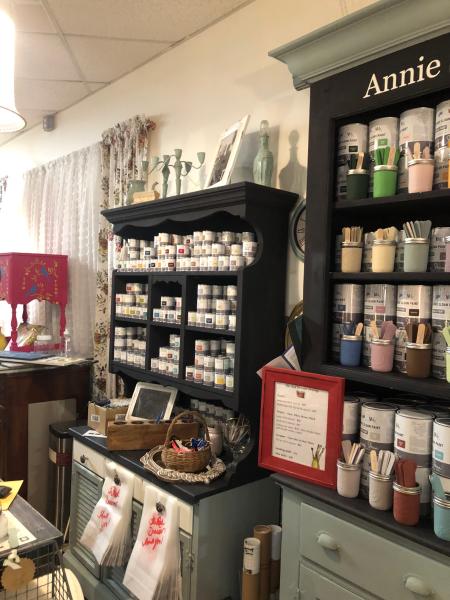 The Red Dresser in Edgewater.  Options abound here.  Photo courtesy of The Red Dresser. 

 

Buy a piece that's already been re-finished, buy the supplies to do it yourself, have The Red Dresser customize it for you, or (as we get back to better), sign up for a workshop.  All roads lead to home. Speaking of home, it's probably time to head back there. 

 

After a day like this, there's always lots to unpack.  

 

*Visit the Vintage Loop stores in Deale Maryland, Saturday December 4th, for their Holiday Pop Up Market This one day event will be hosted by Vintage By the Bay and Blue Heron Boutique! They will have over 25 local artisans and vendors there along with Food Trucks serving up lunch from 11am until 3pm. They start at 9 AM so be sure to get there early while the pickin' is good!

 

Blue Heron Boutique Captain Harvey's Antiques Second Wind Consignments A Vintage Deale Spice Jailhouse This and That Treasures ReFind River Gallery The Red Dresser The Barn Show  Gypsy Faire Stan and Joe's Riverside