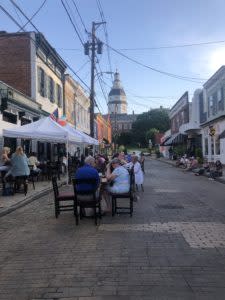 photo courtesy of author
There's no doubt that Annapolis thrives with summertime vibes both on the water and along the downtown streets. A weekly event that Annapolitans look forward to during the warmer months is Dinner Under the Stars. Over the last few years, Wednesdays on West Street have become an evening of dinner, dancing, and community as the block between Calvert Street and Church Circle has been closed to cars, allowing the restaurants and their patrons to flood the streets. Luckily, the novel coronavirus hasn't threatened this event, although modifications have been implemented to make it safer and more beneficial for downtown restaurants on West Street and beyond.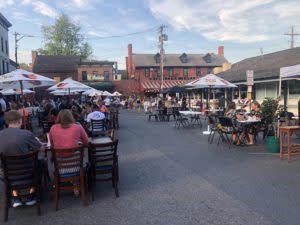 photo courtesy of author
On June 3rd, downtown Annapolis was feeling very European with cafe tables sprinkled throughout the streets. The new city-wide initiative inspired by Dinner Under the Stars now includes the Recovery Zones of; Main Street, Market Space, Eastport, S Forest Drive and Maryland Ave., starting at 6 pm as part of the Come Back Annapolis initiative by the City of Annapolis. Since all of the restaurants have only been open in a limited take-out capacity, these designated nights give them the opportunity to take better advantage of the current phase of Governor Hogan's Maryland Strong reopening plan. This initiative gives restaurants the ability to seat customers at a safe social distance outside with no more than 6 people per table. Many of the restaurants have limited outdoor seating space, and thanks to the Come Back Annapolis initiative, we're able to enjoy our favorite spots again.
Face coverings are highly encouraged for diners, but all servers and waitstaff are wearing masks to increase safety. The carless streets also allow for plenty of standing room where you can wait for a table at a safe distance from others.
Dining at your favorite restaurant isn't the only thing that's back on Wednesday nights and beyond. The different recovery zones offer live music, outdoor shopping and special attractions that provides a wonderful atmosphere and brings back a sense of normalcy, something that we have all missed during this period of quarantine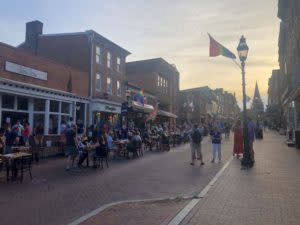 photo courtesy of author
Just a few restaurants of the participating include Tsunami (West Street), Galway Bay (Maryland Ave.), Dry 85 (Main Street), and Federal House (Market Space). The restaurants aren't taking reservations but it's recommended to call ahead to confirm that they are participating in the weekly event.
So, if you're eager to get out and enjoy your favorite restaurants again- check your calendar for one of the many nights of dining and shopping outdoors in Downtown Annapolis! But, please remember to be safe and respectful of those around you, bring your mask and practice safe social distancing so we can all get through this together.
To learn more about Downtown Annapolis' shop & dine under the stars event; click here!