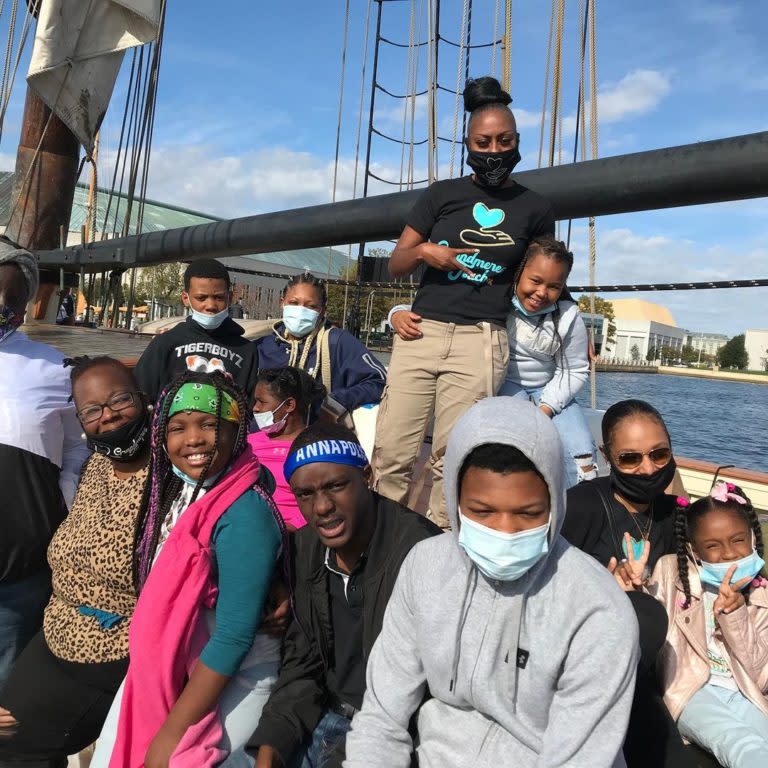 Erin Holland (standing) is the founder of Grandmeres Touch Inc. Image courtesy of Erin Holland.
As the pandemic hunkers down for Winter across the United States and the financial crisis settles in every city and suburb, hope can be hard to find these days. For Annapolis; nonprofits like Grandmeres Touch Inc. is an extended open palm of hope. Founded by Annapolis native Erin Holland in 2019, Grandmeres Touch hit the ground running to bring resources, knowledge, and awareness to some of Annapolis' most impoverished and vulnerable communities, groups, and businesses.
What is 'Grandmeres Touch'?
At a young age, Erin Holland would have been considered, by many, a wayward teen. She was consistently getting in trouble, running away, and following all the wrong crowds. However, her grandmother knew that she possessed within her something special, more potential than she had yet to realize.
At 14 years young, Erin's grandmother, who helped to raise her, care for her, and guide her back on track, was diagnosed with pancreatic cancer. Before her passing, she made Erin promise that she would step up and answer the call to be the glue to connect those less fortunate with the resources they need.
On August 30th of 2018, Erin was shot in the crossfire of a drive-by in Baltimore. During that moment, she committed to bringing Grandmeres Touch Inc. to life. Fueled by her own experiences as a youth and the teachings of her mother and grandmother, she created Grandmeres Touch Inc. Her vision is to "create a generation of youth who will aspire to become successful knowing they have the skills and confidence to achieve their goals."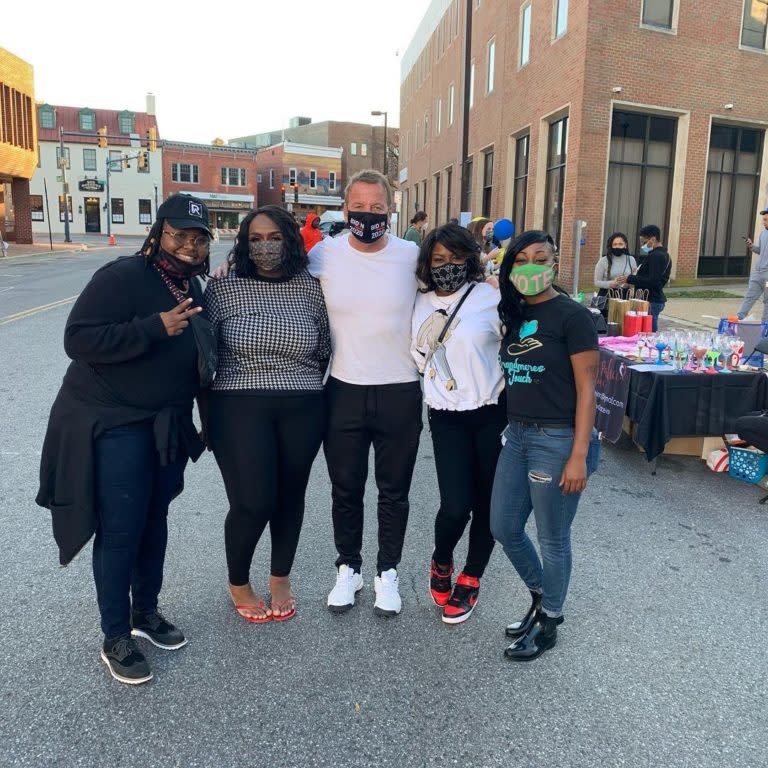 Mayor of Annapolis, Gavin Buckley,(center) joins Delegate Henson, Erin Holland and others in November 2020 for a Black Business Pop Up. Image courtesy of Erin Holland.
Making Communities Stronger
For Grandmeres Touch, a community extends far beyond a particular neighborhood's boundaries. A real community is a combination of neighbors and all the hands and hearts of support from within and outside of a specific area.
Erin Holland had the foresight to know Grandmeres Touch could extend far beyond limitations with the help of Annapolis' elected officials. It comes as no surprise to see faces such as Mayor Gavin Buckley, Alderwoman Rhonda Pindell Charles, and Delegate Shaneka Henson at a Grandmeres Touch event like the Vendors Pop Up.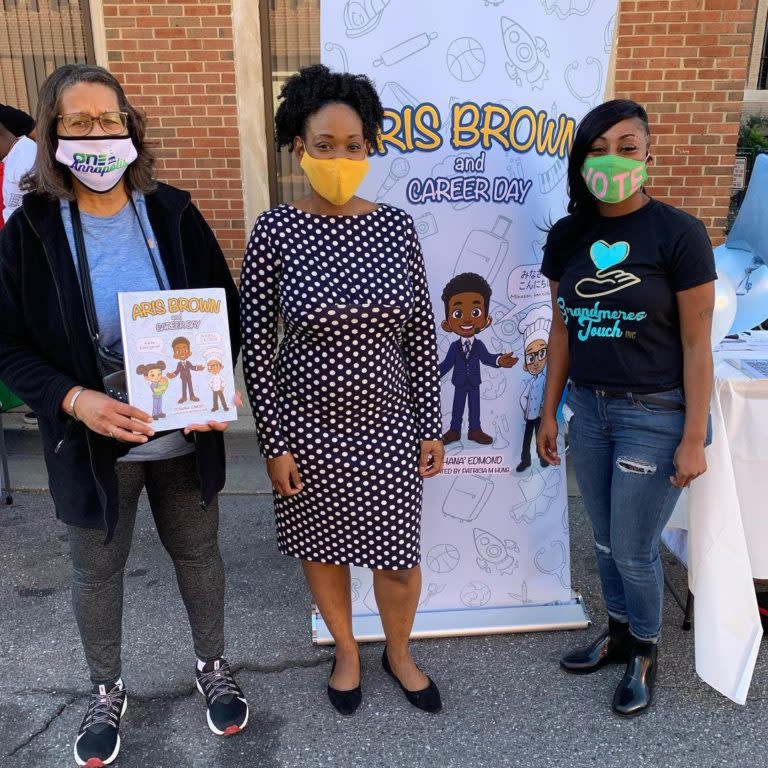 (L-R) Alderwoman Pindell stands with author De'shana Edmond and Erin Holland at the Black Business Pop Up. Image courtesy of Erin Holland.
Vendors Pop-Up and Networking
With support from the Mayor's Office, Grandmeres Touch shutdown Annapolis streets and provided outdoor venues for black small business owners. Vendors from all over Annapolis set up shop each Saturday in November to sell an array of products and services – from children's books, food, and snacks, to home goods and accessories, there was something for every taste.
The vendor pop-ups featured local businesses and professionals including, but not limited to: I Love Munchies, Gadgets by Rae, Mia Mobile, Queen's, Airy's Jewels, De'shana Edmond (author of Aris Brown and Career Day), and Play Palace Inc.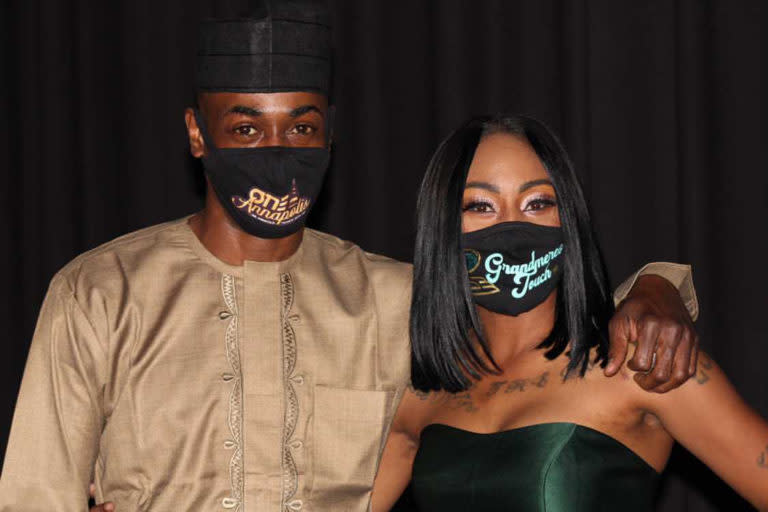 Erin Holland joins designer Adetola Ajayi for a quick photo at the One Annapolis Fashion Show. Image courtesy of Erin Holland.
One Annapolis Virtual Fashion Show Fundraiser
Grandmeres Touch, in collaboration once again with the Mayor's Office, presented the One Annapolis Virtual Fashion Show on December 12th. The virtual fashion show took place at Maryland Hall and was live-streamed from The Arundel Patriot's Facebook page. The show featured an array of designs and collections by black Annapolis designers of different nationalities and heritages.
In true Grandemeres Touch fashion, the runway represented diversity, showcasing apparel and accessories that featured distinct cultures, nationalities, heritages, and signature styles of each designer.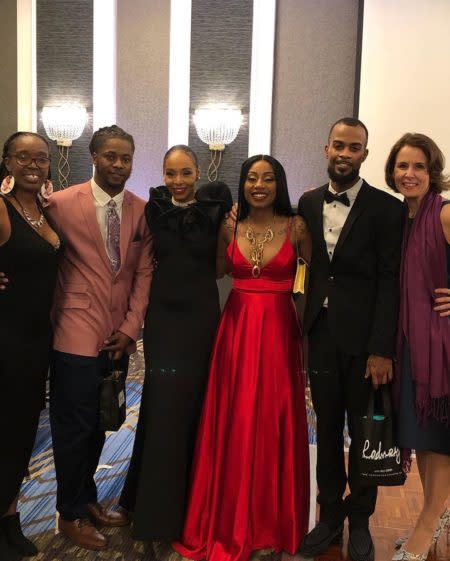 Attendees gathered at the Black Excel Gala, February 2020. Image courtesy of Erin Holland.
A conglomerate of talent made the One Annapolis Virtual Fashion Fundraiser a success.
The designers highlighted included Margo and Main, Lavel "Boo" Logan, Adetola Ajayi, Comacell Brown Jr., and Teshalech Adot Designs.
The models were styled by makeup artists Miquelle Womack, Mariana Garay, Dash Edwards, and Kali Brown. Not only did Hairstylists: Rayven Owens, Monika Willis, Sierra Brown, and Taiyla Simms perfect the looks and cuts of the models, but they also helped to set the tone for the evening with their signature style.
Smooth Productions and Augustus "E" Ray handled all things photography, while The Arundel Patriot and Boom Boom Media Group managed the videography for the entire show.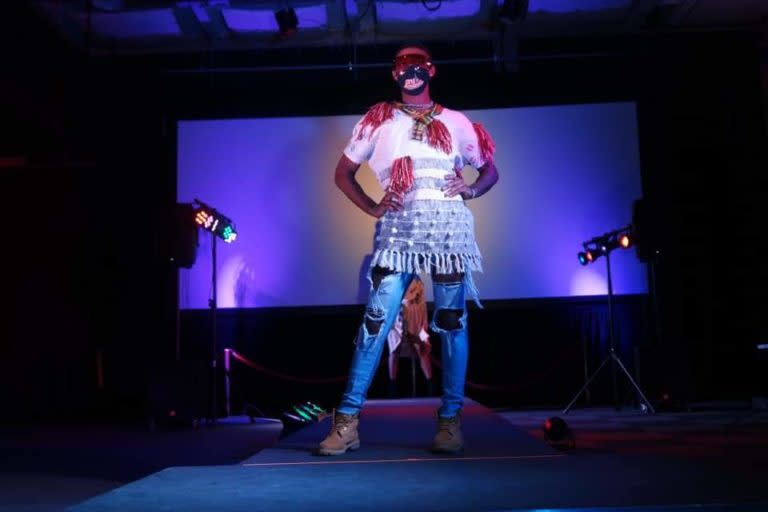 A model walks the catwalk of the One Annapolis Fashion Show. Image courtesy of Erin Holland.
The goal of the virtual fashion show was to raise money for local nonprofit organizations. Donations collected were used to uplift various Annapolis small businesses and organizations. Some of the fundraiser's recipients were Annapolis Immigration and Justice Network & Center of Help. Also, She Is Incorporated, Co-Op Annapolis, Street Angel Project, as well as Shadez of Excellence received grants from the event.
Get Involved and Stay Connected
Grandmeres Touch is touching communities throughout Annapolis. They are working to  bring free libraries to underserved neighborhoods like Robinwood. In addition, you will find networking opportunities for small business owners, school supply giveaways, and holiday food giveaways. Erin's goal to connect those in need with resources for success is being realized every day.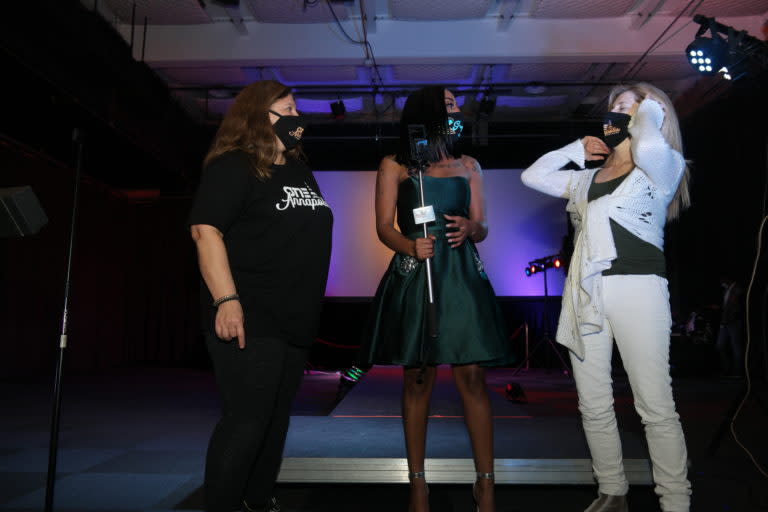 Erin Holland (center) is flanked by Vicky Bruce and Yasemin Jamison of Boom Boom Media and The Arundel Patriot.
Spread the word! Word of mouth is a huge part of the success of Grandmeres Touch Inc. Do you want to be a part of the next Grandmeres Touch community event? Visit grandmerestouchinc.org and follow Grandmeres Touch Inc on Facebook and Instagram.