Luna Blu is an Italian restaurant located in the heart of the Arts District in downtown Annapolis. Image courtesy of Annapolis Discovered. 2020 has been the year of the "pivot." Like many businesses, West Street favorite Luna Blu had to devise their own pandemic plan, from running a narrow, indoor-only dining space to…what? Luckily, with owner Erin Dryden at the helm, Luna Blu is thriving through this difficult time.
 
Erin Dryden of Luna Blu
When the pandemic first started, Erin was understandably stressed. She said, "I think we have all had our ups and downs emotionally. In the beginning, I was unsure of the future of Luna Blu, but we were immediately flooded with carry-out orders from all of our regular customers along with a lot of new ones. Honestly, the outpouring of support from our community has kept me going financially and emotionally."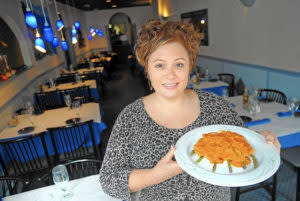 Erin Dryden of Luna Blu. Image courtesy of Luna Blu.
 
Luna Blu Virtual Charity Wine Dinners
One of the most innovative solutions Erin has come up with is their Virtual Charity Wine Dinners. These dinners offer all the sensory delights of an in-person experience but translates them into an at-home, virtual experience. For $140 for two (or $85 for one), patrons will receive four bottles of wine, a five-course meal, as well as access to the Zoom meeting and presentation with a wine expert for that evening's wine. (Instructions included). Erin carefully considers the menu for each event in coordination with the wine rep. She says, "I work with a few wine specialists who know exactly the wines my customers will enjoy. We discuss who we are going to work with, put together some wines, and I come to the table ready with a tentative menu to taste, then tweak accordingly."
Wondering what a Zoom wine presentation could possibly be like? Sometimes, there are PowerPoint presentations with pictures from the wineries and information about the vineyards and wine-making process. She adds, "A few times the speaker has been live in the fields showing the grapes." At times, the wine comes from a selected winery, or the selection features a particular region or cuisine. Since the wine dinners have a cult-like following at this point, Erin makes sure to mix up the wines and menus to keep it fresh for regulars and new attendees alike. As if this idea isn't already your new favorite idea for date night, guess what else? Each wine dinner benefits a different charity, many that are local to the Annapolis area such as CASA and GiGi's Playhouse. To date, Luna Blu has sponsored 15 different charities through the wine dinners. With two per month (generally the 2nd Thursday and last Sunday of each month), these fundraisers are making a difference far and wide! 
 
Creative Take-Out
Aside from the Wine Dinners, Erin is implementing a lot of creative solutions to keep Luna Blu busy. She said, "Having dinner under the stars five nights a week has been amazing and absolutely kept the restaurants of West Street going this year! It's absolutely magical seeing people enjoying the beautiful weather with amazing live local artists performing. I'm really hoping that this is something we will continue in the future." Erin is always thinking about new ways to offer fun, creative products to her customers. For Easter and Mother's Day, she will offer a special take-out menu & plans to put together a prix-fixe selection around the holidays. She has also offered wine and house-made chocolate pairings that sell out quickly!
 
Luna Blu's Upcoming Events
Now that your appetite for some fancy Italian food and wine has been thoroughly piqued, be sure to register for one of Luna Blu's upcoming Wine Dinners. On November 12, the featured charity is PanCAN, a charity dedicated to fighting pancreatic cancer. The menu delights with 5 courses. Arctic Char with a Light Cream Sauce over Swiss Chard (paired with a chardonnay) and Lamb Lollipops over Porcini Mushroom Risotto (paired with a cabernet) are just a couple of the courses featured on this week's menu! New dates for upcoming wine dinners are: November 22nd, December 10th, and 20th. Once the pandemic is over, Erin looks forward to starting up Luna Blu's in-house wine dinners once again. But for now, she plans to keep the virtual dinners on the schedule at least once a month as they've been so popular. For details be sure to visit their website, and maybe I'll see you on the next Zoom wine dinner!