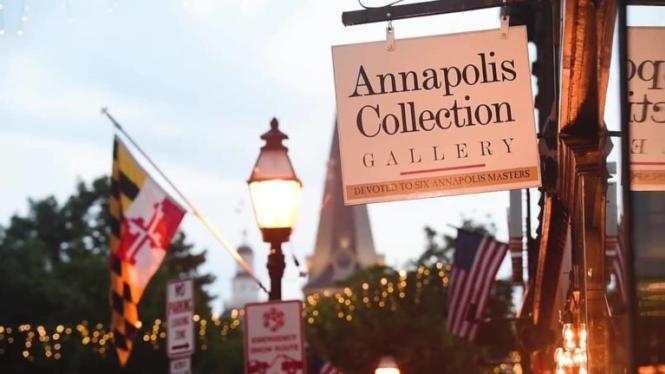 Annapolis Collection Gallery is located at 55 West Street, but all of their artwork is available for purchase online.
Image courtesy of Annapolis Collection Gallery.
The Annapolis Collection Gallery, run by Katherine Burke, is a unique type of art gallery.  For the past 12 years at its present location at 55 West Street, the gallery has exhibited the works of local Annapolis artists.  The work of Ann Munro Wood, Greg Harlin, Rick Casali, Moe Hanson, Yoomi Yoon, Jay Fleming and Roxie Munro can be found at the gallery. During these times of Covid, Katherine Burke has created numerous opportunities for her artists to show and sell their work, even moving to online auctions. One such auction benefited not only the artists, but Annapolis Elementary School.
Annapolis Elementary School
Since March, the gallery has been conducting art auctions online. In October, Katherine Burke suggested to Sarah Oliver, PTA President of Annapolis Elementary School, a way to raise funds for the local Title 1 school.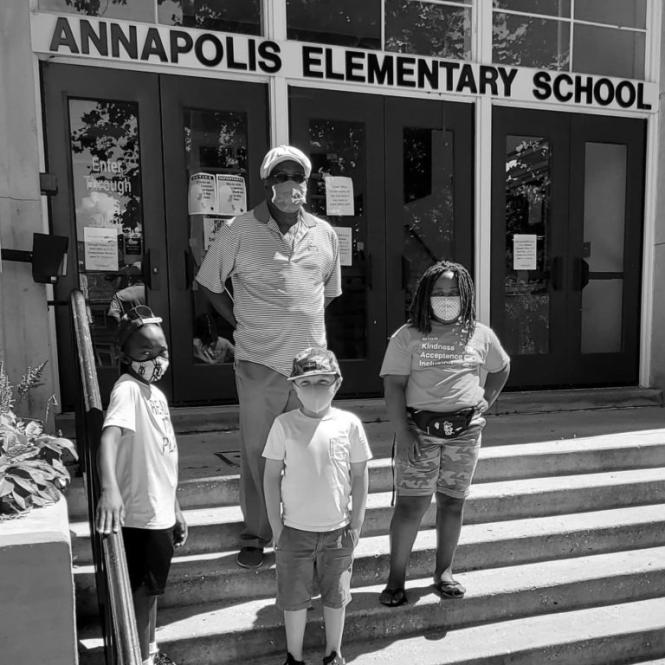 Annapolis Elementary sits on historic Green Street in the heart of Historic Annapolis. Image courtesy of Annapolis Collection Gallery.
Many people are unaware that there is even an elementary school in historic Annapolis. It is the longest serving educational building in Anne Arundel County.  Currently the school has Title 1 status, and as a result, the school does not ask their students to contribute for food, uniforms or supplemental educational needs.
Instead, the school PTA has taken on the responsibility of raising the needed funds through various fundraisers. During the late part of 2019 and all of 2020, the fundraisers could not be held.  One lucrative form of fundraising for the school is renting parking spaces to visitors to the area's popular boat shows. However, neither of the boat shows in 2020 were held due to Covid restrictions and much of the fall boat shows of 2019 were cancelled due to flooding around City Dock, where the Boat Shows are held.
Annapolis Elementary School PTA President, Sarah Oliver and Annapolis Collection Gallery owner, Katherine Burke display the poster used to announce the Online Gallery Auction held to benefit the Annapolis Elementary School. Photo courtesy of the author.
Online Auctions
Throughout October 2020, Annapolis Collection Gallery held online auctions to support the gallery and it's artists. The gallery pieces and monies generated by bids that exceeded the reserves were donated to Annapolis Elementary School to fill the gap created by the lack of usual fundraising methods. Holding the auction online allowed people from outside the area, as well as locals, to bid and buy artwork. The auction is mutually beneficial to both the school and the artists. The partnership allows Annapolis Elementary to receive much needed funding and the artists themselves continue to make a living from their work.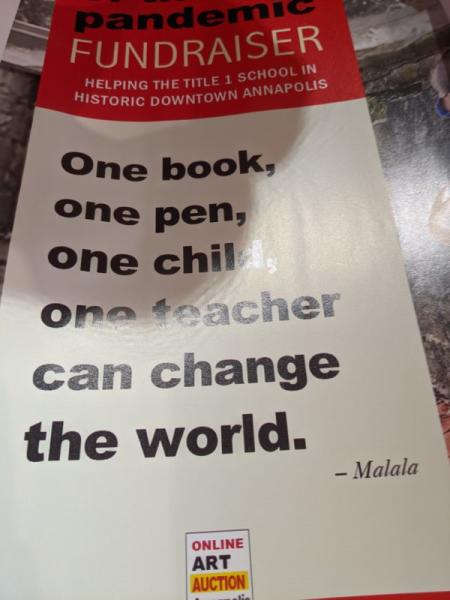 A quote from Malala Yousafzai's memoirs adorns the poster to announce the October online auction to benefit Annapolis Elementary.
Photo courtesy of the author.
Katherine Burke stated, "Upcoming online art auctions are scheduled with donations earmarked for Annapolis Elementary School, as well as the U. S. Naval Academy Spouses and Civilians Club, with proceeds going to their scholarship fund."
The Artists of the Online Auction
The online auctions not only benefitted the school but also the gallery's artists. The auctions include works of the five master artists. First up, is artist Roxie Munro. Her medium is predominantly architectural oil paintings, but she also creates watercolors, prints and drawings, many of them cityscapes. Her older sister, Ann Munro Wood, is a painter who studied in Paris at the L'Ecole des Beaux Arts.  Among many of Ann's current works are historical figures such as Alexander Hamilton, Abraham Lincoln, and George Washington.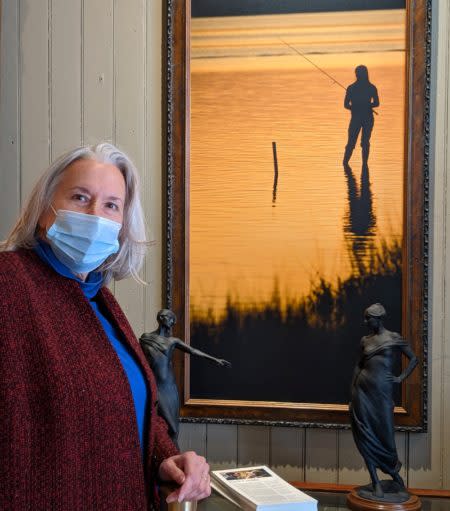 Katherine Burke, owner of Annapolis Collections Gallery, pictured with the work of two of the artists who have collections displayed: sculptor, Rick Casali, and artist, Jay Fleming. Image courtesy of Annapolis Collection Gallery.
Artist Yoomi Yoon expresses her artistic ability through paper cuttings, originally a Chinese art form, and sumi art on rice paper. She is originally from South Korea, but now calls Annapolis home.  Greg Harlin works in watercolors and included in his illustrations are several postage stamp designs. He often depicts historical themes of past centuries.
Next, at the gallery, you'll find the work of Rick Casali. He is a sculptor and teacher of art. His art form is figurative sculpture with a style that includes classicism, impressionism and modern elements, as well.
In addition, the gallery also has one of the largest black and white photographic collections of historic photos of Annapolis. Mainly, the collection consists of photographs from the late Charles E. Emery. Emery was a veteran of both World Wars and the first president of Historic Annapolis.  His photos were rediscovered after 50 years by his granddaughter, Dorothy Fairhurst.
They are now at the Annapolis Collections Gallery. Perhaps you have seen some of Emery's works in other establishments around town?  To check out his and the other artists' works, or to find out when the next online auction will be, visit he Gallery's website:  www.annapoliscollection.com