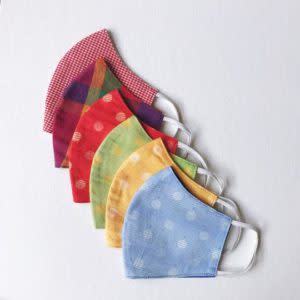 Face masks come in all shapes and sizes, these multi-colored Tween masks are a big seller at Mango + Main. Photo courtesy of Mango + Main.
Wearing a face mask is currently part of our new normal, so why not embrace it and make a bold fashion statement as well? Yes, it's true, the mass-produced surgical masks go perfectly well with a fresh pair of scrubs, but it's probably not your first choice for an outing to City Dock or for a stroll down Main Street. After all, staying safe and protected does not mean you should throw all your good fashion sense out the window. Whether you desire a pop of color or an elaborate design to spice up your outfit while protecting yourself and others, local Annapolis boutiques have you covered.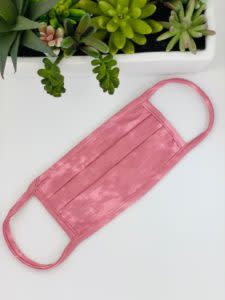 A Lilac Bijoux face mask adds a fun pop of color. Photo courtesy of Lilac Bijoux.
We all know this woman, she's the laid-back sister, with a cheerful, easy-going personality. She walks into the room, and it's as if all the lights get brighter. Her vibe is confident. Her clothes are stylish, fun, a bit funky, super comfy, and perfectly effortless. Lilac Bijoux is where you will find this modern woman shopping. Lilac Bijoux is all about providing "casual chic flair" for women with vibrant personalities and an easy-breezy fashion sense. 
The fun yet stylish clothes and accessories of Lilac Bijoux are curated by owner, Fern Elliott. Fern opened her boutique on Main Street in July 2005. Originally from Rio de Janeiro, Fern has been passionate about fashion her entire life. True to Lilac Bijoux fashion, their masks are simple and chic. Currently offering two pastel tie-dye prints in pink and olive, a Lilac Bijoux mask adds a splash of color and fun to your outfit of the day.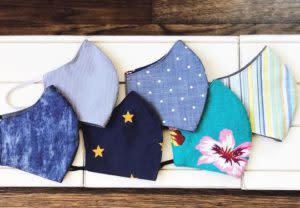 You'll find colorful face masks and a variety of styles and sizes at Mango + Main. Photo courtesy of Mango + Main.
Just like a perfectly ripe mango on a hot summer day, Mango + Main is a refreshing treat in the world of fashion, home goods, and all things handcrafted with love. With artisans from all over the globe representing 23 countries, Mango + Main is a one-stop-shop for authentic handmade items. Even in the midst of a pandemic, they have held tight to their mission: to connect artisans from around the world with U.S. consumers with an emphasis on Fair Trade and handmade products. 
The main goal of Shannon Riesenfeld, the owner of Mango + Main, is for the "power of business to make a positive impact on the lives of others." And as fashionistas, we can curate an artisan mask for our wardrobe knowing that our purchase really does make a difference in the lives of these women and artists. Mango + Main currently offers two different cotton mask styles in a variety of colors and patterns for adults, tweens, and kids.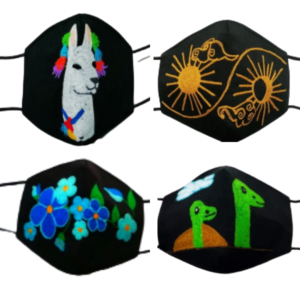 Alpaca International offers face masks with brilliant embroidery at their downtown Annapolis store. Photo courtesy of Alpaca International.
Alpaca International can be described with two words: unique and luxurious. Well, technically, that's three, but you get the point. Alpaca International began taking shape in the eyes of Peruvian native and founder, Zia Boccaccio when she was only 7 years old! She simultaneously fell in love with the animals and her homeland.   
Merging a love for luxurious and unique fashion with the rich beauty and texture of alpaca wool is what they do best. Alpaca International seeks to create design for both women and men who thrive in the face of sophistication and distinction. 
Alpaca International's face mask collection features hand-embroidery from Peruvian artisans. Each mask is a beautiful reflection of the Andes Mountains and all its vibrancy. Add a bit of charm and character to your outfit with a hand-embroidered mask by Alpaca International.