To book your stay for the 2021 Military Bowl, click here!
Football fans rejoice!  College Bowl season is upon us.  Whether you're an ardent fan, or looking to burn up some vacation days by year's end, time to call in an audible and clear your calendar for December 27th to attend the Military Bowl at the Navy Marine Corps Stadium. East Carolina University's Pirates, representing the American Athletic Conference, return in 2021 to take on Atlantic Coast Conference's Boston College.  Be there to see whether Eagles soar or if Pirates will loot their nest.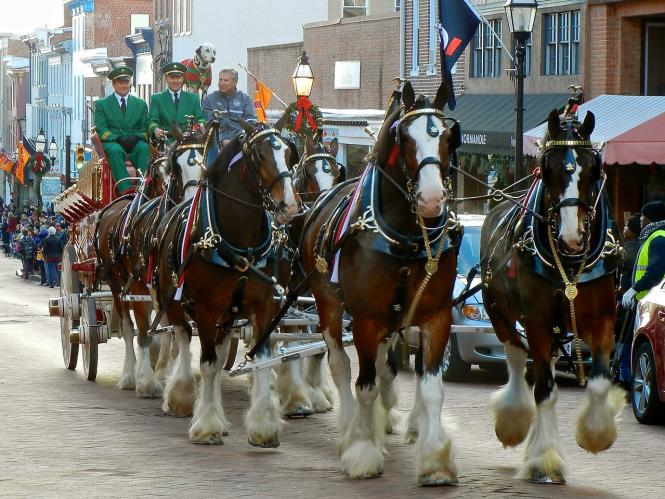 The Budweiser Clydesdales are in it for the long haul as they parade from City Dock to the Navy Marine Corps Stadium. 
Image courtesy of the Military Bowl.
Benefiting the USO of Metropolitan Washington-Baltimore, and sponsored by Peraton, the Military Bowl is already scoring big with outsized outreach.  As in the past, proceeds will also benefit Patriot Point, a 294-acre retreat near Cambridge, Maryland for wounded, ill, and injured service members and their families.  This year's partnership with the College Football Foundation's Extra Yard for Teachers program will provide 11 Anne Arundel County teachers with $12,000 in grants to be used for their classes & classrooms.     
Putting their money at the mouth of the Little Choptank, the Military Bowl helps to fund Patriot Point, a unique jewel committed to directly benefiting service members and their surrounding circle. Learn more about their mission on their website.
Fans coming to Maryland's capital city early can gear up for the gridiron with a few different events—free and open to the public—kicking off Sunday.  Yes, Maryland, there is a Santa Claus.  Or, at least, a Miracle on Annapolis Street.  Pop over to West Annapolis Sunday, December 26 from 11am – 3 pm for this festival featuring none other than the Budweiser Clydesdales, plus food trucks, vendors, games, activities and more for adults and children.  Send the kids home for a nap and tuck in to the Bar Crawl or, in the spirit of competition, the Scavenger Hunt & Wine Walk.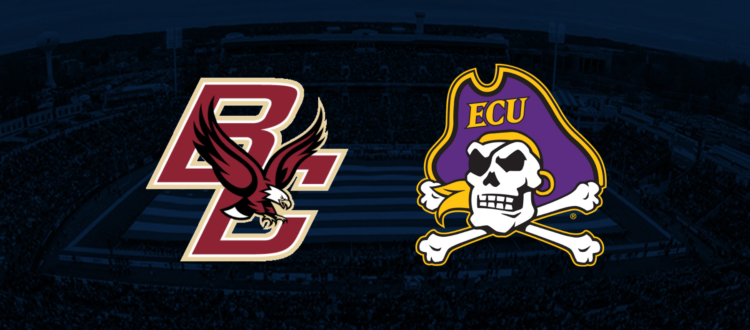 A wide open field for this year's bout between BC's Eagles and ECU's Pirates. 
Image courtesy of the Military Bowl.
No better way to quell game day jitters than to walk it off.  Whether marching or watching, the mile and a half parade route from City Dock to Navy Marine Corps Stadium will keep it fresh.  Packed with spirited community, military, and athletic groups—and punctuated with top-brass marching bands from BC & ECU—this is a flow with which you'll want to go.  Pay close attention to the broad smiles of the local championship football teams invited to participate by the Military Bowl.  Victory is sweet, but complimentary tickets to the Pirates v. Eagles bout is sublime.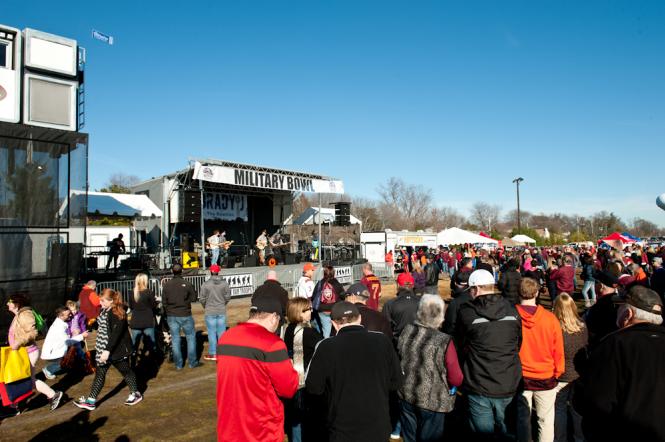 Off-field excitement for everyone at the Official Military Bowl Tailgate Festival. 
Image courtesy of the Military Bowl.
Now that you're at the stadium, head to the Official Military Bowl Tailgate Festival. Early-bird Eagles and punctual Pirates ought to find common ground with the 10am start.  It's also the place to catch a glimpse of one of the 9 (as of press time) attending Medal of Honor recipients.  Free and open to the public, you can leave your cooler bags at home; food and beverage options—for purchase—proliferate amongst the captivating military displays, games, and live music.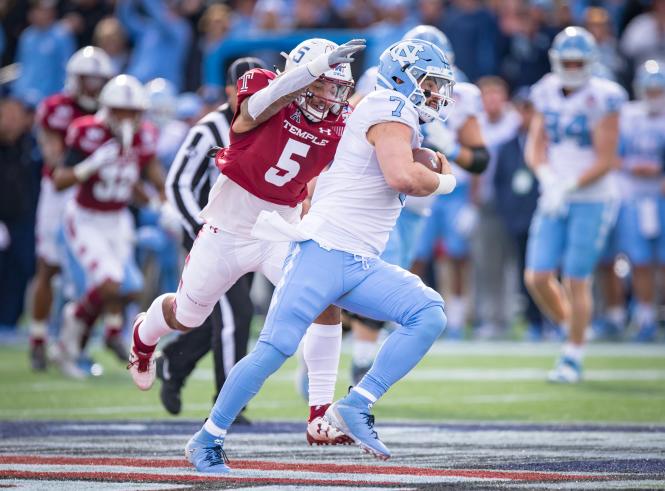 Everyone's racing for
tickets
to the bout between Eastern Carolina University & Boston College. 
Past matchup between Temple and UNC -  courtesy of the Military Bowl.
After a weekend chalk full of activities, time to take your seat and see who will come out on top of this year's Military Bowl.  Maybe take Tuesday off too.