For the true golf enthusiast and nature lovers, who love to tee up 7-days a week, The Preserve at Eisenhower Golf is for you. The Preserve offers a one-of-a-kind experience of masterfully kept greens and natural thriving landscapes and wildlife. Hungry or thirsty? Stop by the clubhouse and grab a snack or refreshing beverage before you head back out on the green. Want to see the renovated course? Watch our video on The Preserve at Eisenhower Golf.
Whether it is unlimited tee times or all-inclusive membership dues you are looking for, The Golf Club at South River has you and your family and friends covered. When you are ready to take a break from the sprawling greens, you can head over to the Bistro Restaurant and enjoy a delectable meal and some fantastic drinks.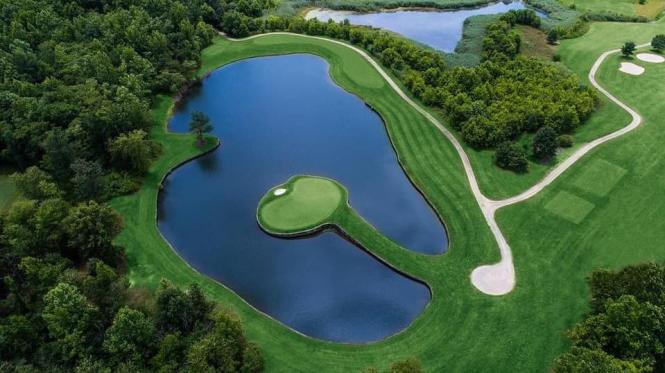 Aerial view of one of the holes at Renditions Golf Course in Davidsonville. Image courtesy of Renditions.
The US Naval Academy Course could boast of its prestigious yacht club history or its time as a naval radio communication facility. However, today it relishes its future with its masterfully integrated 18 holes and natural landscape. Club members can relax at The Club at Greenbury Point and savor a well-deserved lunch, dinner, or happy hour. Not a club member? No worries, Severn Inn and Cantler's Riverside Inn are about 10 minutes away.
If you want to play like the pros, Renditions offers some of the best replicas of holes from major championship venues, including the United States Open or PGA Championship venus. After a day on the links, visit one of the two onsite restaurants, Player's Grill or Mid Course Grill.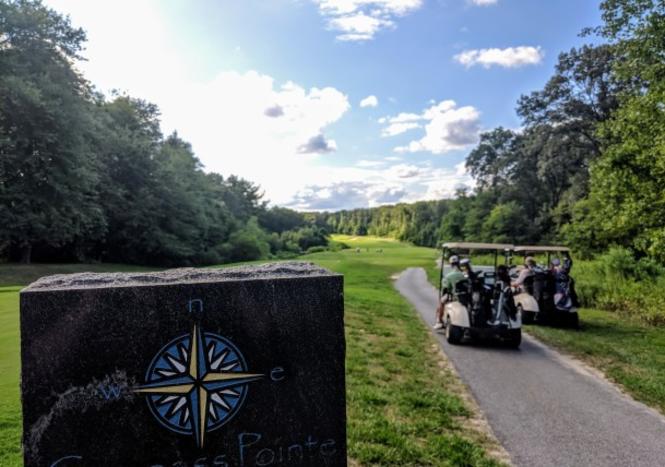 Golfing at Compass Pointe, a municipal course located in Pasadena, MD. Image courtesy of Compass Pointe

 

Compass Pointe is a must-stop on your golf tour, with one of the largest grass driving ranges in Baltimore/Annapolis region and an 18-hole championship course. Tee up with friends, then wind down at Bogey's Grill and enjoy your favorite drinks from the full-service bar while catching up on the latest sports highlights, including what is on the NFL Sunday Ticket.

 

View our full gallery of courses and driving ranges on our website and don't forget to tee up your weekend with a stay at one of the many Anne Arundel County bed and breakfasts, full-service hotels, or historic inns.