According to Harry Browne's website, "Harry Browne's has catered to local politicians and seven Governors and is a favorite with local lobbyists." Being located directly across from the State House at 61 State Circle, this is no surprise. Perhaps this is why up until now, I never considered this a place I would go for Happy Hour, thinking I might feel an outsider in this setting. However, that changed when I was asked to review the happy hour here.
I had never known there was a separate and wonderfully unique bar upstairs from the well known restaurant. As soon as I entered the bar, with its warm wood walls, attractive and clearly well stocked bar, I felt welcome and intrigued. The setting is both elegant and old world, but cozy at the same time. There are several casual seating areas for small groups to relax and chat in addition to the bar and tables.
Happy Hour at Harry Browne's is offered weekdays from 4-7 p.m. Specials during this time include $5 Martinis and Manhattans, $4 House wines, (four each of reds and whites) and one dollar off all well drinks and draft beer. Speaking of draft beer, there is a plentiful variety of thirteen different beers on tap.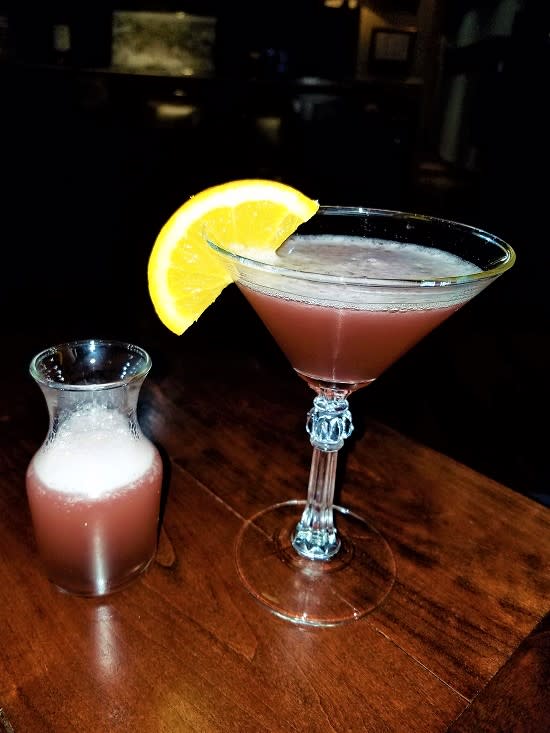 We arrived early and there were several casually dressed young ladies at the bar and a few other small groups of various ages. After five o'clock, it seemed those connected to our state house began to arrive as suits and ties and a bit more business attire on the ladies was evident. Many seemed to know each other and the ambiance was relaxed and friendly. I would imagine there have been many times when lively political discussion and deal making have taken place over drinks in this location.
The regular (non happy hour) lounge menu is extensive. The cocktail menu is divided into Modern and Traditional Cocktails. For the whiskey connoisseur, or those who are interested in becoming one, 3 oz. samplings of favorite whiskeys are offered in Whiskey Flights. As mentioned, upon arriving I had noted a well stocked bar and 52 Bourbons and Whiskeys listed on the menu support this. There is an equally impressive list of single and double malt scotch.
I decided to veer from the Happy Hour menu and order a French Martini from the "Modern Cocktail" list. Composed of Vodka, Wild Raspberry Liqueur, Grand Marnier, and pineapple juice, it was quite flavorful, but packed a bit more of a punch than I am used to. I decided not to order the Lazy Dog I had my eye on. Next time! I imagine that extra punch would be welcomed by many a lawmaker after a long and/or contentious day on the House floor. One nice touch I have not seen before was that along with the full martini glass, a separate, small flask of additional drink was served at the same time to refill my glass.
The happy hour food menu offerings are all priced at six dollars. This menu includes cream of crab soup, mussels, several salad choices, chicken wings, flatbreads, and more. The lounge also offers small plates to share along with larger plates. Two I'd like to try from the small plates are the crab empanadas and Charcuterie board. Those will have to wait for my next visit as well.
We decided to share the cream of crab soup and Buffalo wings.  I have reported several good cream of crab soups lately, but let me put a response to Harry Browne's in my thirty year old son's words, "I can't believe there are all these big chunks of real crab meat" repeated with each spoonful. It was buttery, creamy, and light. I believe I have a pretty good cream of crab recipe of my own, but if I could score the recipe from Harry Browne's, my recipe would be permanently retired. This soup alone is worth a trip here!
We also tried the traditional Buffalo wings served with two sauces. These were meaty and the barbecue sauce was slightly sweet and very good.
Harry Browne's is known for fine dining and I am very pleased that I now know it has a wonderful bar and happy hour with a great atmosphere.  I will be returning for that crab soup again before it gets warm!
Street parking can be hit or miss. You will probably save time by parking in the Gott's Court Garage rather than driving around the one way streets searching for a space such as we did. It took us awhile, but it was so worth it.
Photography courtesy of Natalie Spong