People live in and visit Annapolis for many reasons, but most appreciate the town's waterfront setting and that Annapolis predates the United States. Some know that many buildings in the downtown area are at least one or two centuries old. But how many people appreciate the history of the specific buildings they enter while in Annapolis?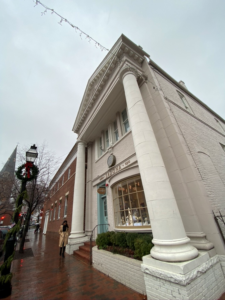 Photo courtesy of the author.
Let's start with a visit to Sadona Salon and Spa on West Street for a haircut and massage. Take a look at the building's white-painted exterior. This two-story, gable-roofed Classical Revival-style brick building—unusual for Annapolis—is dominated by giant Doric columns; many of its windows also retain Classical trim. Clearly, the building was not built to be a salon. It was a bank. Although most of it was built in 1904, the site has served as a bank since 1812 (before that, a brick building there was used at different times as a boarding house, tavern, and private dwelling). Inside, the tin ceilings and the wood floors are original. The bank's walk-in vault, complete with original door, is where stylists wash customers' hair. The massage rooms upstairs used to be private offices. Across from them is a five-foot-tall safe.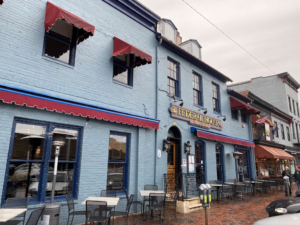 Photo courtesy of the author.
Next stop is Federal House at Market Space for lunch. In 1694 Francis Nicholson, then British Governor of Maryland, moved the colonial capital from St. Mary's to a sleepy seaport he would rename as "Annapolis." His plan for Annapolis located the market area near Church Circle and the current Market Space was part of his garden. By 1696, he had re-designated the land on which all three buildings of Federal House now stand for carpenters to use to serve the shipyards in the booming port. From that point on, ownership and occupancy of buildings on the property changed many times. The current Federal House opened in 1985 in a building bordering on Fleet Street, that was constructed in 1954 to hold two shops.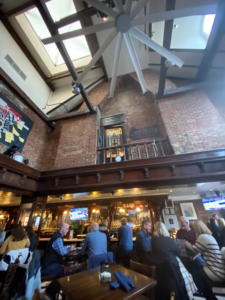 Photo courtesy of the author.
In mid-1990, Federal House expanded to include two much older buildings. The middle building was constructed between 1821 and 1844, and for years it was the home of the Master and Mistress of the current Market Space. The third building was constructed between 1885 and 1891 as a grocery store. True to its name, Federal House was built in Federal style, as indicated by its flat surfaces and attenuated details.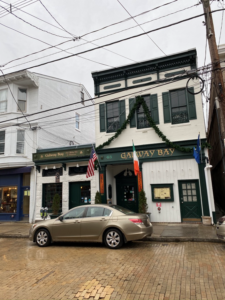 Photo courtesy of the author.
After walking around the harbor and up to the State House and shopping along the way, dinner and a pint at Galway Bay on Maryland Avenue sounds pretty good. The restaurant consists of a one-story, commercial vernacular style building built between 1903 and 1908, which holds the main bar, and a two-story Italianate style building (identified by the heavy wooden brackets that support a deep overhanging cornice) built between 1897 and 1903, which contains a smaller bar and restaurant seating.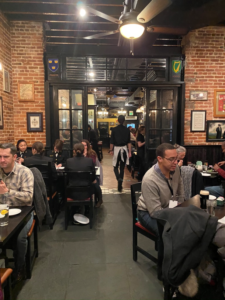 In the 18th century, large landed estates were prominent in Annapolis, and the property upon which Galway Bay sits was part of the estate of John Smith and his heirs at least as far back as 1718. Daniel Sprogle, a builder, bought the property in 1848 and began almost immediately to subdivide it and sell it off. The two-story building was built as a tailor shop with a living space on the second floor. In 1923 it became an Annapolis icon, The Little Campus Inn, which by 1931 had incorporated the smaller building. In 1998, Galway Bay filled the void left by Little Campus Inn's closing.