The music scene in Annapolis and Anne Arundel County is a well-established, seemingly low-key but intense amalgam of devoted musicians, music-lovers, and genre adventurers. One store in downtown Annapolis is an example of how deeply this passion is embedded. KA-CHUNK!! Records is for those who venture anywhere off the mainstream of today's pop music.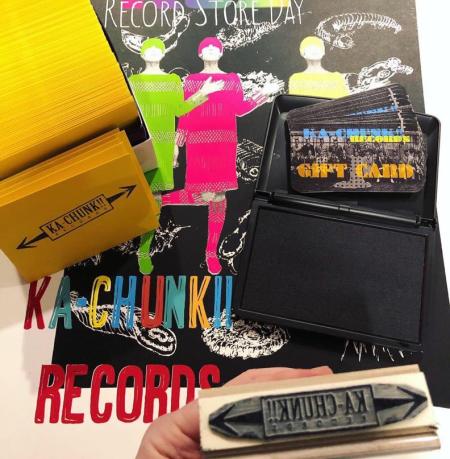 Matt Mona getting creative for Record Store Day. Image courtesy of Matt Mona.    
KA-CHUNK!! Records
KA-CHUNK!! Records reminds me of some of the vinyl record stores on and near Times Square in Manhattan, which is where many usually think to go to find the unfindable. No need to hop a train. We have it here in on Maryland Avenue in downtown Annapolis.
Specializing mostly in vinyl records, KA-CHUNK!! connects its community with otherwise hard-to-find LPs of prominent and lesser-known artists of heavy metal, classic hard rock, punk, blues, alt-rock and every indie spin-off genre. They have over 700 unique artists represented in the new vinyl section, as well as a wide selection of used LPs, rare LPs, limited edition screen prints, T-shirts and ephemera.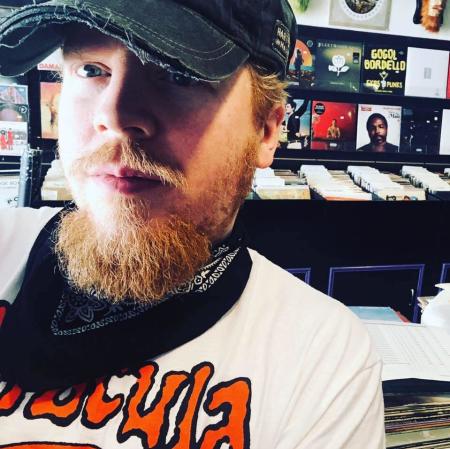 Matt Mona is the owner and founder of KA-CHUNK!! Records on Maryland Avenue. Image courtesy of Matt Mona.    
Matt Mona of KA-CHUNK!!
Maybe you are into listening to obscure fusion jazz on your vintage turntable, or have been looking for Jimi Hendrix's Blues LP for a family member. Matt Mona is the owner, and says, "I do special orders for people if something isn't in stock, for sure! For many special orders the turn around is pretty quick, usually just the following week."  He also buys used LPs and 45s.
KA-CHUNK!! Records celebrated its tenth anniversary in December. That speaks volumes, or maybe I should say in high volume, for just how successful and important this small business is to music lovers in Annapolis, and to the community. Matt is grateful to everyone that has participated in what he calls a fantastic "9 years + a bizarro year". But that bizarro year has been good to him; he just had his busiest holiday season ever.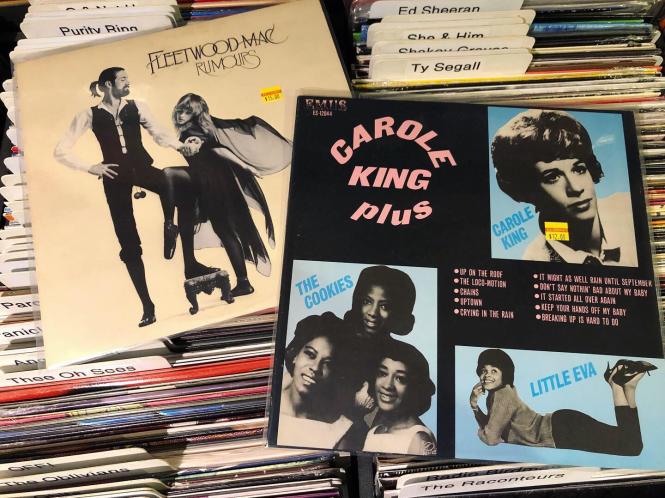 Classic 70's LPs featuring Fleetwood Mac and Carole King. Image courtesy of Matt Mona.

 

Even with his diligent adherence to social distancing and safety guidelines, customers old and new stood in line up the street on the taped X's he placed six feet apart, waiting their turn to enter the store. A good portion of the collection can be found on the eBay store, and he says, "I also do a lot with people who get in touch with me via Facebook and Instagram.

 

During lockdown I uploaded my entire new record inventory to a database and I've made that available to people and they get in touch and I just send things out directly for $5 flat rate shipping."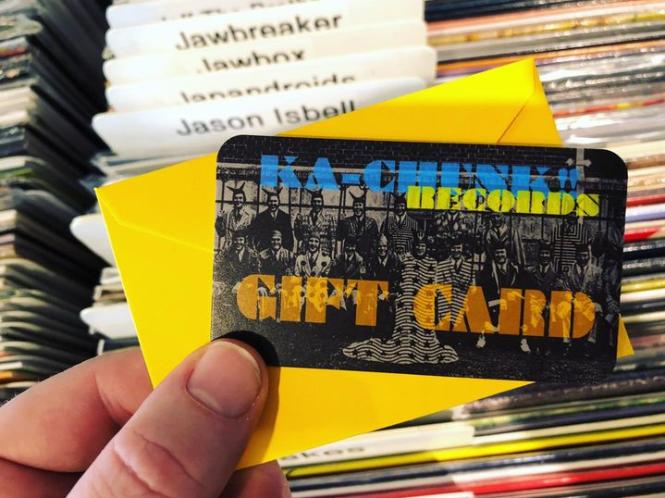 KA-CHUNK!! offers gift cards for the audiophile in your life! Image courtesy of Matt Mona.  
The Future is Bright
In 2020, he only ran the "Record Store Day" promotions, which are in June and November, and the lines, as always, went up the street and around the block to State Circle. He is planning his next Record Store Day promotion for June 12, so mark your calendar and get there early.
In normal times, he runs store promotions and has live shows inside the shop. Including a series of live shows with his own band, "Minus Drag," and local bands as well as national acts. "Some of my highlights were The Evens (members of Minor Threat, Fugazi), Obits (Members of Drive Like Jehu, Hot Snakes) and J Robbins (member of Jawbox)." He's looking forward to the live music again in safer times.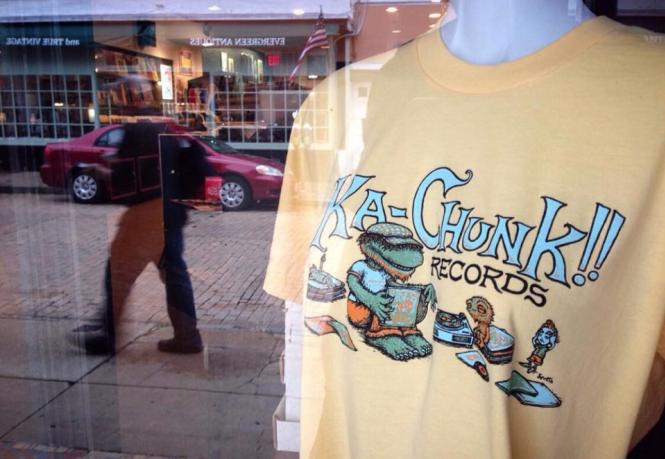 T-shirts, LPs, Screen Prints: KA-CHUNK!! has everything you could hope for in a local record shop. Image courtesy of Matt Mona.  

Matt is a creative guy with a generous spirit, which I imagine comes from living what you love. I had to know how he chose the name of the store: "I picked KA-CHUNK!! From the sound effect from a comic book called the Maxx. It was the sound a character would hear before he was carried away into a world his subconscious created. I thought it had interesting ramifications when thinking about listening to music. As it turns out, my memory of the sound effect was off, it was actually CHUNG! But I kept KA-CHUNK as I just kind of liked it. I also thought it sounded like a factory creating a physical product "KA-CHUNK!! KA-CHUNK!!". I just like the onomatopoeia."

 

As small businesses go, Matt's shop is invaluable as an example of the thriving, multi-dimensional cultural scene in Annapolis.