Hundreds of sleek water craft and miles of wooden docks transform the Annapolis Harbor in the magic month of October – 5-9 for the U.S. Sailboat Show followed by a quick change for the U.S. Powerboat Show 12-15.  The state capital of Maryland is also known as "Sailing Capital of the U.S." and the site of the in-progress sailing museum at the City Dock.  It is also famous to foodies for Maryland blue crabs and the state's signature dishes of crab cakes, crab soup, and countless variations on the crustacean.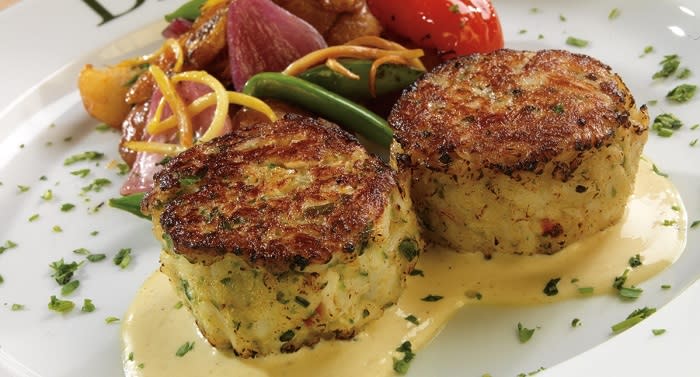 There's hardly a restaurant in town that doesn't serve crab cakes.  One of my favorites is at Chick and Ruth's Deli on Main Street and another is the signature dish of five-star caterer Ken's Creative Kitchen. And in the event you want to try making your own, here are some of the best recipes from my book Seafood Lover's Chesapeake Bay: Restaurants, Markets, Recipes and Traditions.  The essential ingredient, of course, is Maryland crab meat, available July-October at most local supermarkets.
Crab meat is sold in several categories, listed here in various price ranges (from high to low): Jumbo lump crab, lump crab, regular, and claw.  If you want the best flavor for crab cakes, go for the gold.  If you're okay with a notch down, be happy with the lump.  If you are making soup, regular and claw will do.  The exception is cream of crab soup, when you'll want the pricier lump.  What I sometimes do, when making for a group, is to get a pound of the regular for the soup itself and a pound of the jumbo lump for garnish.  This same product can fancy up other soups, such as gazpacho or butternut squash.  Market prices can range from $32 per pound for jumbo lump to $10 for regular.
Maryland Crab Cakes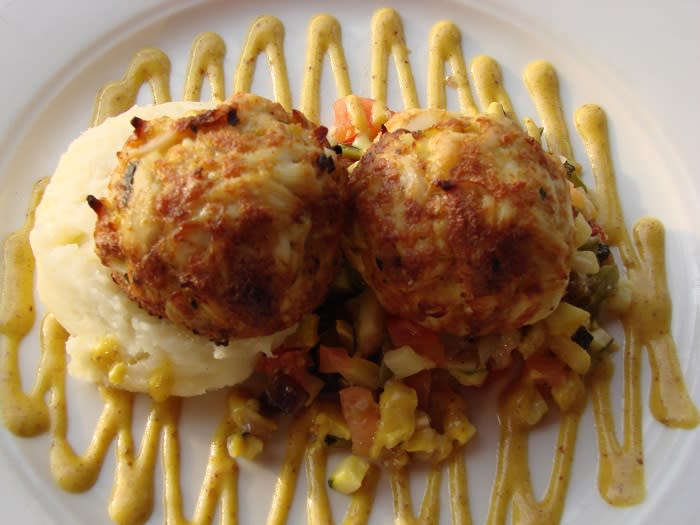 1 pound jumbo lump Maryland crab meat
1 tablespoon fine cracker meal
1 dash Worcestershire sauce
1 dash Tabasco sauce
1 egg
1 tablespoon dry mustard
1 teaspoon Old Bay Seasoning
3-4 tablespoons mayonnaise (creamiest available)
Juice of one lemon
Preheat oven to 450 F,  Place crab meat in large bowl and pick through to remove any shells and cartilage.  Add cracker meal and combine gently, leaving lumps intact.  Mix remaining ingredients in separate bowl and fold into crabmeat mixture.  Using an ice cream scoop, place even portions of crab mixture onto non-stick baking sheet,  Bake in hot oven until lightly browned, approximately 5-7 minutes.  Makes 4.  Recipe courtesy of The Narrows in Grasonville, MD.
Maryland Cream of Crab Soup
1 pound jumbo lump Maryland crab meat
2 tablespoons butter
2 tablespoons flour
1 cup chicken stock
2 cups half-and-half
2 cups heavy whipping cream
Salt and pepper to taste
Dash of sherry (optional)
Make a roux by combining butter and flour in a saucepan and cooking over medium heat, stirring constantly, until mixture is light brown and has a slightly nutty aroma.  Set aside. To make the soup, heat chicken stock in large pot.  Add the roux and mix until well-combined.  Simmer briefly until mixture starts to thicken. Add half-and-half, cream, salt and pepper to taste, and mix well.  Carefully fold in crab meat.  Cook for a few minutes until crab meat heated through.  Serve with carafe of sherry, if desired.  Serves 6.  Recipe courtesy of Ken Upton, Ken's Creative Kitchen, Annapolis MD.
Maryland Crab Soup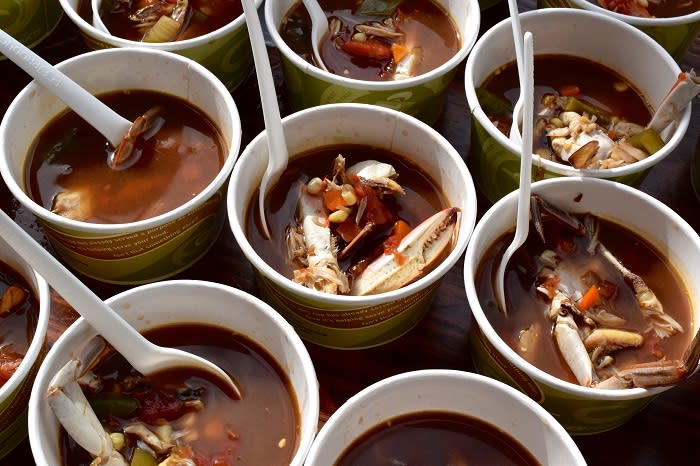 2 pounds Maryland regular or claw crab meat
1 bag (16 ounce) mixed vegetables
6 strips bacon, chopped
1 onion, chopped
3 stalks celery, chopped
1 28-ounce can whole peeled tomatoes (Marzano preferred)
1 tablespoon hot sauce
1 clove garlic, minced
1 ½ gallons water
¼ cup chicken base
8 potatoes, diced
1/4 cup Worcestershire sauce
1 tablespoon Old Bay Seasoning
2 tablespoons lemon juice
Salt and pepper to taste
Sautee first 5 ingredients in large stockpot for a few minutes, until partially cooked
Gradually add rest of ingredients, except crab meat, and cook, stirring until well-combined and hot.  Gently add crab meat and heat through.  If soup too thick, add more water as needed to get the desired consistency, Serves 6-8.  Recipe courtesy of Traders Seafood, Steak and Ale, Chesapeake Beach MD.