Anyone who's been to Annapolis knows that Main Street is made for walking and shopping, whether of the window or in-store variety, and that it's made for doing so year-round.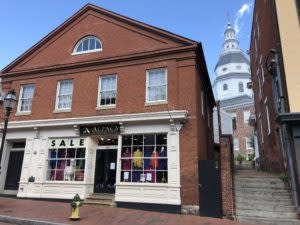 Photo courtesy of the author.
As an every-weekend walker with my dog, Buddy, I love watching the street's flags, decorations, and storefronts constantly change with the seasons, inspired by events such as boat shows, holidays, and of course the month-long mood-booster that is Midnight Madness. And as you can probably guess, Buddy is a pretty big fan of the free water and plentiful pets that Annapolis's countless dog-friendly stores provide.
But while Buddy couldn't care less, at times like this it's nice for us humans to know that Main Street boasts an impressive number of businesses that offer online shopping – plus you don't have to worry about parking or finding your specific item in stock.
So here's a selection of them, many of which surprised even this lifelong Annapolitan.
Starting with Stuff to Wear…
From head to toe, Annapolis has you covered when it comes to outfits at your fingertips: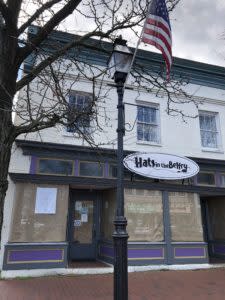 Photo courtesy of the author.
At the corner of Main and Green Street for over 41 years, this super-stylish shop is a great place to peruse and try on a very wide variety of men's and women's hats. As I learned while working as a UPS seasonal helper one Christmas break in college, however, it was also early to the online business game, proven then by the hundreds of boxes I picked up each day after they journeyed down a back stairway slide. Fast-forward 15 years, and the Belfry's website offers more styles, colors, and sizes of hats than you can imagine, from men's flat caps and fedoras to women's big brims and westerns.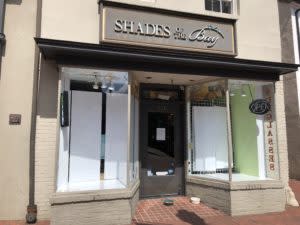 Photo courtesy of the author.
Another Annapolis mainstay, this store began as Shades Unlimited, located at the bottom of Main Street, in 1981, before moving on up to a larger space and a new name in 2008. It's always easy to find thanks to the giant bubbles and laid-back music that regularly emanate from its front entrance, while inside it offers over 70 brands of sunglasses, top-of-the-line flip flops (I can personally recommend its Reefs), and a wide selection of baseball caps and trucker hats ideal for on-the-water activities. Although Shades doesn't have an online store, customers can call or email owner Linda Mann at 410-267-6663 or Linda@shadesofthebay.com to find and arrange curbside pickup of the sunglasses or flip flops perfect for them.
Photo courtesy of the author.
Annapolis Gear, The Black Dog General Store, Irish Traditions & Alpaca International
While "Annapolis"-branded t-shirts for tourists can be found at plenty of stores throughout downtown, Annapolis Gear, the ecommerce extension of Annapolis Essentials, offers the branded apparel that's meant to satisfy Marylanders. From sweatpants to socks, stickers to shorts, you can find nearly any item you can think of with designs inspired by the state flag, blue crab, Old Bay, sailing, or Navy.
Of course if you're looking for high-quality clothing with a simple design that evokes the New England coast and boating, Black Dog's one and only Mid-Atlantic outpost is the store for you. Its website not only includes a limitless number of logoed shirts, hoodies, and sweats for men, women, and children, but tons of dog toys and home and kitchen accessories as well. The website will resume taking online orders on April 7, and any order of $150 or more will include a free classic totebag perfect for the boat.
Last but most not least, Irish Traditions and Alpaca International offer what's likely the most unique apparel type and the most unique apparel material available from downtown Annapolis: kilts and Alpaca wool. Traditions' online store offers kilts, caps, skirts, scarves, vests, and ties in a very wide variety of Irish and Scottish tartans (a plaid textile design consisting of stripes of varying width and color usually patterned to designate a distinctive clan), plus plenty of other Irish-inspired goods including crystal, jewelry, and imported foods. As for Alpaca, its website offers diverse hand-crafted garments and accessories, from simple men's sweaters to high-fashion women's coats, each made with 100% Alpaca wool that, based on my annual Midnight Madness visits, is incredibly soft to the touch.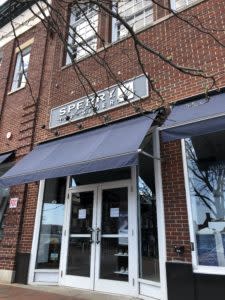 Photo courtesy of the author.
Finishing the clothing category at the feet, Sperry offers the quintessential shoe for Annapolis: the boat shoe. A navy man, Paul Sperry was inspired to create the now-famous nonslip shoe after falling off his sailboat into Long Island Sound in 1934. He based the shoe's grooved rubber sole on the footpads of his dog, Prince, who never seemed to slip, and the rest is history. The famous footwear has been worn by the likes of USNA midshipmen, JFK, and Mr. Rogers throughout its 85-year history, and you can shop for plentiful styles and color schemes of what The Official Preppy Handbook deemed the official preppy shoe online (whether you plan to actually ever wear them on a boat or not!).
Stuff to Consume…
Main Street also offers plenty of purveyors that will appeal to your tastebuds: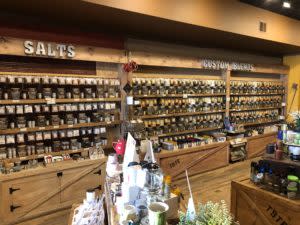 Photo courtesy of the author.
This is my favorite store on Main Street first, because it's the most interactive, and second, because my mom gives me a new spice blend to cook with each Christmas. Customers are encouraged to open and take a whiff of its hundreds of glass-jarred powders, rubs, dried spices, smoked salts, flavor-infused sugars, and loose-leaf teas, many of which you'll surely have never seen before. But it's also great to know that the full gamut is available for purchase online, along with tons of recipes that note all spices required.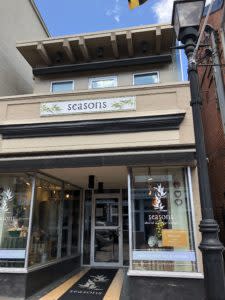 Photo courtesy of the author.
Another favorite, Seasons is filled with unique balsamic vinegars, from apricot to espresso, and equally-unique olive oils, from bacon to basil, that you're encouraged to taste. Just like Spice & Tea, the store's website offers everything in the store and more, such as pasta and olives, along with recipes and an extremely long list of best foods to pair with every single flavor of oil and vinegar.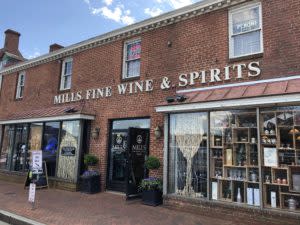 Photo courtesy of the author.
Speaking of pairings, Mills has offered a wide selection of beer, wine, and spirits from its City Dock-facing store since 1946. I'm a particular fan of its huge create-your-own-six pack shelf of craft beers, which are a personal go-to for gifts. As an "essential business" it remains open to customers, but is encouraging them to visit its website to view its new products or contact its beer, wine, and spirits experts, then call to place an order for curbside pickup or delivery.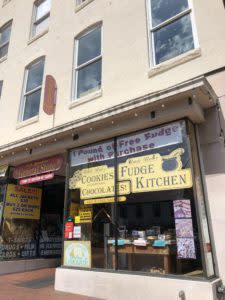 Photo courtesy of the author.
Uncle Bob's Fudge Kitchen (AL Goodies General Store)
Capping off the consumables, anyone who's been to Annapolis has surely enjoyed watching fudge being made – or perhaps taken the next step of sampling then buying said fudge – through the always seasonally-decorated front window of AL Goodies. But I only recently learned that Uncle Bob's exists as its own entity online, where you can order fresh fudge, huge cookies, massive caramel apples, and gift boxes for yourself or someone whom you really want to impress.
Stuff to Relax…
And finally, for some options that will help you relax while at home: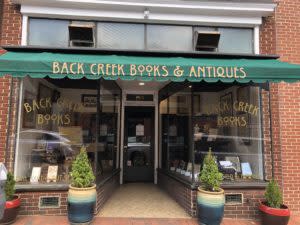 Photo courtesy of the author.
I stop to take a peek inside the front windows of Back Creek every weekend because they're always filled with new rare books, maps, and antiques. The same goes for the interior, making it an awesome place to let your mind wander and your eyes skim the shelves. Luckily the store's website is just as fun to explore – I was intrigued by a handbook of the first NBA season and a first edition of Adventures of Huckleberry Finn after just three minutes of searching – and open for business.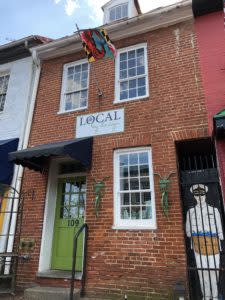 Photo courtesy of the author.
Another website that's great for searching belongs to Local by Design, a partnership of over 100 local artists who sell their art, jewelry, home décor, painted furniture, apparel, and diverse gifts and accessories through the store. I can personally recommend the Maryland flag dog bandana and Maryland yellow lab art print, and just browsing the eclectic items is relaxing in and of itself.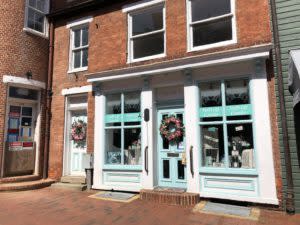 Photo courtesy of the author.
The newest store not only on this list but perhaps in all of Annapolis, Surf's Up opened its cozy spot at the very top of Main Street last spring. It offers 50+ fragrances of all-natural soy candles, from best-seller Coconut Lime to intoxicating Raspberry Sangria, along with sugar scrubs, bath bombs, body creams, and home accessories including super-pithy tea towels. It's very dog-friendly and one of Buddy's favorite stores to sniff around in, but its website does have all the selection plus regular online-only discounts, so we're not complaining.
With so many stores at your fingertips, you'll be bringing downtown to your doorsteps in no time.
Happy shopping!