You gotta love Maryland Avenue. This short spoke of a street off State Circle certainly throws off an old-world vibe. Here you'll find a colorful mix of artsy mom-and-pop shops overflowing from historic buildings onto cozy sidewalks. The effect could not be more charming—this is the intersection of urban bohemian and American Revolutionary elegance.
Maryland Avenue's charm stems from its preserved, centuries-old buildings, many of which have second floor residences above the storefronts. Originally labeled North East Street in Governor Nicholson's 1695 Annapolis plan, Maryland Avenue is known today as the Annapolis Boutique District.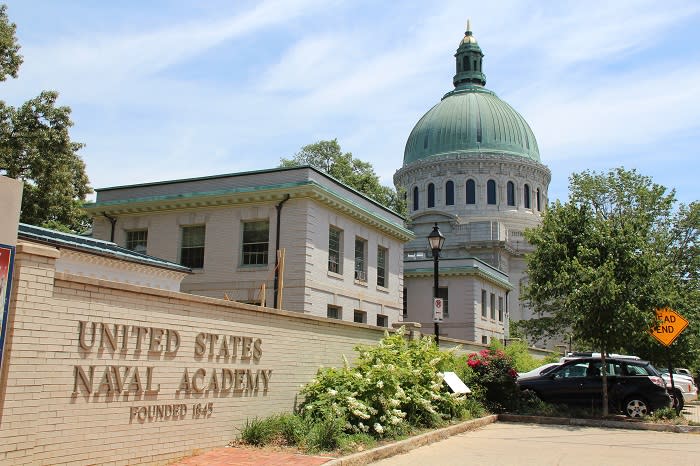 Gate 3 and USNA Chapel. Courtesy of VisitAnnapolis.org.
Maryland Avenue stretches three short blocks from the Maryland State House to Gate 3 of the United State Naval Academy. Stand on the State House grounds, one of the two highest hills in the historic district, and you can see Gate 3 at the other end. When open, this gate provides pedestrian access (with photo ID check) to the scenic "Yard" and an easy walk to the Academy's Chapel, Museum, Parade Grounds, and Bancroft Hall. Before the Academy acquired the surrounding area in the mid-1800s, Maryland Avenue extended all the way to a large city wharf on the Severn River.
Maryland Avenue's shops are crammed with intriguing opportunities to indulge your taste for just about anything--from antiques to coffee to fresh flowers. Perhaps you'll look for the perfect jewelry or chic clothing or stylish gift for the home. Or you might discover some original art or a vintage poster to frame while you're here.  You could spruce up with a barber shop haircut or new salon hairstyle before stepping down the street for dinner at an Irish pub.
Maybe you'll want to browse a bookstore or vinyl record shop or seek out a local vacation rental for next summer. Or maybe even refresh with yoga and a massage, along with an organic juice blend, before picking up some wine and snacks to take home. There's even an old-school laundromat. This colorful street really is a full-service boutique district, and the perfect place for a summertime stroll in Annapolis.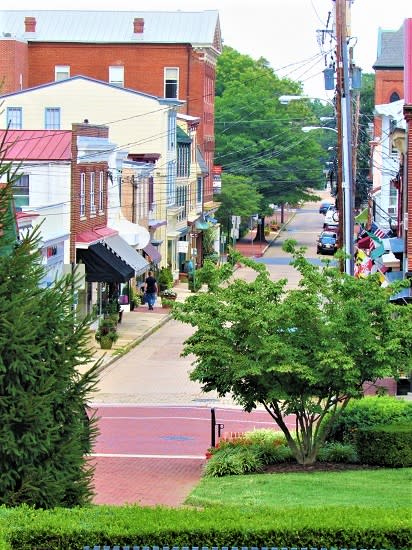 Courtesy of Ann Powell
As Annapolitans know, Maryland Avenue is also home to some stunning colonial era homes. These include the famous Hammond-Harwood House and Chase-Lloyd House, anchoring the corner of Maryland Avenue and King George Street. Be sure to put these two grand treasures on your must-see list.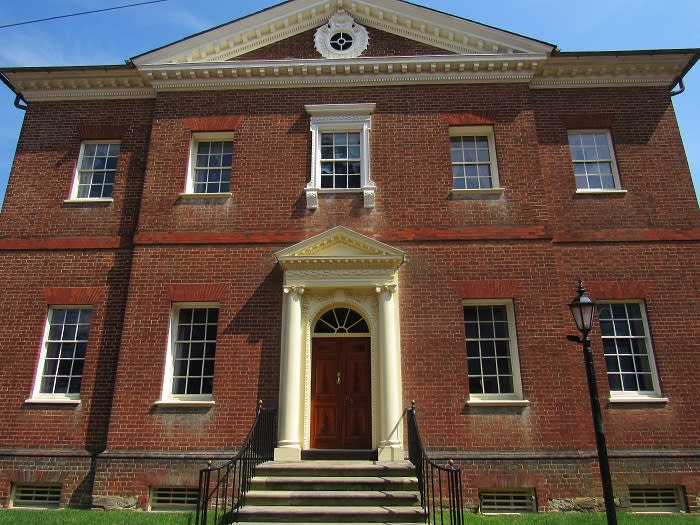 Hammond-Harwood House. Courtesy of Ann Powell
On the corner of Maryland Avenue and State Circle, you'll find the adorable cottage garden and home of Annapolis Green, a local nonprofit organization working to connect and inspire Annapolitans to care for the environment and live responsibly. The organization hosts monthly Green Drinks happy hours around town to bring the environmentally minded together. Lots of other nonprofits call Maryland Avenue home, too, taking advantage of the proximity to Maryland's legislators.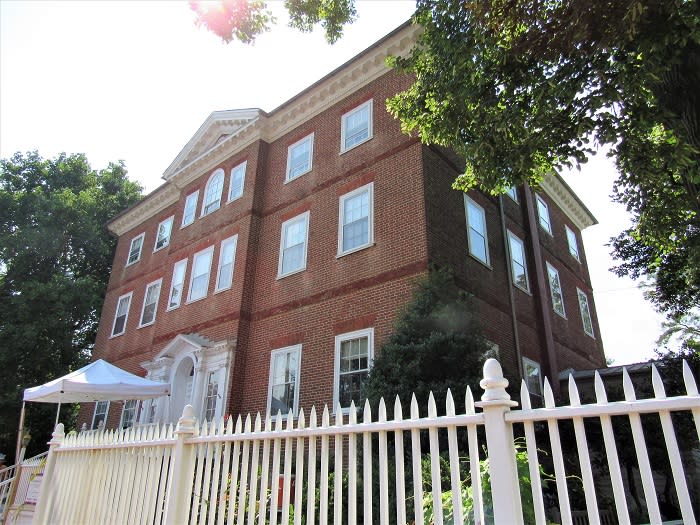 Chase-Llyod House House. Courtesy of Ann Powell
Maryland Avenue's intimate scale is ideal for street festivals and events. September 9, 2018 will bring the National Drive Electric Week Showcase, presented by Annapolis Green, with electric vehicles of all kinds on display along the Avenue. Save October 21, 2018 for Halloween on the Avenue​, the Annapolis "Boo-tique" District's Fall Festival with live music, costume contests, and family fun. And don't miss the fun in December when the Maryland Avenue shopkeepers offer up their own quirky kind of holiday cheer during the city-wide Midnight Madness.
For more information about Maryland Avenue and State Circle shops, visit ShopMarylandAvenue.com
Photos courtesy of Ann Powell.