Annapolis has become known for art and imagery surrounding the beauty of the Chesapeake Bay. Among maritime-inspired art, you'll mostly find visual representations of sailboats, lighthouses, crabs, and of course, the water itself. Local painter, Kim Hovell has chosen a different inspiration – the humble oyster. Around town, mentions of Kim's name bring about the statement, "Yes, the oyster painter!" She has become known as our beloved, local oyster artist. But Kim Hovell as an artists and businesswoman is so much more.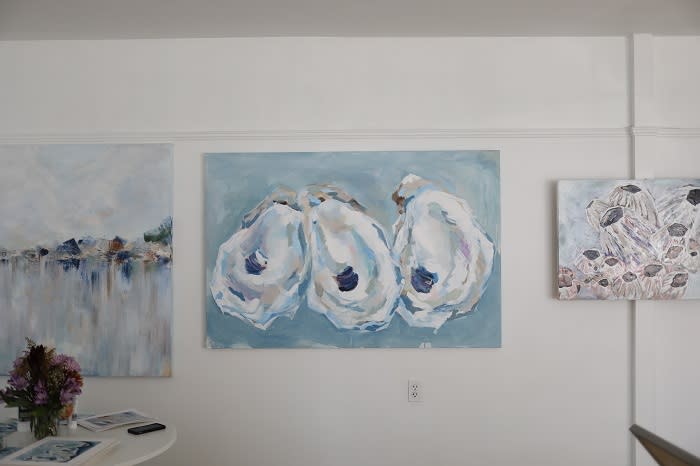 New to West Annapolis, Kim – along with local artist Farah Fitzgerald – Kim Hovell Fine Art & Gifts; an airy studio space shared with coastal interior designer, Erin Paige Pitts. When we arrive, we are greeted by Farah and met with the lovely smell of a candle from Kim's new candle collection (a collaboration with Annapolis Candle). I feel like we've walked into a coastal hideaway and immediately feel like I'm on a mini vacation.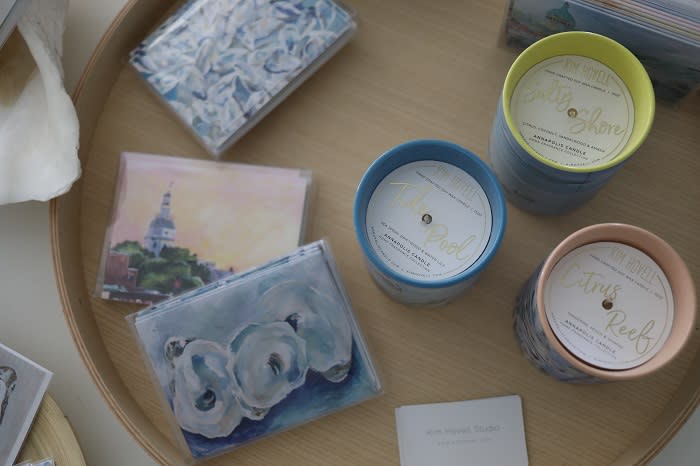 Kim's work is beautiful! Her mostly blue and teal color palette pairs with hints of coral, purples, and burnt umber. Her focus on oysters and her impressionist take on them makes you appreciate these mollusks a bit more. Along with her recent work, focusing on Annapolis landscapes, Kim's abstract work and other sea-inspired pieces make you want to look deeper and study each quick stroke and blend of color.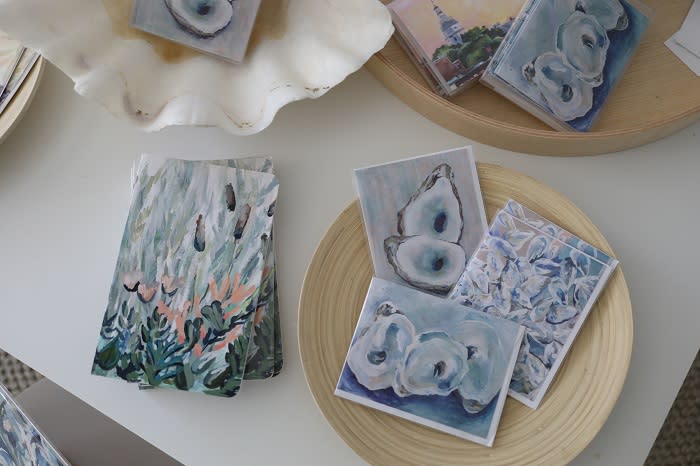 Kim arrives with a large painted canvas in hand. Like her other work, it's a beautiful take on our town and the sea – expansive and full of color. My favorite part of chatting with Kim was getting to understand her style a little better. After talking about color palettes, our love for Foxwood Co., and the "happy little accidents" that happen in creating, I saw that Kim is a lot like her work – stunningly vibrant!
Videography and photos courtesy of Patrick McNamara of Drawn to the Image.