When the best and the brightest of America's youth go into military service, each has recognized the dedication and risks involved.  When the US Naval Academy gives these bright men and women, like Midshipman 1st Class Sydney Barber, roles that will prepare them for command, we can rest assured that our Navy has the right stuff to keep America safe.
The Naval Academy's selection of Midshipman Barber to be Brigade Commander made national news because she is the first black woman to have reached the position.  She wears the distinctive six stripes on her uniform and will lead 4,500 midshipmen until she graduates with a degree in mechanical engineering in May.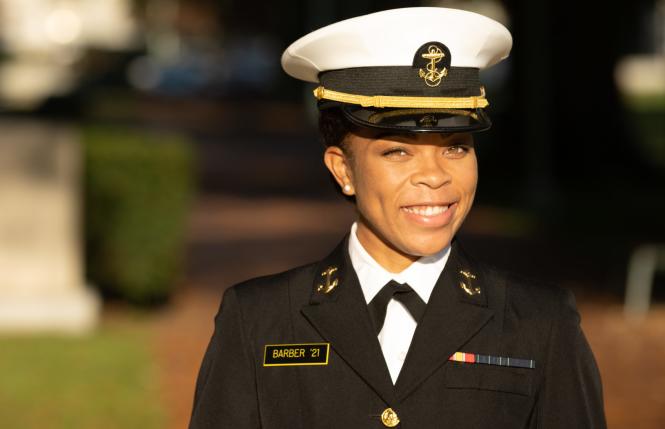 Midshipman Barber is committed to building a better world, here and abroad.  Photo courtesy of USNA.

 

The position is roughly equivalent to class president in the civilian collegiate world.  Midshipman Barber is responsible for much of the brigade's daily activities as well as the professional training of other midshipmen.

 

Sydney has always had a close connection to the Academy in her dad, Ken Barber, who graduated in 1991.  Sydney told CNBC that when she called her dad to tell him she was going to be Midshipman Brigade Commander, "he started crying first of all on the phone just because he was so proud of me and the opportunity that came ahead."

 
Midshipman Barber is committed to building a better world, here and abroad.  Photo courtesy of USNA.
Midshipman Barber told NPR that she had no desire to enroll in the Academy while growing up despite her dad's constant praise of the Navy.  Her chief inspiration for enrolling came from a desire to serve and the good feeling she got when she visited the Academy campus.  She told the Annapolis Capital Gazette, "[Once I] first stepped on the campus, I knew that there was no better place for me," Barber said. "And as I'm going forward in my career, this is just the platform, I feel like this is the best opportunity for me to pursue a career in service."
A native of Lake Forest, Illinois, Sydney told the Chicago Tribune that a series of foreign and domestic trips created in her a desire for service.  "It was through those trips that I saw a whole new side of the world that was so different from where I grew up where we have a plethora of so many blessings," Barber said. "It encouraged me to serve and give back to the world any way that I could, both domestically and on an international scale. I pursued a career here at the Naval Academy because I felt there was no better opportunity to serve and to pour out my heart in service."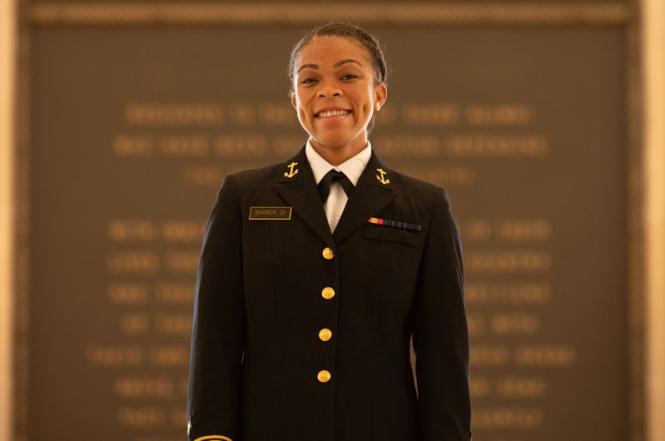 Sydney Barber, first black female Midshipman Brigade Commander.  Photo courtesy of Mass Communication Specialist 2nd Class Nathan Burke.

 

Sydney revealed to the Latin American Post that the person who has inspired her most is her brother, Justin, who was born with a condition that left him blind and deaf.  At birth Justin was given less than two years to live but beat these odds and recently celebrated his 19th birthday.  Justin reminds Sydney that every day is a blessing and that nothing should be taken for granted.

 
Sydney's father & Navy veteran Ken Barber, seated right, joins an Army counterpart to speak at a Veterans Day event in 2017 at Sydney's high school in Lake Forest, Illinois.  Photo courtesy of Alyssa Groh, 22nd Century Media

 

Barber, a high school track star, walked onto the Navy track and field team as a sprinter and hurdler.  She has lettered in her three years of competition and holds the USNA record for the outdoor 4 X 100 relay. Sydney's other extracurricular roles include co-presidency of the Navy Fellowship of Christian Athletes Club, secretary of the National Society of Black Engineers, and membership in the USNA Gospel Choir and Midshipman Black Studies Club.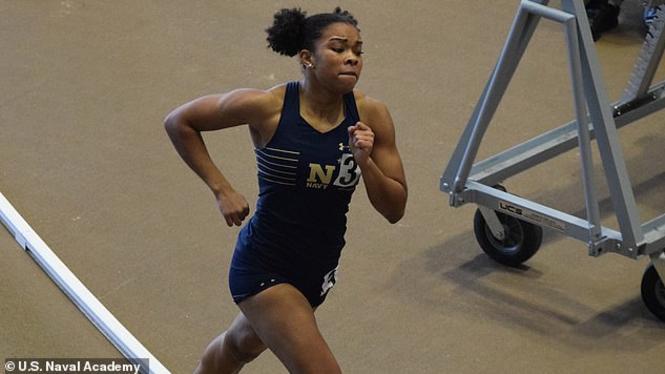 Sydney was a 'walk-on' to Navy's track team.  Photo courtesy of USNA.

 

When Barber graduates this year, she will fulfill another dream—commissioning into the U.S. Marine Corps.  She is considering going into government or community service with one overarching goal. "I just want to serve," Barber said. "I am going to make the most of every single day in this moment that I am in right now, to try to be someone who can make an impact on the next generation."