The Navy Midshipmen and the Air Force Falcons are at it again. Come September 11th, the football saga will continue and this year- the Midshipmen will have the home field advantage.
Touchdowns and bragging rights aside, this matchup is not only about the rivalry. This game will also commemorate the 20th anniversary of 9/11 and all the lives lost, both service and civilian, as a result of the heinous act of terrorism from this fateful day in US History. The sound of strength and resolve will echo from beneath the feet of the men who enlisted to fight the good fight underneath the star-spangled banner. (For a list of September 11th Remembrance Events at the United States Naval Academy, click here.)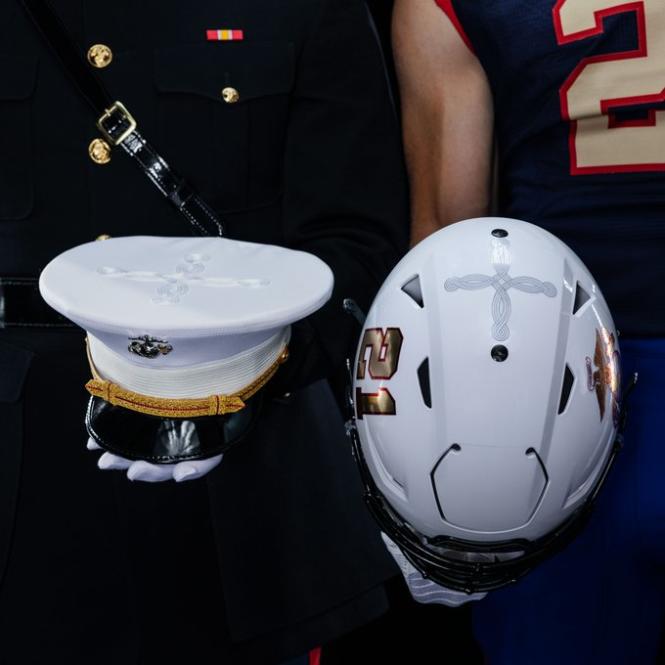 A look at the Navy vs. Air Force game day helmets. Image courtesy of Navy Athletics. 

 

On gameday, the Navy football team will be sporting their version of the "Dress Blue A" uniform celebrating the United States Marine Corps. The new look, co-designed by Under Armor, will feature the infamous "Blood Stripe" adorning the royal blue pants as well as the abbreviated Marine Corps motto, Semper Fi, and their battle cry "OORAH" on the helmets.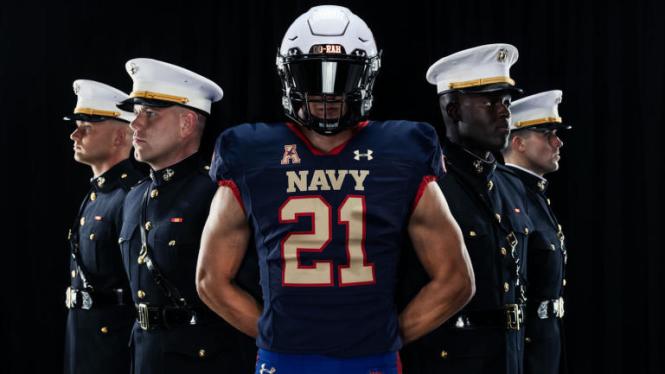 Navy vs. Air Force will air at 3:30 PM, on Saturday, September 11th on CBS. Image courtesy of Navy Athletics.

 

The game will be nationally televised on September 11th from the Navy-Marine Corps Memorial Stadium in Annapolis via CBS at 3:30 PM Eastern Standard Time. However, if you want to be part of the action, tickets are available from NavySports.com

 

After their last faceoff in October of 2020, which ended in a 40-7 loss to the Air Force Falcons, there is no doubt that the Navy Midshipmen will be war-ready. The current rivalry record stands at 22 losses and 31 wins in favor of the Falcons. 

 

Giant American flag on the field at the Navy Marine Corps Memorial Stadium.  Image courtesy of the United States Naval Academy.

 

If you are traveling from out of town, you might need a place to get game-ready and crash after the tailgating and postgame festivities. Luckily, Annapolis has no shortage of brilliant accommodations for you and your family and friends. For a list of pre- and post-game bars and restaurants to cheer on the Midshipmen, visit our website for the full lowdown. 

 

Go Navy, Beat Air Force!!!