Wil Peterson, Owner and Operator of O'Learys Seafood in Eastport, took over the restaurant about 8 years ago. At first glance, you can tell Wil is just as colorful as the art-filled walls of his restaurant! With an eye for the curious and unexpected, O'Learys highlights the best of Chesapeake Bay cuisine with artful and delicious entrees and libations.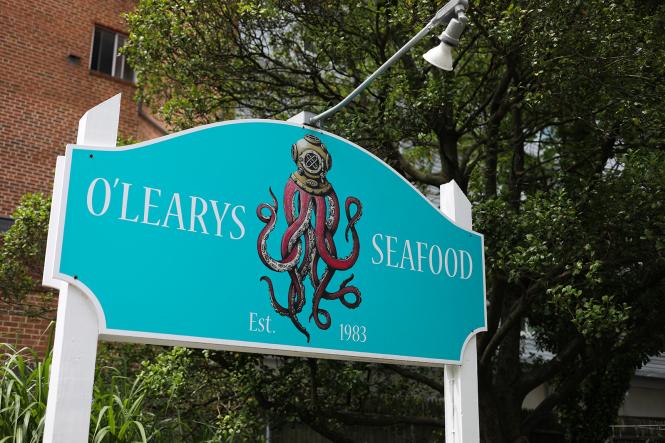 O'Learys is located at 310 Third Street in Annapolis.

 

As you drive into the lot at O'Learys you are immediately struck by the bright blue teal exterior. What greets you inside is not only a feast for the palette but also a feast for the eyes! The walls are adorned with art work by Charles Lawrence, a fixture in the Annapolis art scene for years. His style is nautical and playful, just like the menu at O'Learys and many of the paintings are for sale- with the exception of a few pieces owned by Wil. If one of the paintings calls to you be sure to inquire with your server. You may just leave with a full belly and a new piece of art to adorn the walls of your abode.

 
Delightful and unexpected, the Fear and Loathing cocktail, served up with an origami flourish!

 

At O'Learys the menu is full of whimsy and unexpected delights. Don't believe us? How about a curated cocktail with carrot juice, mushroom juice and tequila?  Known as Fear and Loathing this exceptionally delicious cocktail is served up with a whimsical origami garnish! Their Crispy Rockfish, a tried and true favorite, has been on the menu since 1998. There would be a riot in the streets if their Executive Chef ever decided to remove it from the menu.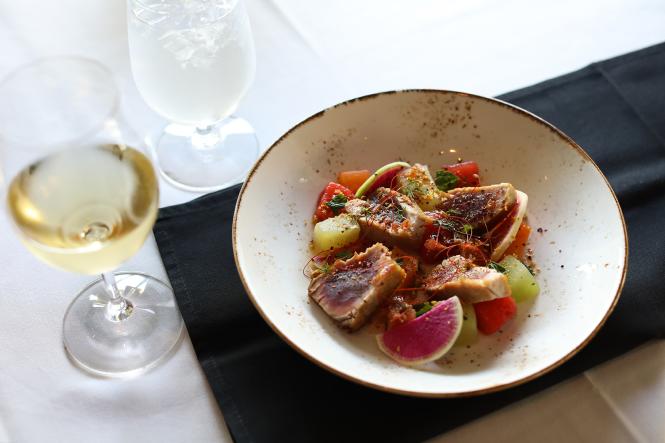 Ahi Tartare paired with a crispy white wine are waiting for you at O'Learys.

 

Freshness and sustainability are key to O'Learys success. Wil is hyper focused on the quality of ingredients that cross the threshold of his kitchen. He remains loyal to local sources for the freshest seafood in the region as well as farm fresh produce. O'Learys takes pride in their wine list as well. Wine selections are chosen by Wil and his team to enhance the menu and elevate the dining experience. It is well known, by those in the 'know', to be the Best Little Wine List in Town!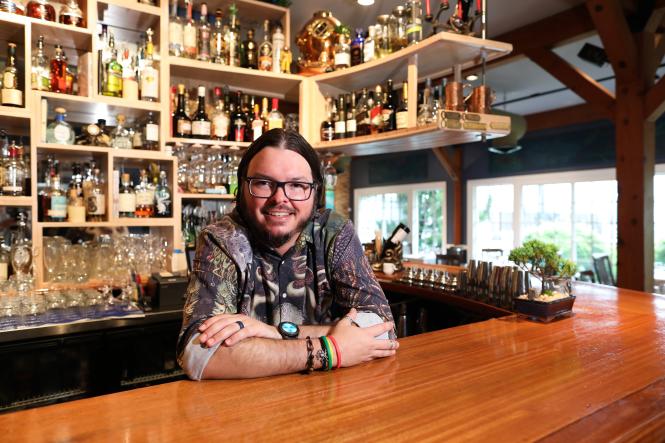 Wil Peterson is the Owner of O'Learys Seafood in the Maritime Republic of Eastport.

 

We can't wait to return to O'Learys. The energy hits you as soon as you walk through the door. No one takes themselves too seriously and you can see everyone loves what they do and are genuinely there to have a good time. Ready to try this Eastport gem for yourself? Book your reservation at their website or give them a call. You will not be disappointed!