Annapolis's Art District contains many galleries and outdoor murals, but art also abounds throughout the town and elsewhere in Anne Arundel County, often in unusual places. At BWI Airport, for example, you can explore one or more of the seven art galleries and historical displays in various concourses. A great representation of one of Maryland's claims-to-fame is the 10'x7'5' Chesapeake Blue Crab, one of the world's largest stained-glass sculptures, in Concourse A, Skywalk A.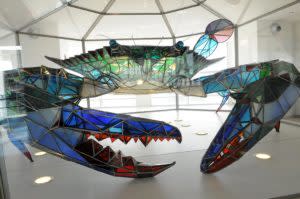 Photo courtesy of BWI Airport
At least three of the County's academic institutions open their art galleries to the public. Anne Arundel Community College, located about halfway between BWI and Annapolis, is home to The John A. Cade Center for Fine Arts Gallery, which features seven exhibits annually, ranging from projects juried by museum curators to paintings by AACC students.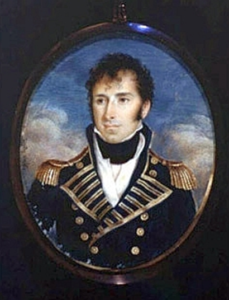 Photo courtesy of the U.S. Naval Academy
The Naval Academy Museum contains more than 1200 navy-oriented works by artists such as Gilbert Stuart and N.C. Wyeth; 6000 prints that reflect the naval history of Europe and the New World from 1514 through World War II; and one of the world's finest collections of warship models from previous centuries.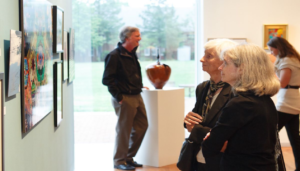 Courtesy of the Mitchell Gallery, St. John's College
St. John's College's Mitchell Gallery, hosts an array of exhibitions and programs. Past shows have featured Shakespeare's First Folio, artists such as Rembrandt, Matisse, and Warhol, and art from the Annapolis area. St. John's is not far from the Maryland State House, which is a treasure trove of portraits of historic significant to Maryland and the United States. Don't miss the life-sized sculpture of George Washington on the very spot where he resigned his commission as commander-in-chief of the Continental Army.
Ready to take a short drive or get a bite to eat? You can do so without abandoning Annapolis's art scene. Murals abound in Annapolis, thanks to a combination of talented local artists, an art-friendly city government, and the willing labor of the citizenry, including youth from various neighborhoods.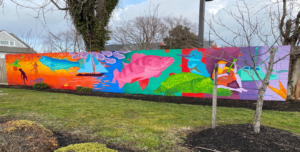 Photo courtesy of the author
Many of the murals are the work of professional artists who sell their smaller works locally, such as Cindy Fletcher Holden; Charles Lawrence, and Jahru (Jeff Huntington), FHN (Future History Now), a nonprofit arts outreach program that Jahru cofounded, works with neighborhood communities to create murals. The largest concentrations of murals outside of the Art District are in Eastport and the Design District, which is about two miles from historic Annapolis.
Quiet Waters Park, three miles or so from Annapolis's historic section, has an indoor art gallery exhibiting mostly local artists and sculpture displayed outdoors. Visitors to the park can also enjoy Mother Nature's artwork on paths through woods and along the South River.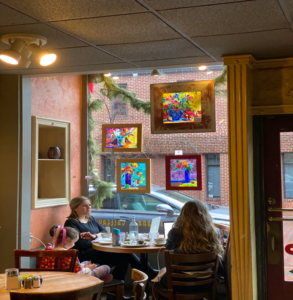 Photo courtesy of the author
Many of Annapolis's restaurants are happy to have artists provide them with décor. In the historic area and Eastport, dine with art around you at 49 West Café, Tsunami, Eastport Kitchen, or Boatyard Bar and Grill. Eat-with-art options closer to Quiet Waters are Soul and American Smokehouse. Ahh Coffee (Eastport) and the coffee shop in Old Fox Books on Maryland Avenue also display original art.