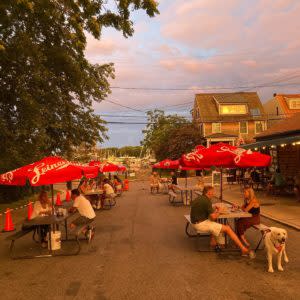 Davis' Pub at sunset looking onto Back Creek. Photo courtesy of Davis' Pub.
I love an excuse for a road trip. Now that the summer heat is firmly behind us, the weather is perfect for dining outdoors. Which means it's an ideal time to hit the road, touring the county with some stops for delicious al fresco eats along the way. Here are four of my favorites.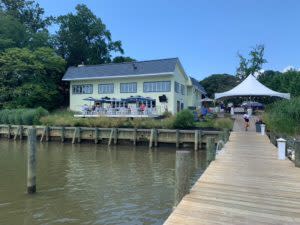 Donnelly's Dockside is a local outdoor dining favorite nestled in the Deep Creek Neighborhood in Arnold. Photo courtesy of Donnelly's Dockside.
This casual creek front eatery was long known as Deep Creek Restaurant & Marina. In fact, some county signage still directs you that way as you wind through a residential neighborhood to get there. But owner Dan Donnelly and partner Don Kelly (of Baltimore's Pratt Street Alehouse, among others) put in a ton of work when they bought it three years ago, upping the food quality, rebuilding the pier and adding a lower-level bar and a waterfront deck for dining. For extra outdoor space, they've added a marquee tent in the side lot, strung with lights and looking down onto the quiet creek. But my favorite tables are the ones set out on the pier itself; you couldn't get any closer to the water without being on a boat.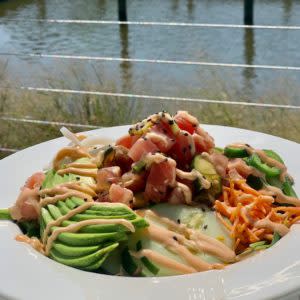 My go-to is the tuna poke, served on greens with pickled cucumbers, seaweed, radishes, rice noodles and an addictive yum yum sauce. Photo courtesy of Donnelly's Dockside.
Top dish: Crab is a natural in this setting; call ahead to see if they have steamed ones. Their crab cakes get raves, or you can have it imperial style (by itself or over jumbo shrimp), or spread over a cauliflower crust as a white crab pizza. My go-to is the tuna poke, served on greens with pickled cucumbers, seaweed, radishes, rice noodles and an addictive yum yum sauce.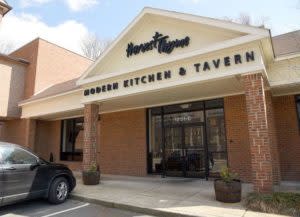 Harvest Thyme is located in Davidsonville in Anne Arundel County and recently added outdoor dining. Photo courtesy of Harvest Thyme.
If you head out far enough into rural Davidsonville, you end up in Prince George's County; in fact, this find is closer to Upper Marlboro than it is to downtown Annapolis. But it's so worth the drive, and not just for the rolling countryside vistas. Chef/owner Rik Squillari spent years in the restaurant and wine businesses before opening his first restaurant three years ago, in an unassuming shopping plaza at the far end of Central Avenue. Socially-spaced tables in the main dining room overlook an open-galley kitchen, showcasing the team as they prepare top-notch bistro dishes from scratch.
The wall of wine racks shows Rik's other passion: They have hundreds of bottles. Thanks to their tavern license, you can buy one (or a case) to go, or enjoy onsite for a $10 corkage fee. Although Harvest didn't have outdoor seating pre-COVID, they've added al fresco tables under the plaza's covered portico. As the restaurant is the only business on that end of the plaza, it feels both private and convivial, with repeat diners chatting with each other or with Rik as he makes the rounds to say hello.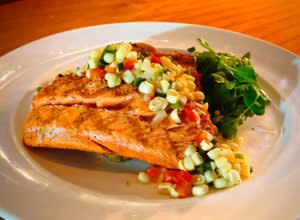 The fresh catch salmon dish is a winner as is the Lemon & Herb Chicken Breast, photo courtesy of Harvest Thyme Modern Kitchen.
Top dish: The lemon & herb chicken is a standout, as are the scratch pizzas, and daily specials that showcase the best of locally sourced fish, meat or produce. The ever-changing selection of wines by the glass is a great way to experiment. I liked my Macon-Uchizy white burgundy so much, I bought a bottle to take home.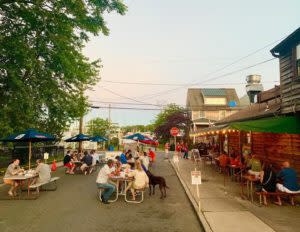 Davis' is a perfect pub for a brew any day of the week, but their outdoor dining space overlooking Back Creek is a can't miss! Photo courtesy of Davis' Pub.
This wooden pub favorite was a grocery store in the 1920s, a waterman's tavern in the 1940s, and since 1986 has been a neighborhood pub drawing a faithful clientele of locals to its off-the-beaten-path location on residential Chester Avenue. In usual times, the inside bar is standing-room-only most evenings, but they've taken away barstools and cut capacity due to COVID. In a happy alternative, they expanded outdoor dining by placing picnic tables into the street, closing off the bottom part of 4th Street to vehicular traffic. The result is a lively, European-style café vibe that showcases the best of Eastport: historic architecture, water access via Back Creek, friendly locals gabbing and walking dogs, and great food to boot.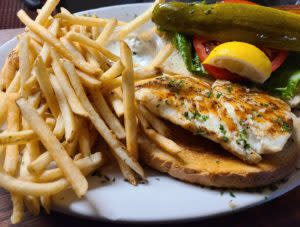 A grilled halibut sandwich and an orange crush at Davis' Pub is perfect duo for your Sunday pre-game. Photo courtesy of Davis' Pub.
Top dish: Their crab topped pretzel is the best in town, and their daily specials run the gamut from catfish po' boys to buffalo fried cauliflower, along with regular faves like burgers, pulled pork, or tasty halibut sandwiches, served with skinny fries. Check out their Facebook page for daily specials.
Dockside Restaurant and Sports Bar, located in Tracey's Landing in southern Anne Arundel County, has plenty of tables for outdoor dining. Photo courtesy of Dockside.
Located on Rockhold Creek in south Anne Arundel County, this casual eatery is a favorite for boaters coming in and out of Herrington Harbor North. And it's so close to the marina you'll feel like a boater, even if you got there by car. The open-air tiki bar has seats on three sides, plus scattered low tables on the surrounding patio. To add more al fresco options, umbrella-topped picnic tables dot the adjacent lawn, and water-facing adirondack chairs give a comfy space to relax and watch the maritime comings-and-goings while you wait for a table.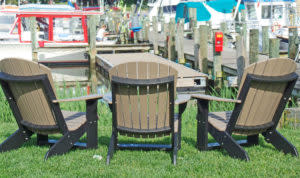 Grab a drink and watch the boats roll in at this outdoor eatery on Rockhold Creek. Photo courtesy of Dockside.
Top dish: A unique specialty is Seafood Cabbage; think of it as a kind of warm coleslaw, topped with balsamic glace and fresh crabmeat. Or try the Blackened shrimp or ahi tacos, they make a great lunch. Dockside has fresh fish and crab specials nightly, and the lobster mac 'n'cheese is a decadent side dish any time of day.