What happens when you paint your stress away and stroke the creative side of your brain? You create a masterpiece, of course, and you have fun doing it! Winter is here, the cold is settling around us, and it is a wonderful time to plan some memorable indoor activities. So, grab a friend or two, or a group—the more the merrier, and unwind for a night at a local paint and sip.
Photo courtesy of Muse Paint Bar Annapolis
New to the world of paint and sip? Do not stress! I will explain it and all its colorful complexity. First, you pick a place hosting an event. Second, you purchase your ticket or tickets if you are going with friends. You should definitely go with friends! However, friends are not required to meet new people and have a great time. Next, you show up to the event ready to enjoy at least two hours of high energy fun and artsy vibrations. Last, but surely not least, you paint a beautiful picture, sip some delicious wine, and leave your stresses and frivolous cares in your brush cleaning jar.
Now, you may be thinking I do not know how to paint. That is the beauty of a paint and sip. You do not need to know how to paint. You do not even need any prior artistic experience. Painting sessions are guided by local artists. Each venue below also welcomes all ages. In addition to the inclusive nature of the paint and sip community, these events serve as judge-free zones. The main goal is to have fun. So, do not worry about trying to be the next Van Gogh, Picasso or Frida, simply go with your flow.
Okay, you are ready to throw on an apron and get to painting and sipping, right? But where do you go? You are in luck! Annapolis has some wonderful and energetic places with glasses, canvases, paintbrushes, and a seat in front of an easel or a table waiting for you. Here are five local places to begin your paint and sip adventure: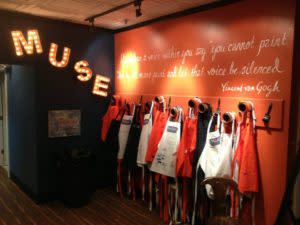 Photo courtesy of Muse Paint Bar Annapolis
Muse Paintbar
Everyone has a muse. Whether we accept our muse or not, we each have something or someone—a force that inspires our creativity and the artists within us. Muse Paintbar desires to bring out your muse or propel your muse to new heights of creative ingenuity. Muse Paintbar also has a bar and a kitchen, and food, including vegan and vegetarian options, is available for purchase. Open 7 days a week, with classes for all ages and private party bookings, you and your family are bound to create some exhilarating memories and some beautiful art.
Muse Paintbar Location: 1915 Towne Centre Blvd #110, Annapolis, MD 21401 Phone: (443)-775-2600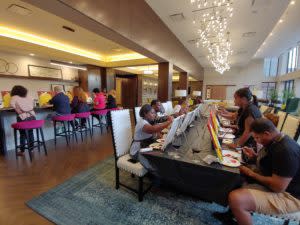 Photo Courtesy of Wine & Design Annapolis
Wine & Design
Good friends, good times and good wine are the staples of a Wine & Design class. Passionate about providing a therapeutic atmosphere for people to connect with family, friends and the community, Wine & Design offers upbeat two-hour paint and sip sessions guided by local artists. You are encouraged and permitted to bring any form of non-alcoholic beverage and food with you to the studio to make your session even more perfect. However, wine and beer must be purchased from the studio. Wine & Design is open Wednesday through Sunday for your relaxation and creative entertainment.
Wine & Design Location: 32 West Street, Annapolis, MD 21401 Phone: (443)-221-7067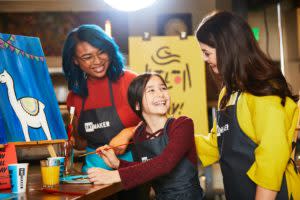 Photo Courtesy of Yaymaker's Original Paint Nite
Yaymaker's Original Paint Nite
Prefer to wine, dine and paint in the British pub-style of Union Jack's? Maybe you want your paintbrushes with a side or football or baseball like The Green Turtle is dishing up. Or you could be into immersing yourself into your artwork while tasting a tour of the local brews at Chesapeake Brewing Co. Neither is a wrong choice when you unleash your creativity throughout the year at a Yaymaker's Original Paint Nite. Yaymaker specializes in creating one-of-a-kind locally hosted events for you to explore new restaurants, meet new people, laugh and be inspired. Why not gather the friends and family, order some food, sip on your favorite beverages and paint masterpieces at a Yaymaker's Original Paint Nite in Annapolis?
Union Jack's Location: 2072 Somerville Rd, Annapolis, Maryland 21401 Phone: (410) 266-5681
The Green Turtle Location: 177 Jennifer Rd, Annapolis, Maryland 21401 Phone: (410) 266-7474
Chesapeake Brewing Co. Location: 114 West St, Annapolis, Maryland 21401 Phone: (410) 268-0000