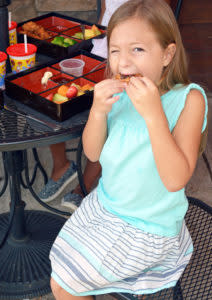 That wink and a smile, someone is happy with their kid-friendly lunch! Photo courtesy of Miss Shirley's
Whether they recently returned to in-person learning or are still doing it from home, kids of all ages are bound to have a more-stressful-than-normal start to the 2020 school year. Parents, meanwhile, will not only share in this stress but have plenty of their own. Fortunately, there's one activity that can help them both relax: going out to lunch! Thankfully, Annapolis has plenty of kid-friendly restaurants with menus and vibes sure to satisfy both kids and adults taste for food and fun.
Here's a handful of options!
One of Annapolis' most "Annapolitan" restaurants, Boatyard has been serving up seafood and sailor-friendly vibes in Eastport (400 Fourth Street) for 19 years. It's also proven to be quite the popular destination for families thanks to a number of kid- (and parent) friendly features.
"So many customers say that they dine with us because it was their children's choice," says owner Dick Franyo. "We have a lively atmosphere and our staff cleans up everything dropped on the floor with a smile, so parents don't have to be stressed about their children making some noise or a little mess. There's also a lot to look at and learn from, since everything around the restaurant is a maritime treasure. Plus, we always make sure no one feels rushed, so there's plenty of opportunity for good long parent-child interaction over a leisurely lunch date."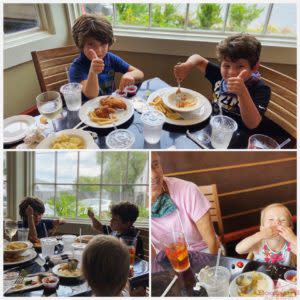 Boatyard is a family friendly favorite in Eastport. Photo courtesy of Boatyard Bar and Grill.
In addition to the atmosphere, Franyo says that the kiddie menu is a hit with both children, who "really love our pizzas," and parents, who love that it's not only extensive enough to satisfy picky eaters but also reasonably-priced.
It's no wonder that Boatyard is my sister's go-to when she takes my nieces, a five- and three-year-old, out for lunch in Annapolis. As Franyo proudly shares, Boatyard received six thumbs up from Michelle Obama back in 2010. The former First Lady and her daughters stopped in for what she said were the best crab cakes she's ever had!
Another favorite of both tourists and locals (including me, who started visiting it while still in a high-chair and never stopped) is Chick & Ruth's (165 Main Street). It's a 55-year-old Annapolis institution with all the makings for a great parent-child lunch date.
Starting with the atmosphere, there's an endless number of things to look at and talk about: hundreds of pictures of former politicians, Navy alums, and celebrities who've eaten there; sandwich boards listing menu items named after local politicians (for example, Maryland Governor Larry Hogan's cheesesteak and "Bipartisan Soup," a Maryland crab/cream of crab hybrid); and bagels hanging from the ceiling.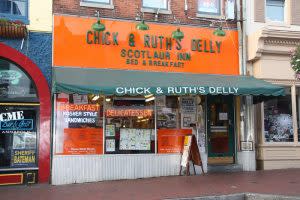 Chick & Ruth's Delly is a crowd pleaser with something for everyone, don't forget the milkshake! Photo courtesy of Visit Annapolis.You can also count on the most kid-friendly service possible, given that C&R's is not only the loudest restaurant in town but has a staff culture instilled by former owner Ted ("Uncle Teddy") Levitt, who performed tableside magic tricks for kids on a daily basis.
Lastly, the gargantuan menu has anything and everything that you can imagine, from all-day breakfast to sundry sandwiches and, perfect for those lunching with multiple hungry kids, a Colossal Shake, Sandwich, and Burger – each made famous after appearing on Man vs. Food.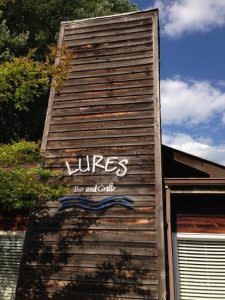 Lures Bar and Grill has a great outdoor patio for families to enjoy. Photo courtesy of Visit Annapolis.
A bit off the beaten path, Lures (1397 Generals Highway) might not come to mind when you first think about family-friendly restaurants in Annapolis – but it should.
"We're very popular with families," says Chuck Soja, who opened the restaurant in 2008. "I think one reason is because parents are feeding kids more 'adult' foods when they're younger, creating little foodies who like coming back and ordering some of the creative sandwiches and entrees on our regular menu, like our sushi burger and rockfish bites, time and time again."
Soja says the wide variety of seating options has also proven a draw for families.
"It's honestly one of the coolest reasons to come here," he says. "We have a beautiful patio with eight tables, a covered tent area that has 12 tables that we decorated with picket fencing and hanging baskets, a bar area with high tops and TVs, and a dining room for a more quiet lunch. Just like our menu, something for everyone!"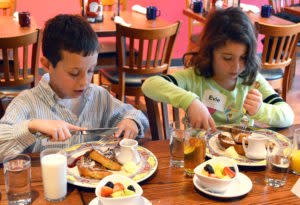 Stop and enjoy the sounds of silence when your kids dig in to their delicious brunch. Photo courtesy of Miss Shirley's.
For lunching (or brunching) with a little one (or two or three), Miss Shirley's (1 Park Place) is the clear choice.
The kid's menu, voted favorite by Chesapeake Family Magazine readers, is the perfect blend of simple & customizable: Mini Belgian Waffles or Half Dollar Pancakes (including gluten-free!) with chocolate chips, strawberries, banana, or blueberries, along with a scrambled egg and fruit, all served in a unique bento box.
The regular menu offers a wealth of Southern-inspired items to tempt all ages as well, from Chicken 'n Cheddar Green Onion Waffles and Shrimp & Grits to Pineapple Upside Down Pancakes and a unique French Toast of the Month, like September's Chocolate-Covered Pretzel Cheesecake-Stuffed.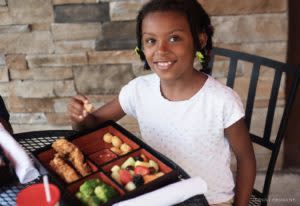 As Jennifer McIllwain, Director of Marketing & PR, sums it up: "Miss Shirley's is famously kid-friendly and the perfect setting for a "lunch date" with mom and/or dad. We have it ALL!" Photo courtesy of Miss Shirley's.
The restaurant also gives kids plenty to do while waiting for the food to come or the adults to finish. They offer a literal library of breakfast-themed children's books including Lady Pancake & Sir French Toast, If You Give a Pig A Pancake, Green Eggs and Ham, Pancakes Pancakes!, and Everybody Loves Bacon. If reading isn't their thing, Etch-A-Sketches; a little kids' mat with a wide array of food-themed games and puzzles; and an interactive games mat for older kids are sure to make an impression.
As Jennifer McIllwain, Director of Marketing & PR, sums it up: "Miss Shirley's is famously kid-friendly and the perfect setting for a "lunch date" with mom and/or dad. We have it ALL!"
Last but not least, Preserve (164 Main Street). This restaurant, best known for the heaping praise of numerous food critics, is a must. Diners travel from all over to sample its menu of unique fermented and pickled items. However, don't let that scare you off, it also fits the bill for kids.
"We do our best to treat all guests with great hospitality and offer them fresh, seasonal, and approachable food with a twist, no matter what age they are," says Michelle Hoffman, Co-owner and General Manager.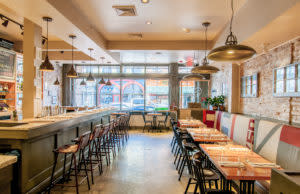 Preserve sits on Main Street and is a perfect Foodie destination for adventurous diners great and small. Photo courtesy of Preserve.
To that end, the kid's menu features all-natural chicken and beef from local farms, the same house-cut fries enjoyed by adults, and "the little ones' favorite," Cinnamon Chip French Toast. And for the more adventurous or older kids the regular menu offers plenty of trendy tastes, from Crispy Kale and Kimchi Gnocchi to Crispy Quinoa Cakes and the Banh Mi Sandwich.
Happy lunching!