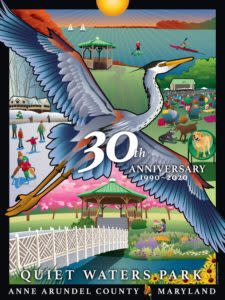 Artist Joe Barsin created this commemorative poster for the 30th anniversary of Quiet Waters Park. Photo courtesy of Anne Arundel County.
When I first started looking at houses in the area in 2002, the goal was to get outside the hectic pace of life inside the Washington Beltway. Our real estate agent used Quiet Waters Park as a selling point for Annapolis. After driving through and seeing everything it had to offer, it was clear that Annapolis was more than just a charming historic town. What an enticement!
Thirty years is a great milestone for a location that lives up to the promise it offers. Anne Arundel County is honoring the anniversary of Quiet Waters this September, and has already revealed the poster to commemorate it, created by graphic artist Joe Barsin of Citizen Pride.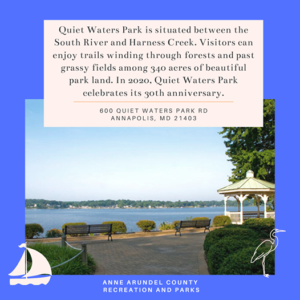 Quiet Waters Park in Anne Arundel County celebrates it's 30th anniversary, September 2020. Photo courtesy of Anne Arundel County.
Citizen Pride, owned by Joe and Eva Barsin, is well known for creating Maryland iconic artwork as well as posters & memorabilia. Their art focuses on depicting the aspects of Maryland life we love so much. Joe was a natural to create something that would resonate for all.  First, he has an established reputation for creating posters for important events like the Annapolis Film Festival. Even more importantly, he and Eva have a great history with Quiet Waters Park.
Joe Barsin: the Artist
I had a great conversation with Joe about the poster, the inspiration behind it and the process from beginning to final production.   
P:  What has been your experience with Quiet Waters Park?
J:  We lived in Eastport in the 90s. We got married, had kids and have taken advantage of literally every aspect of the Park, from the dog beach, to the ice rink, to paddle boarding to concerts at the amphitheater. You name it, we've done it! It's a great part of the community, and has so much to offer.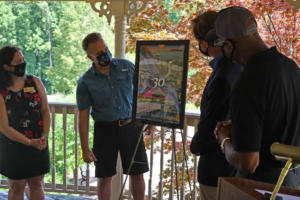 30th anniversary poster reveal at Quiet Waters Park with (L-R) County Councilwoman, Lisa Rodvien, Artist, Joe Barsin, County Executive, Steuart Pittman, and Rick Anthony of Anne Arundel County Parks and Rec. Photo courtesy of Anne Arundel County.
Inspiration
P:  How did you decide on the design and what to depict? 
J:   I worked with the team that commissioned the poster, headed by Bill Martin, the County's Art Director, and Colleen Joseph, the three Park managers, and two from the County Communications department.
It was a back and forth process with sketches and reviews because there are so many things in the Park. What do you include? What do you leave out? It was a good process and I enjoyed working with them.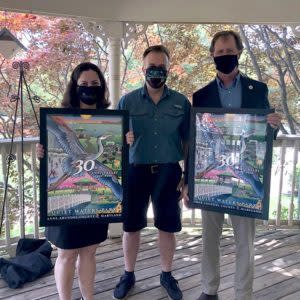 Lisa Rodvien, Joe Barsin and Steuart Pittman pose with the Quiet Waters commemorative poster. Photo courtesy of Anne Arundel County.
Design
J: Once we were able to narrow down the elements that would capture the essence of the park, I looked at it from a graphic design perspective. I created it with three levels in mind: 
The first level is what it looks like from far away, and finding that element that is recognizable and iconic. I chose the heron because it felt so important to recognize that while we have all these activities going on, it really is a wonderful habitat for wildlife, and I wanted to be sure that was loud and proud! 
The second level is the four quadrants, which made sense to depict the quadrants as the four seasons. The third level is the detail. It is the elements and what you read when you see it up close. 
The Spring quadrant is about the future and renewal, signified by blossoms and the gazebo, where many wedding pictures have been taken. 
Summer is about calm and serenity, so I chose the plein air painter in the field. 
Autumn is contemplative, as depicted by the kayaker and the sunset. 
Winter is of course, the ice skating rink.
The Poster
P: How do you feel about creating this poster? 
J: We take Quiet Waters Park for granted. It is good to have reminders like this poster that it didn't all just happen. It took a lot of work by the community and people coming together. It's a key part of our community. 
So, do you want a poster? Do you want to celebrate this fabulous park?  
Join Joe and Eva at the Visitor's Center from noon to 2 p.m., Saturday, Sept. 12th for an anniversary historical display, videos, and art sales! 
And don't forget to get out and enjoy the beauty of Quiet Waters Park!  It is a true respite during this pandemic.