Drive through downtown Annapolis on a weekend and you can't miss the white dining tents around Market Square and tables out along Main Street, protected by orange and white barricades. They are all part of the city's Recovery Zones, which debuted in June 2020 as a way to help restaurants stay afloat despite capacity limits for indoor dining. "City staff worked very closely with the businesses to create these areas in order to help restaurants and retailers increase capacity," recounts Mitchelle Stephenson, Public Information Office for the City of Annapolis, of the project's beginning days. "The City granted the businesses 'special event' permits to operate and extend their capacity into the public space (streets, sidewalks, parking lots, etc.)."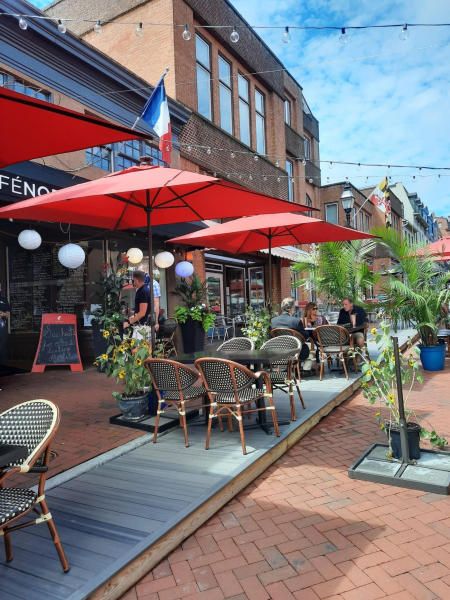 Outdoor dining area at Cafe Normandie on Main Street. Image courtesy of Cafe Normandie.

 

I'm a huge fan of outdoor dining and have been taking advantage of the zones all year, even bringing a blanket along with me to stay warm while eating outside during the winter. Now that indoor dining restrictions are being lifted, I was worried the Recovery Zones would disappear, but I'm happy to report that most permits have been extended and will stay a part of our landscape, at least over the summer.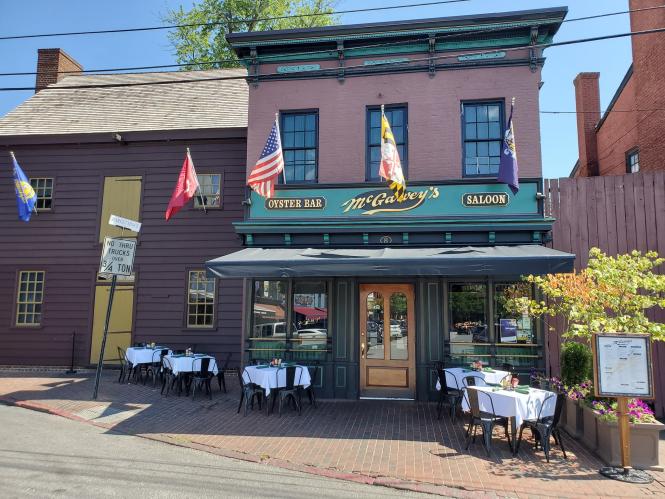 You can find outdoor dining zones from Market Space in downtown Annapolis, up Main Street and West Street and over to Maryland Avenue. Image courtesy of McGarvey's.

 

"Few are exactly as they were in June of 2020," says Stephenson of the zones. "For example, Maryland Avenue and Main Street are no longer complete road closures but are now extended sidewalk dining. Eastport had some restaurants with tents and the tents got smaller or got eliminated as indoor and other dining capacity was increased."

 

The most prominent recovery zones are downtown. The streets behind Market House are closed entirely, with tents and tables set up by Iron Rooster, Federal House Bar & Grille, McGarvey's Saloon & Oyster Bar and Middleton Tavern. There is reduced parking on Dock Street from Mission BBQ to Storm Brothers Ice Cream Factory, and outside of Latitude 38; on Maryland Avenue, outside Galway Bay; and along upper Main Street, home to Joss Sushi, Fox's Den and Café Normandie, among others. Over in Eastport, the last block of Fourth Street has been closed to traffic to create a European-style dining street next to Davis' Pub. Along the Forest Drive corridor, two of the most prominent are the open-air tent shading picnic tables in front of Dark Horse and the landscaped seating area in front of Main and Market.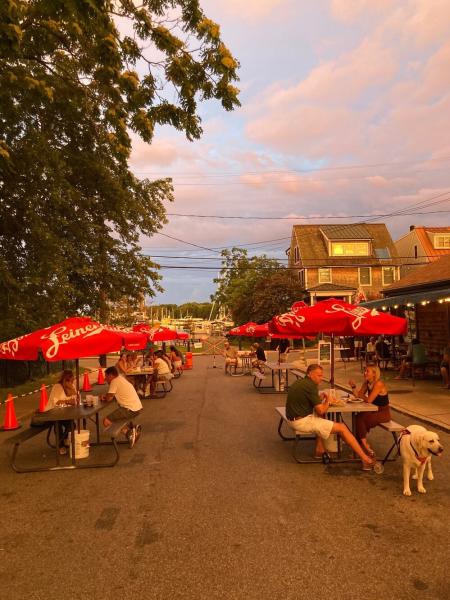 Davis' Pub in Eastport extended their dining zone into the streets of Eastport. Image courtesy of Davis' Pub.

 

The Recovery Zone on West Street is in effect on weekends, closing the top block off for pedestrians from 5 pm to 11 pm Wednesday through Sundays for dining at Ram's Head Tavern, Tsunami and more. Add in music permitted by Stan and Joe's Saloon, and it's a perfect summer street party, extending the traditional Wednesday night Dining Under the Stars informally through the weekend. 

 

"The Recovery Zones have created safe outdoor places for people to enjoy Annapolis for dining and live music," says Erik Evans, Executive Director of the Downtown Annapolis Partnership. "This locations have been a hit with locals and visitors alike, creating one more reason to enjoy Annapolis." I couldn't agree more.