Jeno's Steaks (552 Baltimore Annapolis Boulevard) in Severna Park is a family-owned and operated business since 1991 and happens to be one of my favorite places to grab a quality cheesesteak. Now, I know what you're thinking: Their name sounds suspiciously similar to the Geno's in Philadelphia. In truth, Jeno's was named after Jen, the eldest sister of owners Rudy and Mark Adriano.
Rudy and Mark carried on their father's business after he passed in 2005. Under his reign the menu offered all sorts – roast beef, turkey, soups and the like – applying his 30+ years of experience cooking in the Navy here. It was actually a fully outfitted kitchen primarily used for catering gigs. When the brothers took over they decided to focus solely on one of the best things on their father's menu: Cheesesteaks, of course.
Nowadays you can build your own custom sub if you're feeling creative or go with the tried-and-true and choose from one of their seventeen specialty cheesesteaks or "fantasy subs." Jeno's also has plenty of tasty sides to fix any holiday hangover you might have (fries, mozzarella, onion rings, etc.) and plenty of non-cheesesteak options if you're in the mood for something different (hot dogs, cheeseburgers, meatballs, etc.).
It had been a minute since my last Jeno's fix prior to my visit. I was long overdue for an "8th Wonder" and was very much looking forward to the reunion. It's one of their most popular subs and I can personally attest to its deliciousness. (After all, I fell in love with it over ten years ago and haven't looked back since.) This time I got to watch Rudy make my sub from scratch while documenting the process.
Rudy started with the steak on the flat top along with some onions and bacon. After letting everything cook through he added their homemade "mild sauce" to the mix and placed two pieces of provolone atop the mouthwatering pile. It all got scooped into a sub roll and smothered with blue cheese dressing and more mild sauce. My first bite was just like I remembered: pure melty cheese and steak heaven.
To top it all off Rudy fixed up a batch of their famous "Truck 23" fries in case the sub wasn't enough to put me down. Picture (or just look at the one provided) a mound of fries smothered with sauteed steak, bacon, onions, and jalapenos along with cheddar sauce, and me (not pictured) being carted away in an ambulance after dying happy. These fries are serious as a heart attack and almost just as deadly.
Recently Rudy and Mark have taken their cheesesteaks to the streets via the "Jeno Raider", the food truck the brothers had custom designed in Atlanta, Georgia. The food truck was a product of necessity due to increasing competition from the surrounding area leaving mobilization the obvious solution. It sells more cheesesteaks than the restaurant even thanks in part to a state-of-the-art kitchen that is more efficient than the one in their brick and mortar site.
You can find Rudy and his team, often with his wife Roxanne along and one or two more staffers, in the truck offering their top five subs: The Shupbacha, 8th Wonder, Hall Pass, Muddy Paw, and Man Sub. "Our philosophy is everything is made to order," Rudy explained. "There will always be chicken and steak on the grill, but we customize to what the customers want."
The Jeno Raider runs Monday through Friday every week and some Saturday's and Sunday's. They make their schedule a month out (you can find it on their site) and will be at the Crooked Crab every Friday in January. As the festivals and outdoor events come to a halt it's time for the ever stalwart brick and mortar to carry the business onward, and honestly there's just something about being there that has so much charm.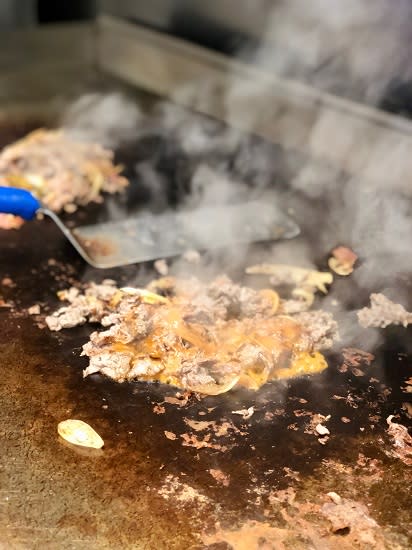 For example, you might learn a thing or two about the names of the cheesesteaks. Contrary to what you might think (myself included) the Schupacacha was not really about Star Wars, although an employee and huge fan of the series did contribute. It was named after Will Schupac, a manager who worked across the street. He came up with the concept for the sub and asked that if it was successful they name it after him.
The Muddy Paw defends the title as their overall best seller, but if you're looking for something saucy and sweet go for the Elchin, Rudy's favorite. Similar to the 8th Wonder (a nickname Mark picked up in his Towson days), except that honey mustard compliments the blue cheese and mild sauce. The Morning Wood is a derivative of the Dawson's Cure and serves as the sweeter version of their breakfast subs. The name is actually a point of contention between the brothers but it has become such a staple that the name stayed.
The cheesesteaks are what brought me here all those years ago but it was Mark, Rudy, and their staff that kept me coming back. "I'm grateful for the staff. They make me look good. I have the right people and I consider them family," Rudy explained, and it's a sentiment I can get on board with. Beyond the great work environment, it's Jeno's flexibility that has proven successful. "We can adapt our menu based on the customer's need," Rudy continued. "We've done wedding with crab cakes and carving stations. Ms. Rudy will even do Filipino cuisine."
A final word to the wise: I personally think these cheesesteaks are better than Geno's so come get a taste of Philly without the drive. According to Rudy, "I really like that we get at least one Philadelphian a day that says they won't say we're better, but we're damn good".
Images courtesy of Rhea Torreon