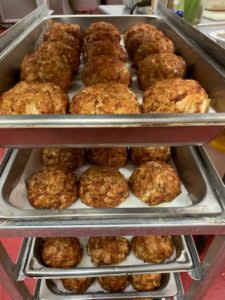 Crab Cakes the size of baseballs, just one of the choices available at Roy's Kwik Korner in Glen Burnie. Image courtesy of Roy's Kwik Korner.
Yes, the crab cakes at Roy's really are the size of baseballs, and they're always a home run on the extensive menu at Roy's Kwik Korner in Glen Burnie. It's the go-to place for in-the-know locals and weary travelers landing at or taking off from Baltimore-Washington Thurgood Marshall International Airport.
If you're in search of health-food variations, you've come to the wrong place. It's quick (Kwik), it's on a street corner (Korner), and it's been in business for 41 years at the same location, on the opposite side of Interstate 97 from the airport.  Take the Quarterfield Road (Route 174 East) exit from I-97, and Roy's is on the right at 1002 Crain Highway (Maryland Route 3) at its intersection with Quarterfield.
The Evolution of Roy's
During a lull in customer flow one recent morning, we caught up with Tim Wagner, who heads up the operation with his sister, Amy Huber, since their father died in 2011. "In 1979, our father, Mike Wagner, bought Roy's, which was just a little grocery store. He sold groceries, too, then started making sandwiches. When he came up with the baseball crab cake, it just took off, and he adopted 'Kwik Korner' as part of the name, too. Our father was a Maryland state trooper for about 30 years, and he retired in 1984. He just loved Roy's, and all the kids hung with it. We made careers out of it, and we love it, too."
When the Wagner version of Roy's opened, the Orioles and the Colts were still playing in Baltimore's old Memorial Stadium, and many of the players searched it out for comfort food whenever they had the chance.  On the walls inside are autographed photos of players, old and new. "We've had a lot of cool people come in," Tim remembers. "We haven't had any sports celebrities lately, I guess because of the corona virus. The last guy who was here came in on a Sunday when we were returning from a catering job. He was a coach for the New York Giants."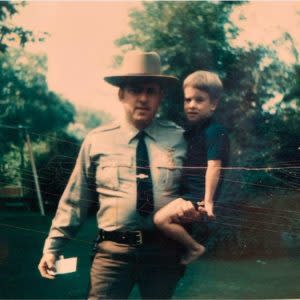 Founder of Roy's, Mike Wagner. Image courtesy of Roy's Kwik Korner.
Open for curbside service Monday through Thursday from 8:00 am to 8:00 pm, Friday to 9:00 pm and Saturday from 10:00 am to 8:00 pm (closed Sunday), Roy's is set up for outdoor social-distance food pickup of telephone orders—tailor-made for the pandemic. (Note that hours fluctuate to comply with Covid-19 guidelines.)
Those longing for a sit-down restaurant with elegant ambiance will just have to go elsewhere. The star of the show here is the food and a mind-boggling list of choices.
The Roy's Menu, Always a Home Run
Aside from its famous crab cakes, Roy's is also known throughout the region for its homemade cream-of-crab soup, its "secret-family-recipe" oyster stew (in season), and steamed shrimp. The Seafood Department is just down the counter from the prepared-food checkout. Roy's sells steamed and live Chesapeake Bay crabs, crabmeat by the pound (worth the trip just for the price), live soft crabs (in season), Chincoteague oysters (by the bushel, peck, half-peck, or dozen), and so much more. On the wall, a sign reads: "Maryland Crab Lover Parking Only: All Others Will Be Steamed Alive."
Many of the selections at Roy's come in sandwiches or platters. Their "WondeRoast" chicken, a patented rotisserie-cooking method developed by a company in Minnesota, is guaranteed to be "The best chicken you ever tasted" since 1975.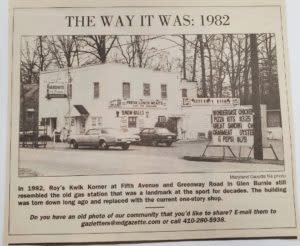 As Roy's looked back in 1982, the building has changed, but the same great food stands the test of time. Image courtesy of Roy's Kwik Korner.
More than just Crab Cakes
Under the heading "Fish-Fish-Fish" is a selection of 14 different kinds, all fried except six items offered "grilled or steamed." On the non-fish "Grill" side are 10 different choices, from "BBQ Beef or Chicken" to "Wildfire Turkey Burger." Under the "Burgers & Steaks" category are Bacon Cheeseburgers and Cheesesteaks, along with five different kinds of hot dogs. By the platter, your choices include baby back ribs, hot turkey, hot roast beef, pit ham, meatloaf, spaghetti, and the "seasonal" sour beef & dumplings. And under the "Deli" heading are 18 different sandwiches and subs, plus a New York kosher pickle at $2. Next on the menu are five selections of meat as well as seafood salads. Veggies, salads and soups- the possibilities are endless! Rounding it all out is a selection of 7 children's platters, 35 side orders (that's not a typo), and 8 desserts.
The Breakfast 'Belly-Buster'
Lastly, there's breakfast. Just as popular with work-bound early-riser customers as any other meal Roy's serves up. The favorite choice is not for the faint of heart. According to Tim Wagner, "the most popular breakfast item is the breakfast sub: sausage, ham, scrapple, bacon, and eggs, all on a sub roll. We use F&S Maranto Italian Bakery in Baltimore, and the rolls are delivered every morning." You can request an extra egg on your breakfast concoction for an additional dollar.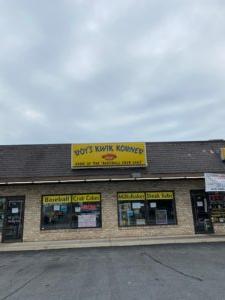 Roy's as it stand today. Image courtesy of Roy's Kwik Korner.
Roy's Kwik Korner has a secret to its survival among all the competition for your food dollar: "We Only Sell What We Like to Eat—And Boy Do We Like to Eat Good Food!" If only every food outlet lived by this motto. What you see is what you get if you're adventurous enough to divert from the Annapolis-to-Baltimore stretch of I-97 into Glen Burnie. You'll be happy you did.