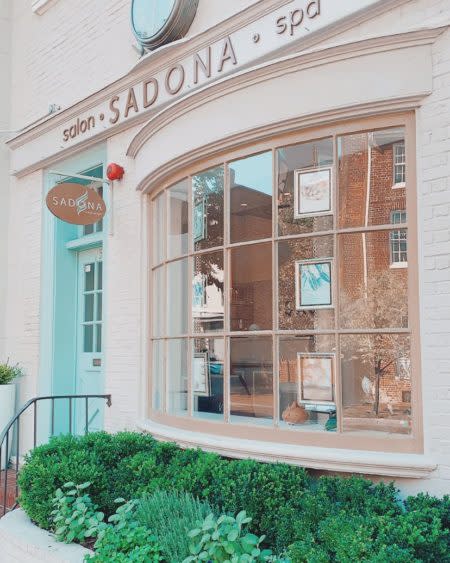 Sadona Salon & Spa offers a full range of beauty and wellness services. Image courtesy of Sadona Salon & Spa.
The art of gifting health, wellness and beauty seems apropos in a year in which both have been so challenging. When trying to figure out the perfect gift for a loved one, a spa package or service at one of the salons, spas, or nail bars in our town is sure to be appreciated. Let them know they are indeed special and deserve to take a break and rejuvenate.
The Gift of Beauty & Relaxation
Two places that can help with this rejuvenation, Sadona Salon & Spa and Varuna Aveda Salon and Spa, are both inspired by Ayurveda. Ayurveda principles are described by Sadona as "the belief that health and wellness occur when there is true balance between the mind, body, and spirit." Taking some time out to find balance and take care of one's self, even pampering ourselves a little bit, might be just the thing we need this holiday season.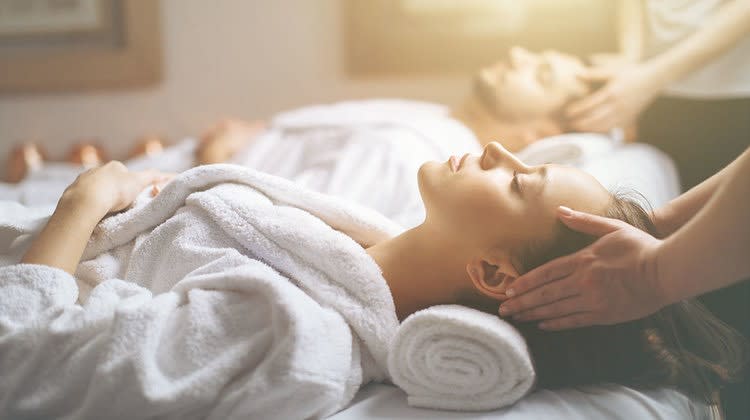 Beauty is an art, and what better art is there to behold than the art of relaxation! Image courtesy of Sadona Salon & Spa.
Sadona is an amazing salon and spa located on West Street, directly across from the Annapolis Visitor's Center. The team at this popular spa consists of talented stylists, massage therapists, estheticians, and makeup artists ready to assist their clients in finding their own unique beauty and individuality. The spa is described as "both an escape and an oasis; the luxurious Spa experience will leave you feeling soothed, energized, and refreshed." They offer a wide variety of beauty services including hair, nails, lashes, and make-up, to name a few. They even offer makeup lessons, which is a fun and creative gift.
The spa also has a variety of unique massage offerings, such as Himalayan Salt, Couples massage, or Chakra Massage. Schedule a body treatment that can take you into the new year feeling energized. You may want to add in one of their enhancements such as dry brushing or Reiki to create your own unique spa package!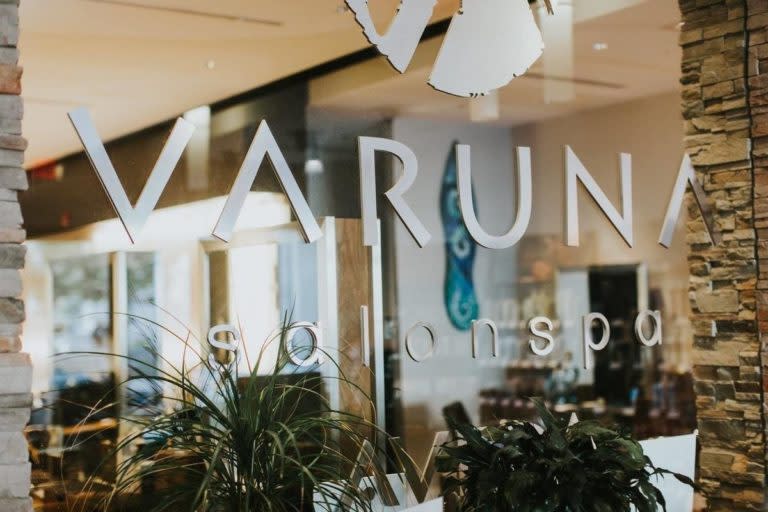 Varuna Salon & Spa is located across from the Westin in Park Place and offers a full service of beauty and wellness packages. Image courtesy of Varuna Aveda Salon & Spa.
Varuna is another extraordinary Annapolis salon and spa. The goal of Varuna is "to help you escape life's stress and provide you a holistic sanctuary to nourish your mind, body, and soul." Sounds good to me! This may not be the year of big holiday parties but intimate gatherings should be approached with no less zeal, as the holidays come but once a year.
How about giving the gift of the "Calming Embrace" consisting of a massage, facial, blow out, and make-up application? Why, it could be the perfect predecessor to a small New Year's Eve dinner party or whatever else may be on the agenda. Maybe you are looking to bond with your sweetheart and the Rejuvenation package grabs you with spa treatments for two. Perhaps you know someone who is expecting? Then their "Becoming Mom" package is the perfect gift for mom-to-be. Visit their website for a full list of beauty and wellness options.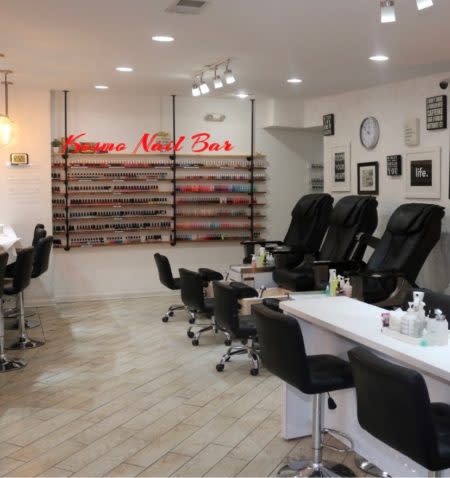 Kosmo Nail Bar is a neighborhood gem that specializes in nail art. Image courtesy of Kosmo.
There are two nail bars in  walkable downtown Annapolis. The first one is Kosmo Nail Bar on Randall Street. The second is Inspire Nail Bar on Main Street. Both nail bars offer a variety of spa services in a friendly and calming atmosphere. Be sure not to miss your complimentary drink with service. Cheers!
Even the names of their services evoke visions of relaxation and indulgence. Kosmo offers Manitinis (manicures) with names like Guava Passion, Wild Plum and Vanilla. Pedicures at Kosmo include options such as Orange Crush or Bahama Mama, just to name a couple. The names alone conjure images of sitting in the sun on a boat or beach in full relaxation mode.
Inspire's services will also have you dreaming of calm, sunny days with manicures and pedicures named after cocktails. Try the Pina Colada or Mojito Peppermint! Both nail salons offer organic skin care products as part of their services. In addition, you'll also find waxing, tinting, and eyelash extensions available at these quaint and convenient nail bars downtown.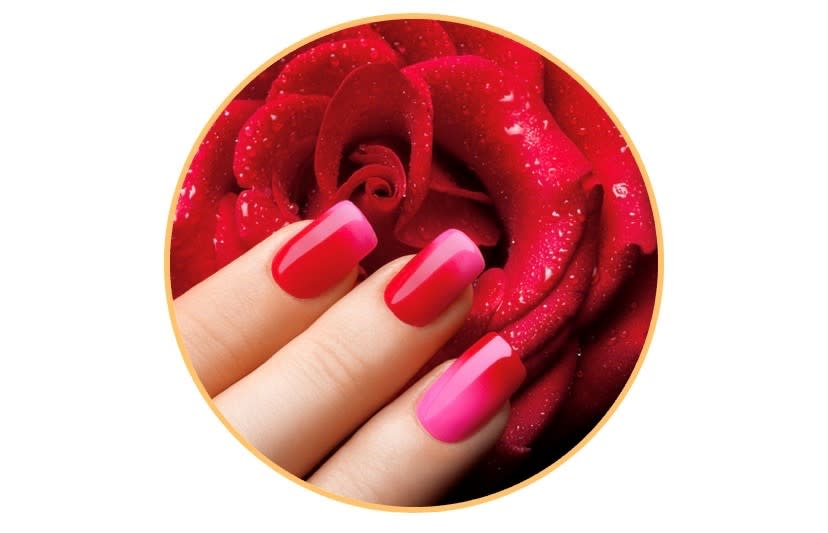 Take time for yourself with an ultimate manicure and pedicure package. Image courtesy of Inspire Nail Salon.
After a challenging year, carve some time out to take care of yourself and those you love and set them on a path to wellness in the new year. The art of gifting beauty, inside and out, is made easy with all of these local options right here in the heart of downtown Annapolis.