May Day in Annapolis is really one of the most wonderful days of the year.  It is a tradition that has been a part of our lovely town, hosted by The Garden Club of Old Annapolis Towne now for 66 years!  I, myself, growing up in downtown Annapolis have been participating in the event for many of those years.  In fact, every year on the day before May Day, you will find my family at my mom's house downtown, surrounded by cut stems, baskets, oasis, ribbons, greenery, and flowers.  So many flowers! I love watching my children create their arrangements, wild renditions of colorful blooms assembled in the most unique ways, with dreams of lollipops and pink ribbons for the children, and for the adults, possibilities of award-winning blue ribbons and an invitation to the May Day Tea, as added perks.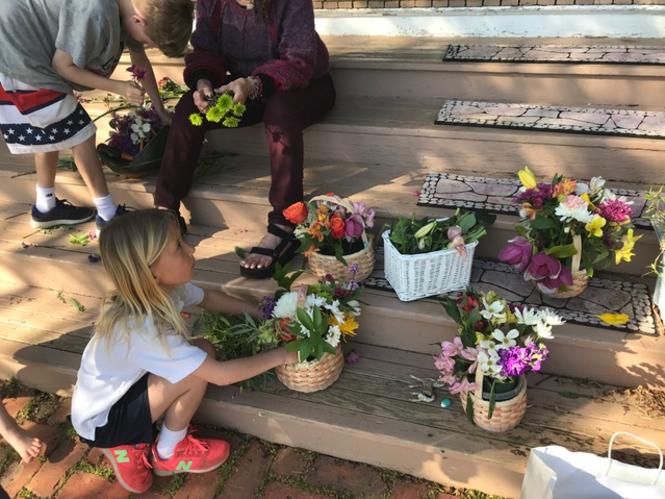 So many flowers! I love watching my children create their arrangements! Image courtesy of the author.
A Basket Full of Gratitude 
With the current social distancing mandates in place this year, things will look a little bit different. Ribbons will not be awarded but it was never just about the ribbons anyway. It is about creativity and beauty and everything flowers conjure up in one's mind.  After a long, dark winter, every year, flowers emerge to brighten our surroundings, delivering a message of hope with promises of beautiful things to come.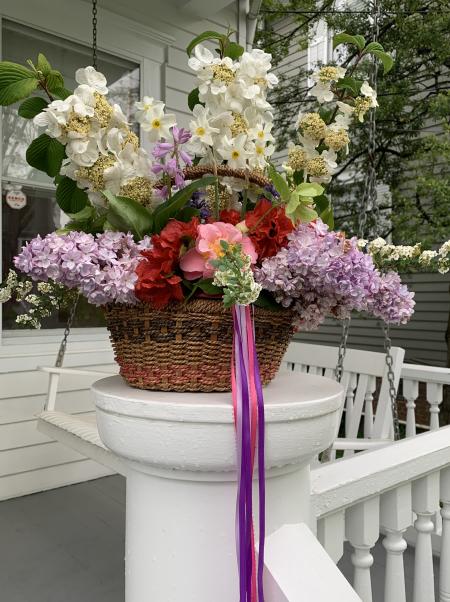 These colorful baskets of flowers are sure to brighten everyone's day as we keep this tradition alive and celebrate May Day around Annapolis! Image courtesy of the Garden Club.
This year, the residents and businesses of Annapolis are encouraged to display their May Day baskets in a show of gratitude for all of the healthcare workers and numerous helpers throughout our community that have also delivered that message of hope over the past year.  These colorful baskets of flowers are sure to brighten everyone's day as we keep this tradition alive and celebrate May Day around Annapolis!  In addition, the May Pole that is usually on display at the May Day Tea, will be decorated with gorgeous fresh flowers on display for all to see right near City Dock next to the Market House. 
Doorways of Delight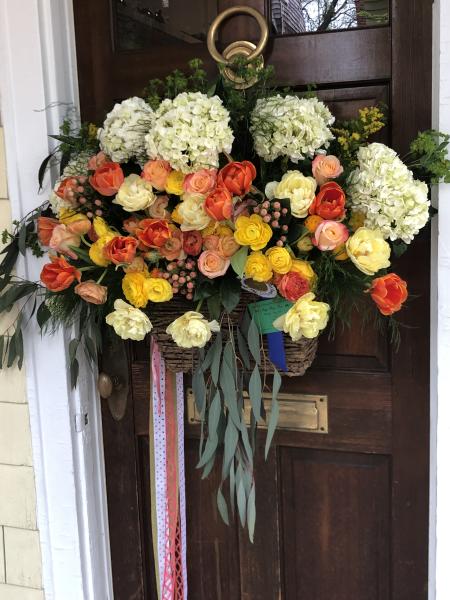 Be sure to tag your baskets with #maydayannapolis2021 and #66annapolismayday for a chance to have your baskets featured on the Visit Annapolis social accounts. Image courtesy of Visit Annapolis.
Please set out your "baskets" (any creative container will do!) on May 1st by 10:00 am so that everyone has the day to really enjoy the view and feel the appreciation they represent. The Garden Club would love for you to share your photos of the baskets to social media and use the tags #maydayannapolis2021 and #66annapolismayday.  Posting your pictures will help ensure all may enjoy them, including those who may not have felt comfortable venturing out, just yet. Traditionally the baskets are displayed by the historic district and Murray Hill residents and businesses in the historic district and Annapolis Arts District. All in these areas and beyond are encouraged to keep up this annual beautification of our town and help deliver the message of gratitude and hope.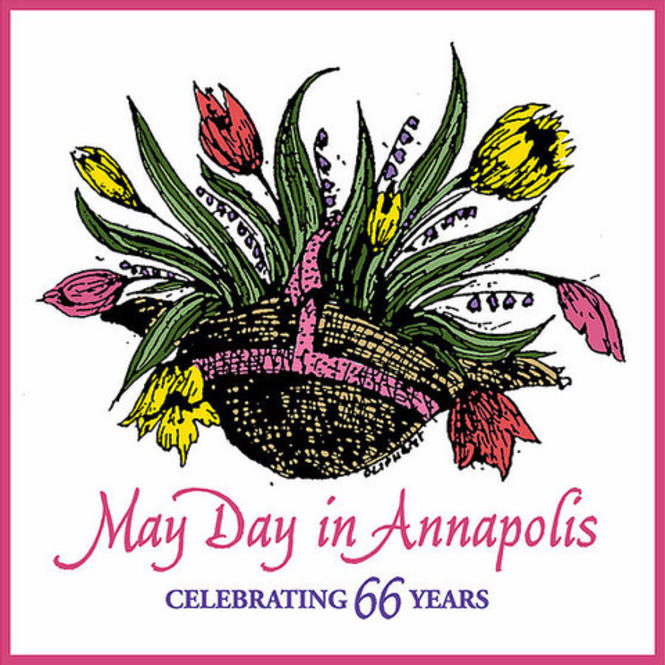 Creativity Continues with New Traditions 
In keeping with this May Day tradition that started back in 1956, new this year will be sixteen paper flower sculptures installed along the Annapolis Arts District on West Street, between Church Circle and Westgate Circle.  These sculptures have all been created by artists of Gallery 57 West.  If you want to preview some of these sculptures, you may do so at Dinner Under the Stars on Wednesday April 28th. Feel free to find your own inner artist by painting or taking photos of these sculptures and post on social media using the hashtag #MayDayonWestSt to be entered to win a gift card from one of the sculpture sponsors.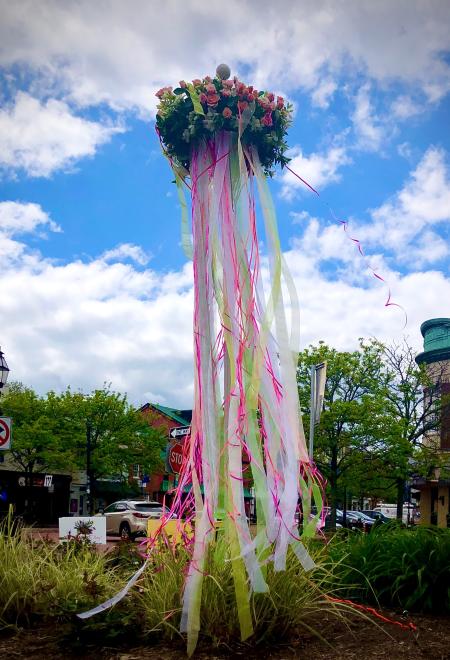 The May Pole is erected every year by the Garden Club of Old Annapolis Towne. Image courtesy of the Garden Club.
Another new addition to May Day in Annapolis will be the four First Ladies of Annapolis taking a tour of the Annapolis May Day baskets hosted by the Downtown Annapolis Partnership.  The four First Ladies participating include Yumi Hogan (First Lady of Maryland), Erin Pittman (First Lady of Anne Arundel County), Julie Buckley (First Lady of Annapolis), and Joanne Buck (Wife of the Superintendent of the U.S. Naval Academy). They will be driven by Annapolis Eventours.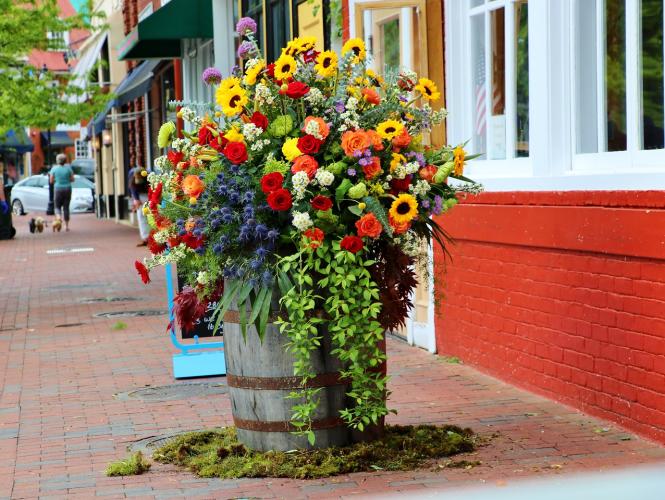 May Baskets will be on display from Main Street to Maryland Avenue. Image courtesy of
Sue Steinbrook Photography.
Meaningful May Day 
So, as you can see, May Day traditions in our Annapolis community are alive and well, with old traditions kept and new traditions emerging. I personally no longer live in the downtown area but I promise you, you will find me and my family as usual, assembling our baskets to display proudly in an effort to help beautify our community and show our appreciation to those who have helped our community through these tough times. This May Day tradition provides a rite of passage to spring every year.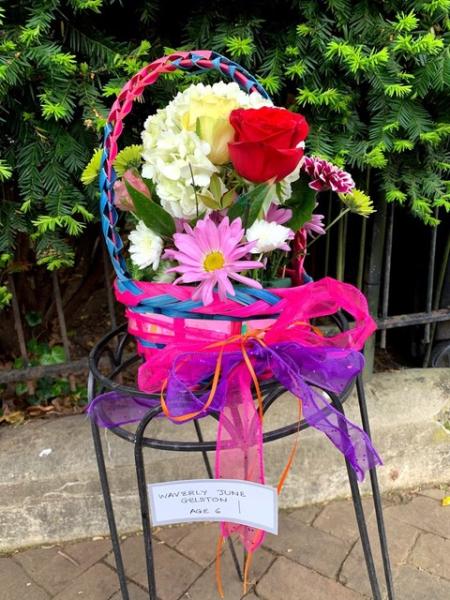 This year, participants are encouraged to show their gratitude to health care workers when creating their May Baskets. Image courtesy of the author.
With baskets spilling full of blooms of all different colors, coming together in unison to create something beautiful, after such a hard year the message these baskets deliver will be all the more profound.  I can't help but to feel that this year in particular, the simple notion of May Day baskets will take on a deeper meaning for all. Messages of creativity, beauty, solidarity, promise, hope, community, appreciation, love, health, springtime, tradition, and gratitude all found within a beautiful basket of flowers. Happy May Day! 
#maydayannapolis2021 
#66annapolismayday 
#MayDayonWestSt