The elegant Carroll House, its beautiful gardens, and its gorgeous setting make it hard to believe that three generations of its residents suffered religious persecution. Each generation was led by a Charles Carroll, and each added so significantly to the family's fortune that the third Charles was the richest man in colonial America when he signed the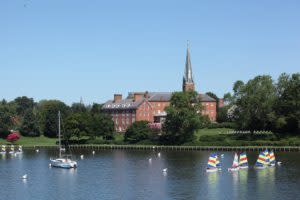 View of Carroll House from across Spa Creek, Courtesy of St. Mary's Parish
Declaration of Independence—the only Catholic to do so. When touring the grounds, you can get a feel for this wealth by looking at the adjoining campus of St. Mary's Roman Catholic Church, which was also part of the Carroll holdings as were thousands of acres elsewhere in the colony.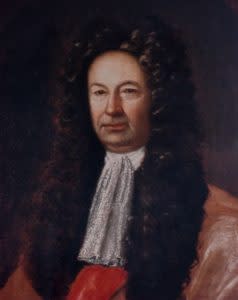 Charles Carroll the Settler, Courtesy of Charles Carroll House of Annapolis
English persecution of Catholics drove the elder Charles Carroll, born in 1661 and known as the Settler, to relocate to Maryland, which the Calvert family established much earlier as a Catholic haven where other Christians could also worship. Unfortunately, the Settler arrived in Maryland as its attorney general just before the majority Protestant citizenry overthrew the Catholic colonial government in 1689 and disenfranchised Catholics from bearing arms, participating in governmental activities, and public worship.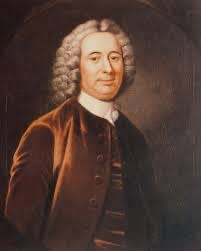 Charles Carroll of Annapolis, Courtesy of Wikipedia
The Settler lost his job, but he invested wealth left to him when his first wife died to begin an import business and purchase a store in the new colonial capital, Annapolis. He married Mary Darnall, whose influential father gave his son-in-law a job and a large tract of land. The Settler and his family split their time between their plantation in what is now Howard County and a house in Annapolis; its first floor survives as the oldest part of Carroll House.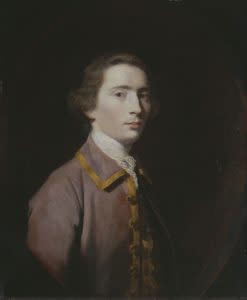 Young Charles Carroll of Carrollton, Courtesy of Wikimedia Commons
The Settler sent his namesake son, known as Charles of Annapolis (born in 1702), to France for schooling. The son returned to enlarge Carroll House and build his father's business with the labor of about 1200 slaves. He sent his son, Charles of Carrollton (known as such because his father gave him an estate called Carrollton in Frederick County), born September 19, 1737, to study in France and England in 1748.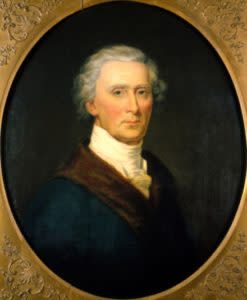 Charles Carroll of Carrollton, Courtesy of Wikipedia
When he returned from abroad in 1765, Charles III understood that the significance of winning American independence extended beyond economic advantages and into the realm of human rights and religious freedom. He opened Carroll House to George Washington and other luminaries and opened his wallet to support revolution. His contemporaries respected his generosity and the fact that he had the most to lose if war against Britain failed. Marylanders were reluctant rebels, but Carroll's strong support led Maryland to unite with the other colonies.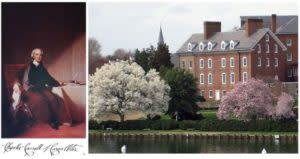 Charles Carroll of Carrollton, Courtesy of Wikipedia
Charles Carroll of Carrollton, who died on November 14, 1832, is remembered today as a Founding Father of our nation. He served a term in the US Senate, but he preferred serving in Maryland's state government, where he ensured that its laws and founding documents protected religious freedom. He loved Carroll House, expanding it again. His home is a must-see because of its design and structure and for the history it represents. Tours are free on weekends from noon to 4 p.m. from June through October (and by appointment at other times for $5 per person) but donations are greatly appreciated to fund efforts to return Carroll House, now in its fourth century, to its former glory.